This is a review of JBL FLIP and JBL MICRO Wireless Bluetooth speakers.
JBL Flip | Rechargeable Bluetooth-enabled loudspeaker featuring true JBL sound and a built-in microphone. | JBL US
= and
JBL Micro Wireless | Pocket-sized, Bluetooth-enabled speaker that delivers big sound from your portable audio devices. | JBL US
=
"Hear the truth" - is the slogan of JBL products. I don't know if everybody will truly understand this message unless you had a chance to test and to compare dozens of other speakers and headphones. Fortunately I had such opportunity, as you have seen from my previous reviews, and I can tell you with certainty - JBL delivers this message loud and clear, crystal clear! Of course you wouldn't expect anything less from a company that specializes in some of the top audio products under umbrella of Harman. But I was still very surprised how they were able to deliver such high quality from such compact package. Let's take a closer look at what I found.
I'm going to start my review with FLIP. This summer after my review of UE Boom, I got a number of comments and requests to compare these two portable wireless speakers together. Finally I got my chance, but more about comparison a little bit later. I always like to start with a package of the product since it sets a review tone. Once you pick up the box, there is no mistake you are dealing with a premium product, and as a matter of fact the packaging proudly carries an acknowledgment of 2013 International CES Innovations Award. Both FLIP and MICRO have it. Taken out of the box, FLIP looks a little bigger than a can of soda, about 6 1/4" in length and 2 1/2" in diameter. Weighting at 12.5 oz (354g) is not exactly feather light, which is actually a good sign of decent drivers used inside. But overall its very compact, easy to handle with one hand, and also comes with a very neat neoprene zip top traveling pouch. In addition, you also get AC adapter. OK, let me get this out of the way - yes, unfortunately FLIP has to be charged from AC adapter rather than typical micro-usb cable. This is probably the only negative comment you are going to hear from me about this speaker. Once charged up, you get up to 5 hours of playback time, as long as you don't blast it at full max volume.
FLIP is designed to stand upright or to be placed horizontally. For upright position, the end of the speaker without control buttons has a rubber non-slip ring. Due to the design with angled ends, upright position is feasible but will require a flat surface and in general easier to knock the speaker down. Horizontal position makes more sense, and to prevent it from rolling JBL designed two little rubber feet and a small rubber kickstand-stopper. I also found horizontal position better for sound with speakers firing up at an angle. The other side of the speaker has a power button which also used for Bluetooth pairing, Volume up/down control, and Call button. In addition to pairing up as an external speaker, FLIP also works as a speakerphone and I found it to handle calls very good with a crystal clear audio. In the back you have AC adapter plug and AUX Input for the occasions if you want to connect FLIP with 3.5mm audio cable to your source.
Now, here comes the fun part - audio quality. FLIP packs two 40mm drivers with a built in bass port, and let me tell you - it delivers one of the cleanest sound I heard from a portable wireless speaker! Doesn't matter if you have your volume all the way down or cranked up to the max, you will hear undistorted detailed performance with an amazing clarity. Its a relatively balanced sound with emphasis on midrange and treble, while bass adds a nice quality punch. Of course, you have to be realistic that such a small speaker can't deliver significant "quantity" of bass, but the quality is definitely there, balanced very nicely with mids and treble. The sound gets very loud and fills up the room, and can work great outdoors as well. I was honestly amazed by the clarity of the sound. Most of the speakers I reviewed in the past just focus on wireless aspect of delivering the sound and maybe tuning their speakers for extra bass which distorts at higher volumes and overpowers mids and highs. Here you can see that JBL engineers really paid attention to the sound quality, and still were able to deliver it up to 50ft away from your source. Nowhere does it say which BT ver they used, but it really doesn't matter because sound is delivered uncompressed and uncompromised.
Now, back to my original mentioning of FLIP vs BOOM. You have two great companies that have deep roots in audio engineering and technology, so both deliver an outstanding sounding product. But in terms of the final sound quality, I have to give FLIP an edge over BOOM because I felt the sound was more consistent over the whole volume range and was more clear and detailed. The bass sounded very similar in both speakers. Where BOOM has an advantage is longer battery life and micro-usb charging port. BUT, it also cost $100 more. So you really have to think about if if that worth extra $100 for you. Or perhaps, you might want to look into JBL CHARGE which is $150, has enhanced bass response, micro-usb charging, long battery life, and ability to be used as external battery to charge other devices, although it's a little bigger than FLIP.
Here are the pictures of FLIP.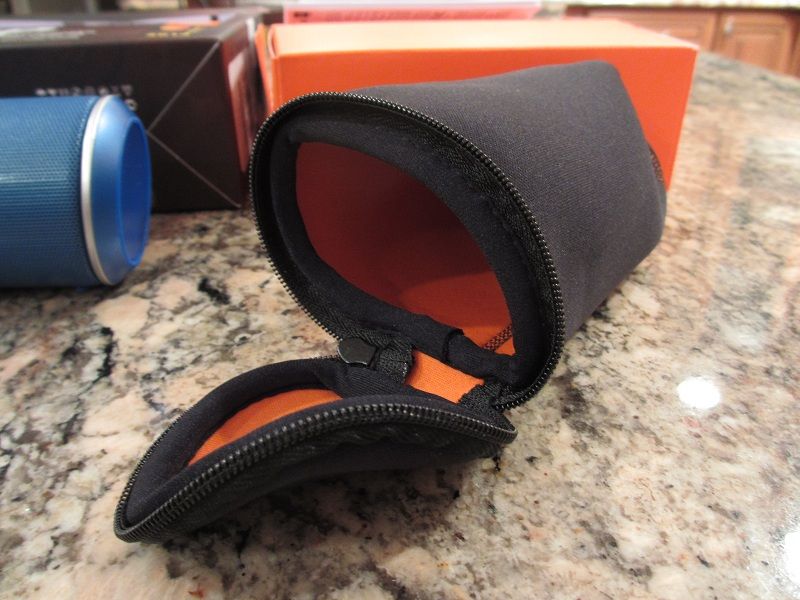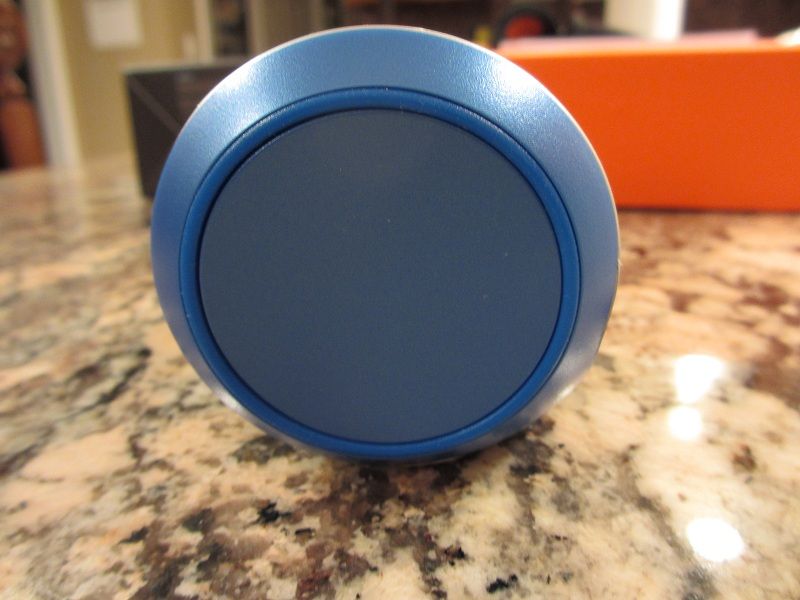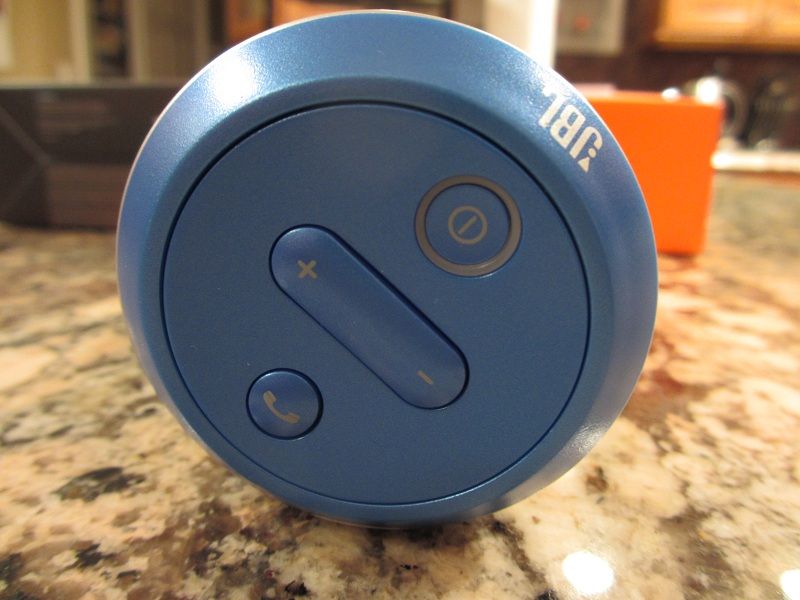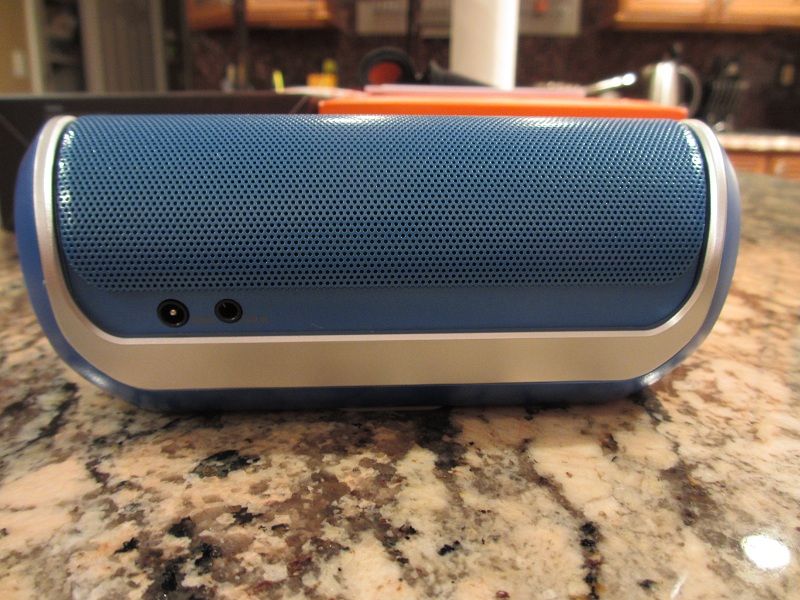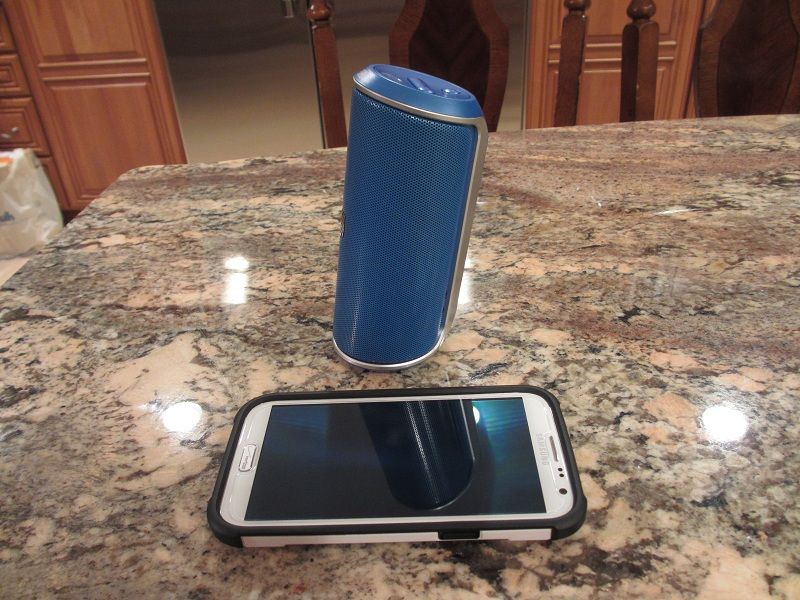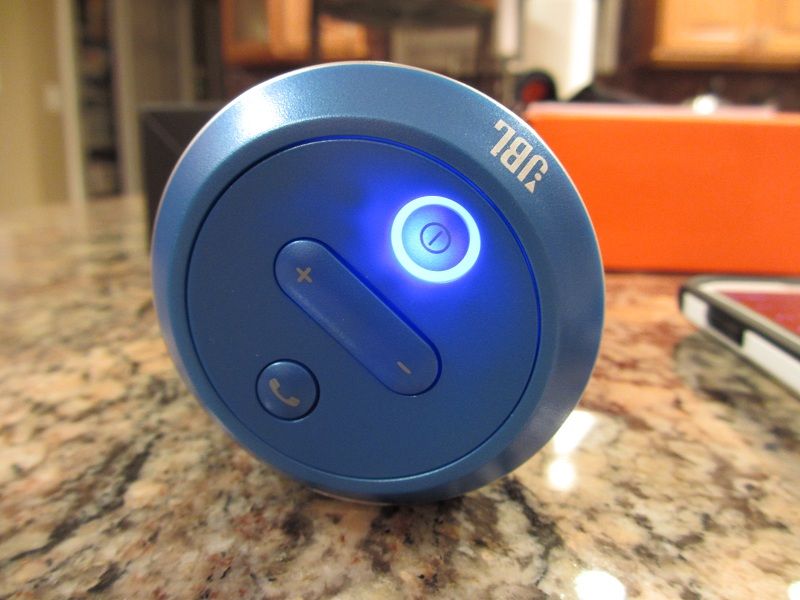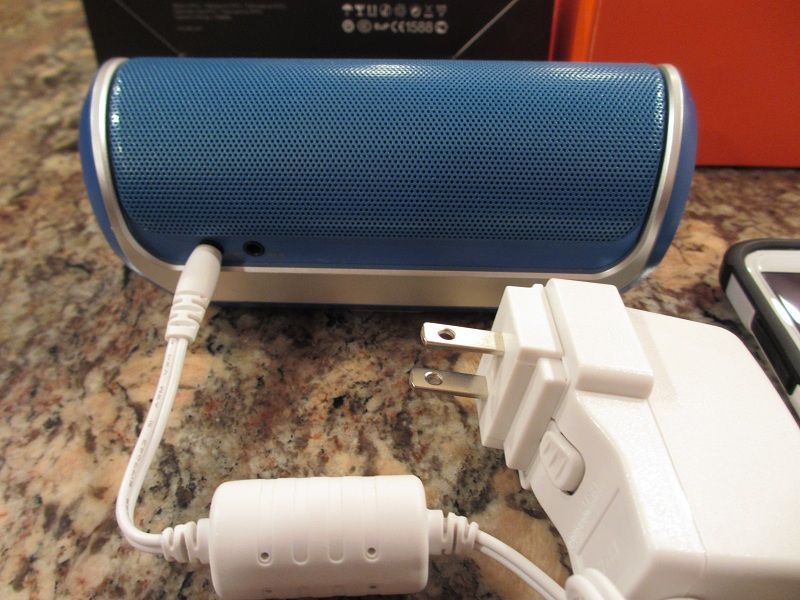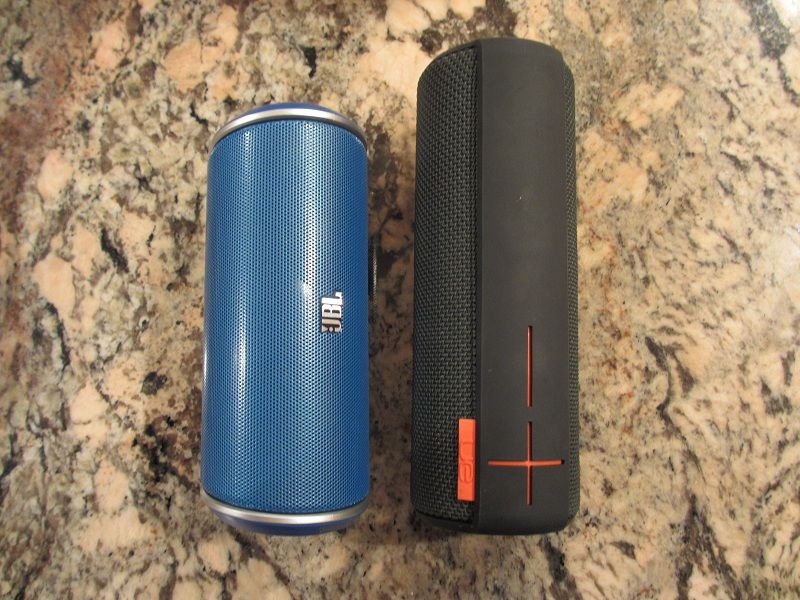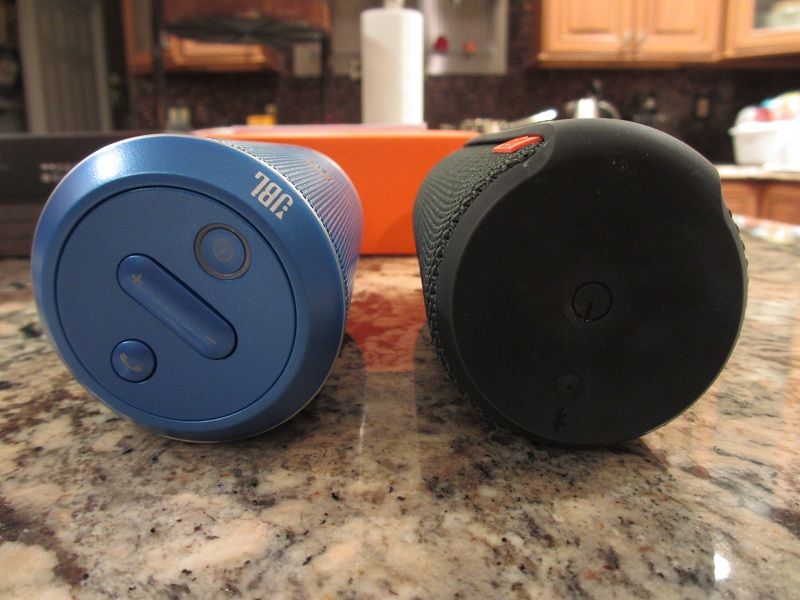 Next, I'm going to look at MICRO. This little guy is simply outstanding! With a hockey pock dimensions of 3.5" in diameter and 1.5" in thickness and weighting only 4.8 oz (134g) - it doesn't get any more portable than that. It's small enough to go into your pocket or being clipped to your backpack. With a same 40mm driver and a bass port - the sound is as clear and detailed as I found it with FLIP, except in this case you have a single driver instead of two which also results in MICRO being not as loud at the max. Also, this is audio only speaker, not speakerphone connection. It has a very impressive Bluetooth range, tested up to 50ft in open space. But to distinguish it further from FLIP, it comes with a few tricks of its own.
First of all, you get your wish with micro-usb charging port that will provide you up to 5 hours of wireless performance (based on moderate volume level). Next, you get analog wheel volume control. Some people might think, what is a big deal? Most of the wireless speakers have digital volume control and as soon as you turn them on volume goes to default high level with a few loud beeps to indicate pairing. In this case, volume will be as high as you set it to be, so there is no loud pair up beeps. Those who have little kids in the house and want to enjoy listening to your wireless speakers after kids go to bed - you will know what I'm talking about and will really appreciate that feature. But we are not done yet. If you want to use your MICRO wired, it has a built in cable with 3.5mm plug neatly wrapped and stored inside of the module. That is fantastic if you are listening to a device which doesn't have bluetooth or if you don't want to go through a hassle of pairing it up. Last but not least, there is a mystery 3.5mm port on the MICRO. Since you already have built-in cable, this is definitely not AUX in port. I actually had to read instructions to figure out what it's for - to daisy chain more MICRO or other speakers to MICRO. Now, this is simply brilliant because it turns MICRO into wireless transmitter!!! This way you can turn ANY speaker into wireless speaker just by plugging it into MICRO daisy chain port.
Overall, I was VERY impressed with sound quality and design of both FLIP and MICRO. In my opinion, MICRO is perfect in every aspect, while FLIP has only one negative of AC adapter. Also, one might argue about 5hr battery life where some of the other speakers might deliver more. But the Sound Quality and wireless performance of both makes up for any shortcomings. Just think about it, would you rather take 10-12hr of mediocre distorted sound or 5hr of eye candy design with crystal clear sound with a nice bass punch? Also, both of the products are priced very reasonably. Definitely gets my high recommendation!
Here are the pictures of MICRO.