This is a review of Audio Technica ATH-IM03 in-ear monitors.
ATH-IM03 SonicPro™ In-Ear Monitor Headphones || Audio-Technica US
While being very impressed with a quality of ATH-IM02 IEMs, I ended my review of IM02 with a comment about hoping to review ATH-IM03 and compare it to IM02. Thanks to Audio-Technica (US) this wish came true, and now I would like to share with you another amazing product from the new line of ATH-IM0x in-ear monitors. Their model numbering is based on a number of Balanced Armature (BA) drivers used in each design, from a single driver (IM01) all the way to quad driver (IM04). While IM02 has 2 drivers (woofer and mid-high), one would expect that IM03 with 3 drivers (woofer, mid, and treble) will be an enhancement to IM02 with more details in upper frequencies, but instead Audio Technica delivered another masterpiece with a different sound signature. So let's take a closer look at what I've found (and due to similarities, some of the write up was recycled from IM02).
As always, I start with a packaging of the product, and here Audio Technica never disappoints. Beside high quality images, full list of included accessories, and spec in both Japanese and English, it also included an internal component breakdown to show you in details every piece of the design. I find such presentation to be very educational. When it comes to accessories, IM03 included 3 pairs of silicone eartips, one pair of Comply foam tips, and a quality storage case. Though I don't consider cables to be an accessory, the new IM line of AT headphones now feature detachable cables which can be replaced in case of failure. As we all know a cable failure is very common with headphones, so being able to replace these is a big bonus. Here, AT decided to use 2 pin connector which is key-shaped to be attached in only one way with a very secure snap. To assist with behind the ear fitment, the only way these could be worn, there is a memory wire portion right after the connector to form a secure and comfortable loop. The same goes for the headphone earpieces itself, I found the design to have an ergonomic shape with a very comfortable fitment inside of my ear. I do have to note that with addition driver, IM03 housing became larger in comparison to IM02.
Doesn't happen often, but I was actually very pleased with a storage case included with these headphones since it has a generous rectangular shape to fit headphones with cables without a need to bend pre-shaped memory wires. Nothing is more annoying than spending time re-shaping the wire every time you take it out of the storage case when it's too small. As a matter of fact, IM03 case was a little bit bigger in comparison to IM02. The wire itself is very high quality, almost reminding me of electrical appliance shielded wires, but obviously thinner and more flexible. There is also a chin slider after the y-splitter to enhance behind the ear fitment. At the end of the wire you have 90 degree gold plated 3.5mm connector. There is no in-line remote/mic, but since this cable is replaceable I hope they will offer it in a future.
No matter how great headphones look or how comfortable they fit, the sound quality is still the most important factor. In my previous review of IM02, I found those to be one of the best analytical headphones I ever tested, though I was left craving for a little more bass. Though I expected IM03 with an additional BA driver to be an improvement over IM02, I also wanted to find out if the price difference will justify that step up. What I didn't realize is that IM03 will have it's own unique sound signature - a naturally balanced headphones with an amazing level of details across entire frequency range. Starting with lows, the sound extends all the way down to sub-bass level and you can really hear sub-woofer pumping. It's not bloated or exaggerated, but a very smooth textured layer right underneath of rounded warm mid-bass. Though mid-bass has it's punch, it was more on a relaxed smoother side. The quantity of bass was simply perfect to enjoy every style of music, especially if you like EDM, pop, rock, or hiphop. Without a doubt the bass in IM03 was one of the bigger improvements over IM02, but it was also partially due to changes in mids to enhance this perception. With mids, IM03 approach was not as analytical and upfront as in IM02, but it still had an amazing amount of details and it was very well balanced in relationship to lows and highs without any hint of being recessed. To my ears, the high quality of upper mids was especially hearable in a natural delivery of vocals, making me realize how unnatural it sounds with a lot of other headphones. The same with treble, it had a nice sparkle without a hint of harshness or sibilance, and together with upper mids was just a pleasure to listen to over extended period of time. I don't think I ever experienced such a perfectly balanced natural full body sound across lows/mids/highs with any in-ear or over-ear headphones I reviewed in the past. And on top of that, the width and depth of soundstage was simply mind blowing. I noticed that with IM02 as well, but an enhanced bass quantity added a new depth to this dimension. Furthermore, I found IM03 to be more forgiving while listening to lesser quality mp3 files, and I had no issue driving it directly from any of my audio sources (even my "noisy" laptop). No amplification was required.
Overall, I found Audio Technica ATH-IM03 to be one incredible pair of headphones. Beside an excellent build quality and comfortable fit, they have one of the best natural balanced sound signatures I heard in a very long time. Every company tries to come up with their own interpretation of a sound, and they often focus on mids/highs or lows/highs. Here with IM03, Audio Technica sound engineers were able to accomplish a balance of all three without any compromises and with a level of details like no other triple or quad driver set of IEMs I have tested before. Regarding cost difference of IM03 over IM02, I can fully justify it for my taste with additional bass quantity and a more balanced midrange for extended listening pleasure. I also want to bring to everyone's attention that within next few weeks these headphones (IM0x models) will be available from US authorized dealers. Though these already available on Amazon as an import from Japan, Audio Technica US can only honor their 2 year warranty on units purchased from authorized US re-sellers.
Here are the pictures.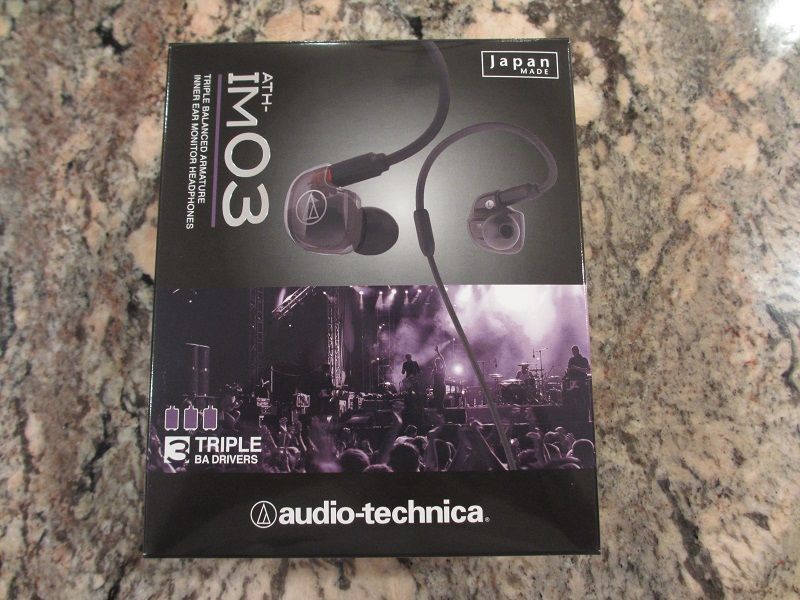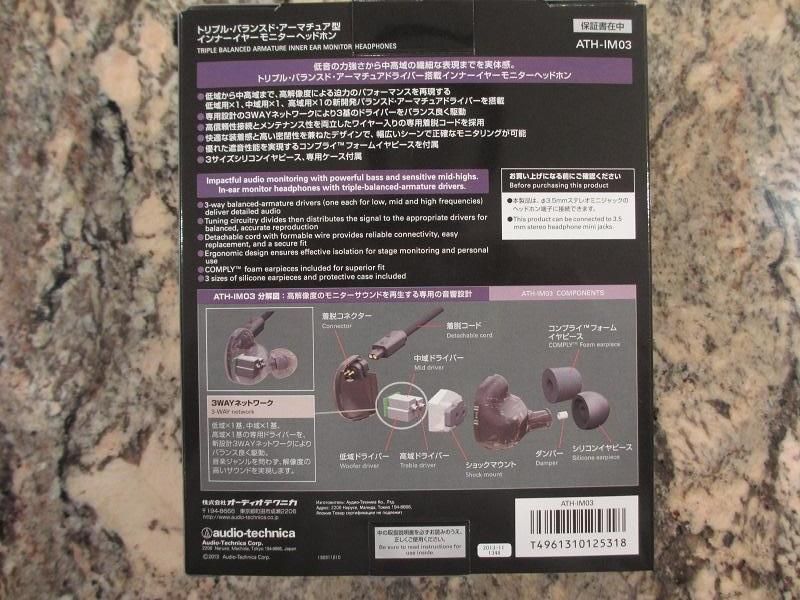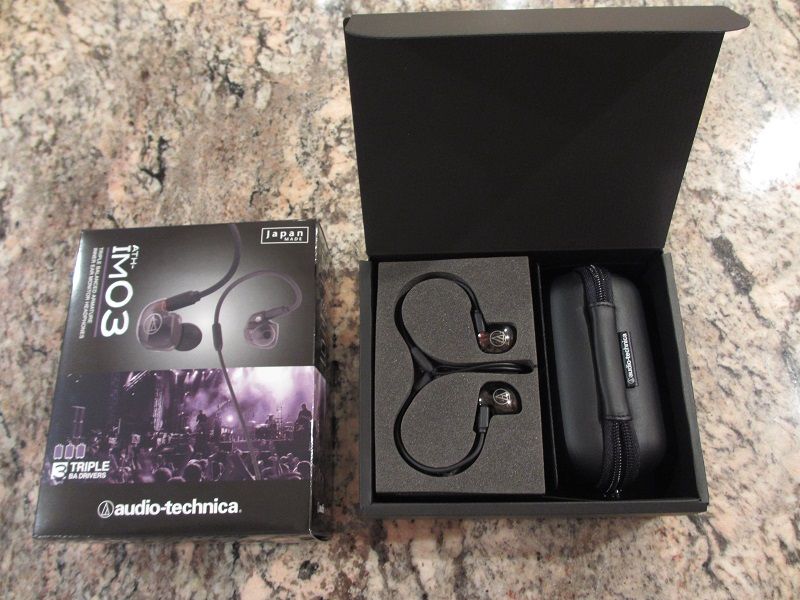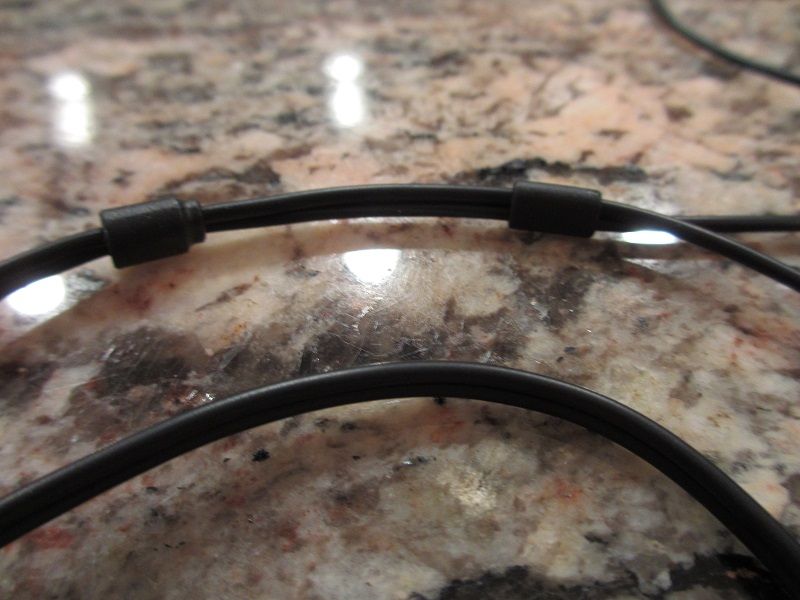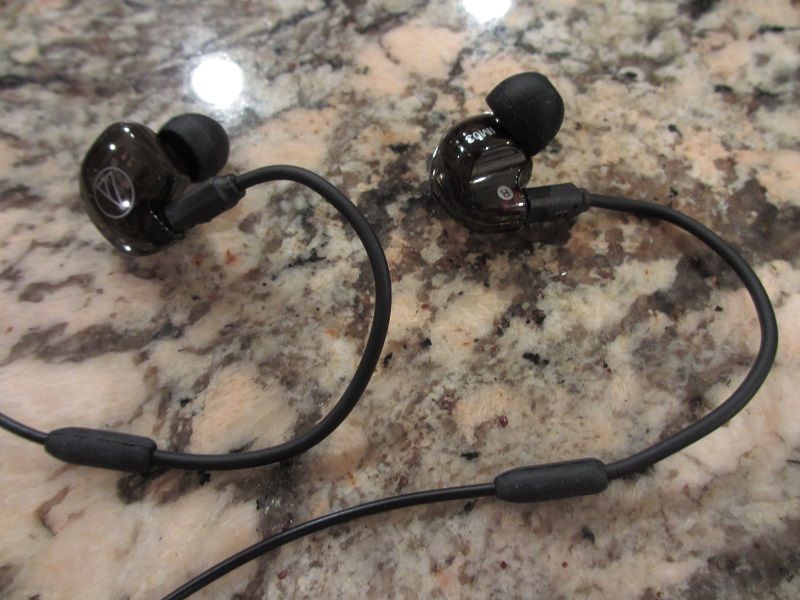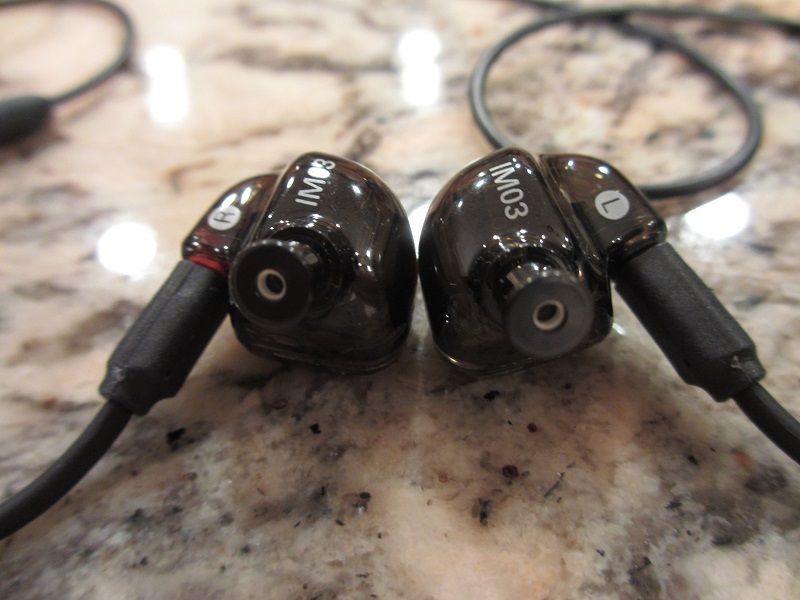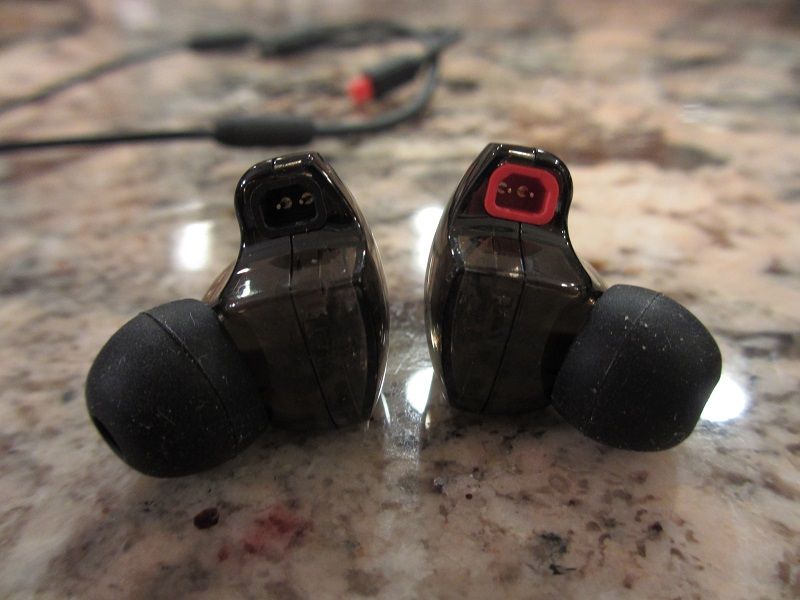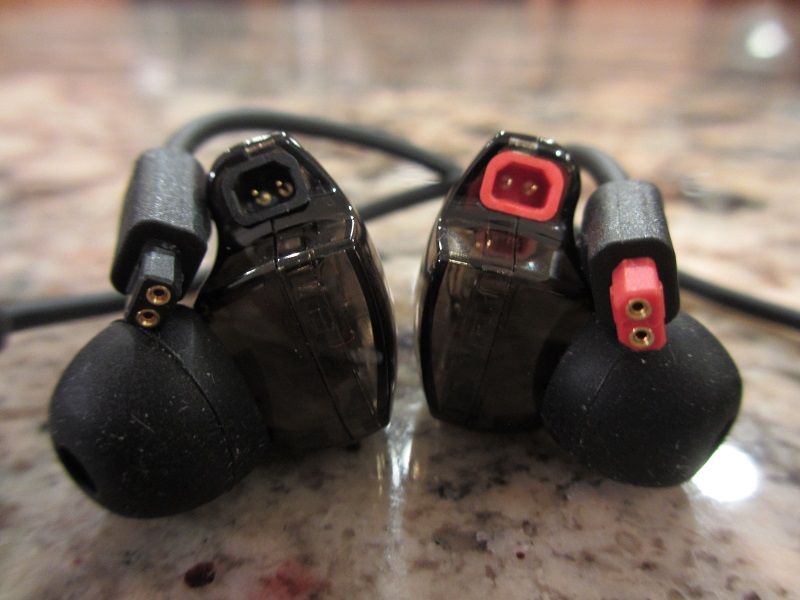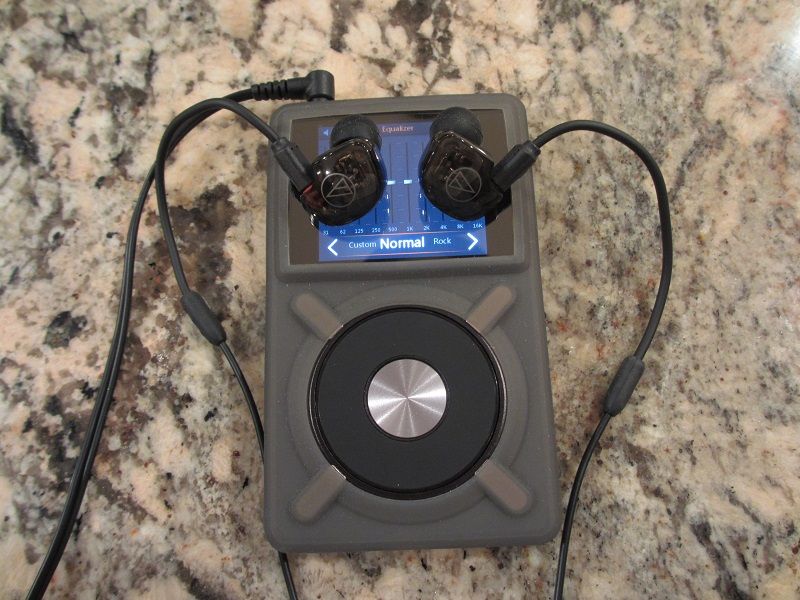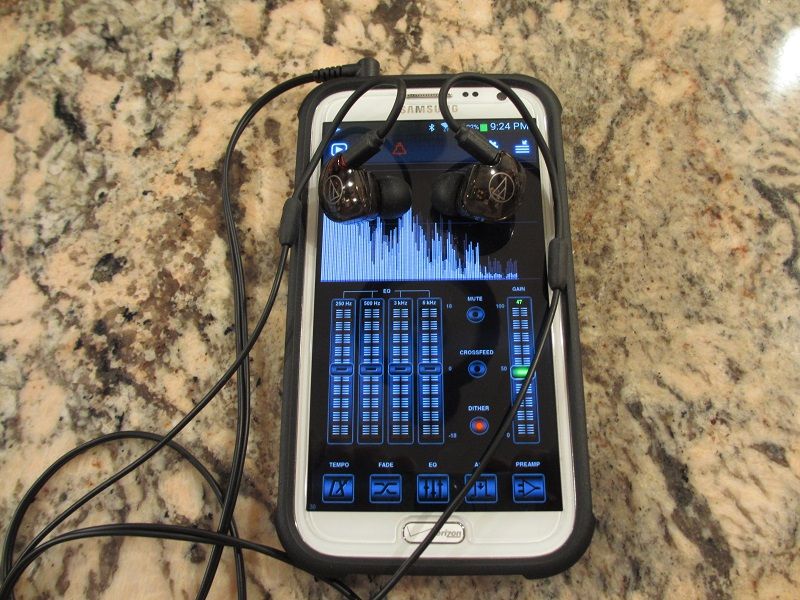 ATH-IM02 next to ATH-IM03