This is a review of two recently introduced in-ear headphones from Beyerdynamic, DX 160ie (
beyerdynamic DX 160 iE: Premium in-ear headphones
) and MMX 102ie (
beyerdynamic MMX 102 iE: Premium in-ear headset headphones
) models.
After a journey into a land of expensive multi-driver IEMs followed by a step back with a budget price single-driver in-ears, I have a very special treat to share with you in a form of two new Beyerdynamic in-ear headphones that position themselves in a sweet spot of price/performance ratio while delivering an amazing sound quality at a very reasonable price. I'm sure a lot of you are familiar with Beyerdynamic brand (designed and engineered in Germany) and their popular over-ear headphones, considered to be at the top of a lot of audiophile lists. But not a lot of you, including myself, are familiar with their in-ear product line. Though I had an opportunity to review not too long ago one of their flagship Custom One Pro headphones, I was very curious to find out how Beyerdynamic scaled down their legendary bass driven sound to a small in-ear footprint. Here is what I found.
Let me first start with MMX 102ie model. Arrived in a very compact box, it provides a detailed walk through of the product even before you open it. I always put a high value on packaging presentation, and MMX 102ie definitely delivers in the aspect with a detailed technical spec (though there is a typo in impedance being actually 23 ohm instead of 41 ohm), list of included accessories, and very accurate general description of the sound and functionality. With a flip of a magnetically latched cover, you presented with the actual display of the product under the plastic screen. All this is very important because if you are shopping in the store, you get a good idea about the product even before the purchase. Out of the box, you can't help but notice how small and lightweight these are. The headphone housing is made out of a polished anodized aluminum with addition of TPE material which extends into a strain relief. Further examination reveals a pinhole port opening, typically for a bass control, and also the nozzle opening with a metal mesh to protect from earwax build up. The logo and L/R marking is printed on the outer side of the strain relief. Though there is no other physical or color indicator to distinguish L/R which could be a problem with some headphones when marking wears off, in this case there is no worry because Left side is easy to identify with in-line remote.
Speaking of remote, Beyerdynamic decided to provide a universal version without volume control (since iPhone and Android implementation of volume up/down is different), so you only have a multi-function button and in-line mic. I have tested it with my Galaxy Note 2 and found single click to work fine with Play/Pause/Call, double/triple click to Skip track next/prev, and long press to start Google Now without any problem. Making a call worked really well, and I do appreciate in-line remote placement not too far away from my head where there was no issues picking up a sound. Going down a line, which is a durable TPE coated round cable, y-splitter has a decent strain relief at all three end points, and the wire is terminated at gold-plated 90 degree 3.5mm plug which also has a reliable strain relief. In addition to headphones, Beyerdynamic included a generous selection of accessories with 3 pairs of eartips, a shirt clip, a VoIP adapter cable (for connection to computers with a separate headphones/mic inputs), and a quality self-closing soft case/pouch.
But they wouldn't call these "premium earphones" just for their looks. Sound test was next. From the listed frequency range of 10-23kHz I was already expecting a sound with a decent amount of bass. The problem with dynamic drivers tuned for extra low end response - they often end up with recessed mids and sacrifice of details and clarity. To my pleasant surprise, MMX 102ie were tuned the best way to avoid a typical v-shaped sound. I do hear mids being a bit recessed, but overall sound is leaning more toward balanced warm signature. Starting with a bass, it's very well defined with extension down to a rich sub-bass layer and a punchy mid-bass. Though bass is strong, it doesn't spill over into mids and gives plenty of room to enjoy vocals. Mids are clear, detailed, not too bright with a pleasant warm signature. I really enjoyed natural sound of vocal presentation. Treble has a nice sparkle to it, though not as extended, it sounds very smooth without any hint of sibilance. The sound is perfect for extended listening period without ear fatigue. The soundstage/imaging is average with a more up close presentation.
Overall, I was very impressed with a design, a functionality, and a sound quality of MMX 102ie. You no longer have to compromise between in-ear headset with smartphone controls and a great sound quality to enjoy your favorite music or movies or video games on the go. I was also pleased with a sound signature of great bass quantity without compromising clarity and details of mids. With a comfort and warm balanced sound - you will enjoy these for extended listening period.
Here are the pictures.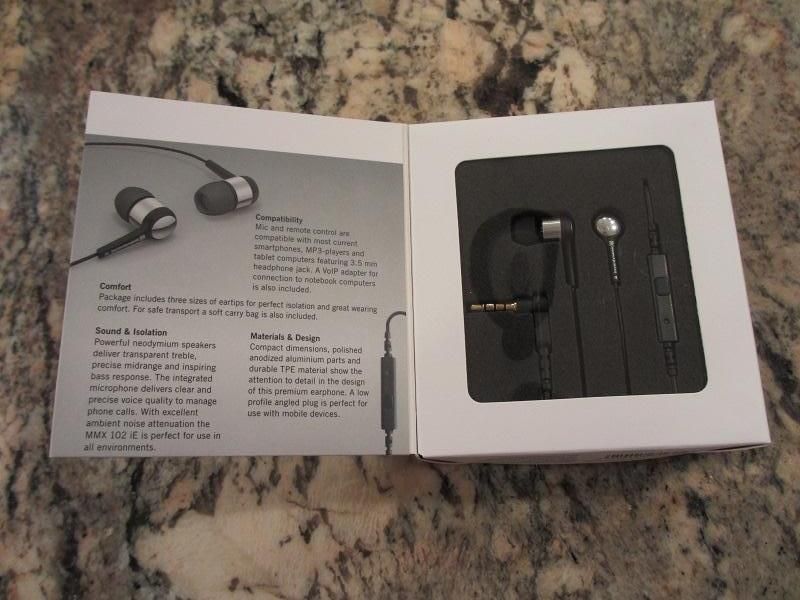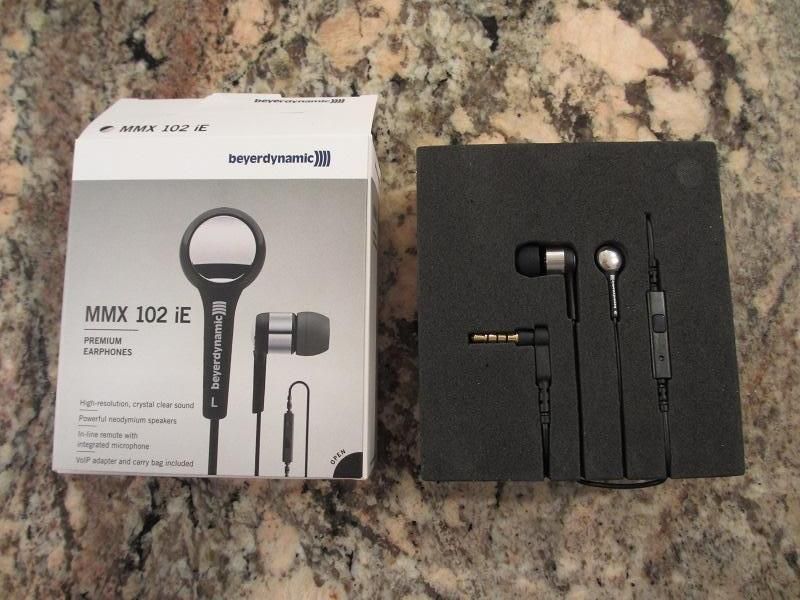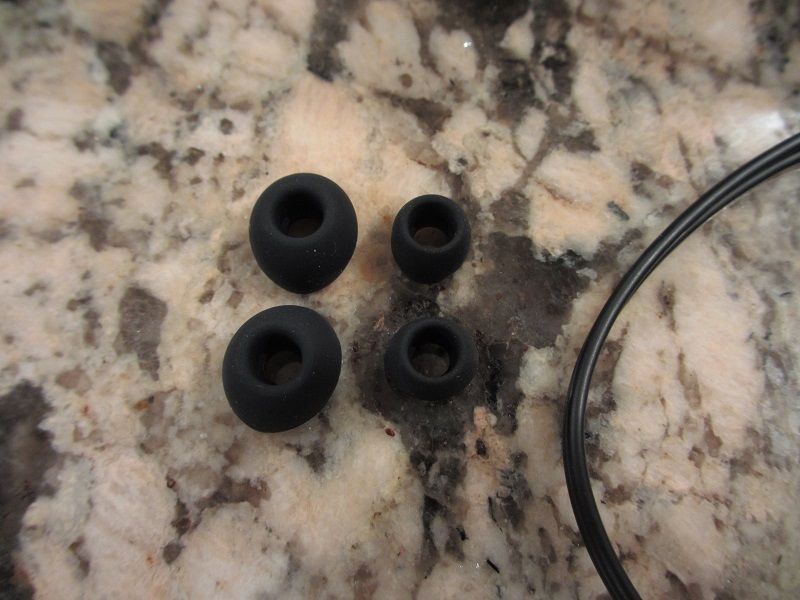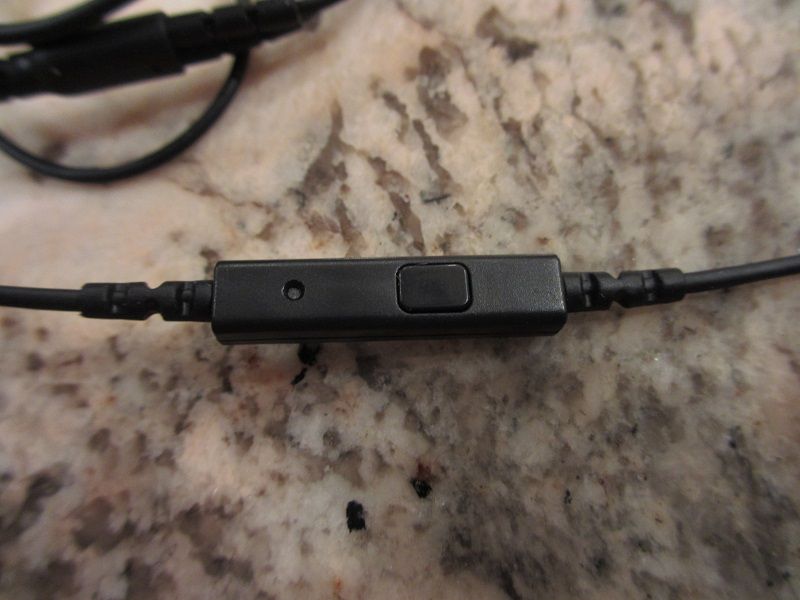 Though I was very impressed with MMX 102ie, for those willing to give up in-line remote functionality in favor of a more audiophile quality sound - DX 160ie is your answer! Starting with a packaging box, you get a detailed walk through of the design and functionality, technical specification, and a list of included accessories. Even before you flip the magnetic cover to reveal DX 160ie under the plastic screen, you get a very good idea that you are dealing with a premium set of audiophile headphones. Out of the box, you are presented with a lightweight design of all aluminum housing with a detailed anodized finish and textured aluminum ring design and a metal mesh covering the nozzle. The pinhole port opening next to molded strain relief is always a dead giveaway to expect a great bass performance. Though L/R identification on strain relief is not easy to see, a noticeable bump on the R side guides you to id it even in a dark. For their DX 160ie model, Beyerdynamic chose a flat tangle free cable which gives it a more modern design look. Further examination of the cable, revealed a first surprise. The original cable attached to headphones is very short, approximately 0.3m, and both of the flat cable sides come together in 3.5mm connector. I asked Beyerdynamic to clarify this choice since majority will use it with an attached extension for a standard length. Apparently, this design decision was driven by a number of requests from business travelers, specifically for airplane flights to cut down on cable clutter. To make everybody happy, Beyerdynamic came up with a solution of an original short cable and a regular length extension. You can always look at it as if 3.5mm angled connector of the extension ever gets damaged (I personally wasn't too crazy about strain relief sleeve in there and a small size of the connector which is hard to grab on to), you don't have to replace headphones and instead just need to replace a cable extension. I'm also hoping they will introduce another 3.5mm socketed extension with in-line remote for playback control of smartphone/tablet.
Moving on to the included accessories, Beyerdynamic made sure to please everybody!!! First of all, included is a very generous selection of 7 pairs of eartips, ranging in different sizes and double and triple flange design, as well as a bonus pair of Comply foam eartips. I already mentioned about extension cable which I'm going to use as permanent attachment, and there is also a shirt clip. Furthermore, a premium round hard case is included, as well as a clever adapter which enables attachment of 2 headphones to the same 3.5mm source. This is a definitely impressive collection of accessories including premium tips, but the main question - how do these sound?
I always take with a grain of salt vendor's claim about "premium sound quality" they put in a description of the product. But in this case you can be certain Beyerdynamic put all of their years of German engineering design experience to deliver the goods!!! Till this moment my only experience with audiophile quality in-ear balanced sound was using multi-driver BA IEMs. With those it makes sense how using a cross-over and a separate dedicated balance armature drivers you can tune the sound. With DX 160ie we are talking about a single dynamic Neodymium driver which has been tuned to a perfection of balanced response across entire frequency range AND a bass extension with an enhanced quantity. The sound signature is a little more brighter than MMX 102ie, but still on a warmer side due to control of the upper range. Starting with a bass, lows are extended down to the rumbling sub-bass level with a nice texture and a fast mid-bass punch. The bass is well controlled, not bloated, and doesn't spill into mids. It's hard to tell if mids are a bit recessed due to a bass quantity, but they definitely have a balanced presence in the mix with plenty of details and clarity. As a result of that, you get a natural sounding powerful vocal delivery, something I enjoyed from my other IEMs that cost 4x-5x as much. Treble has a detailed sparkle and extension without a hint of sibilance. Overall sound is very transparent and smooth, a bit on a warmer side since the brightness is not too much in your face. The soundstage/imaging is above the average. Also, I found these headphones to be forgiving even using lower quality mp3s, and they paired up nicely with either laptop or smartphone or DAP. One thing I did notice, while testing it with X5 I had to raise the volume level by about 10 units in comparison to other IEMs. This wasn't an issue driving them directly from my phone or laptop, so I assume X5 is more sensitive to the impedance considering these are 47 ohm versus typical 16-20 ohm with other headphones.
Overall, I can tell you with certainty that I just found my new favorite pair of dynamic in-ear headphones!!! I still value my multi-driver BA IEMs, but every other single dynamic driver headphone I tested in the past had something desired for improvement (either too much of v-shape sound, or veiled sound, or too much bass, or not enough clarity/details, etc.). The sound signature of these headphones is just perfect and really hits the sweet spot for me, and made me forget about any gripe I had with a cable. On top of that, if you consider an introductory price of $119 which also includes a very generous selection of accessories - this is one amazing value for a single dynamic driver headphones.
Here are the pictures.