This is a review of Martian Notifier smartwatch.
Martian Notifier Smartwatch
Last year smartwatches were a talk of the town. The hype of big name companies having something "just around the corner" fueled a lot of crowdfunding campaigns and also contributed to first gen releases from a number of other companies. Fast forward to today, and you will find a lot of disappointment with some KS/IGG projects still waiting to ship months after a promised availability, and other releases that didn't leave up to their expectations. Android Wear is around the corner, but the jury is still out until we see it in action. In my opinion, a number of companies over-engineered their products with a lot of unnecessary features that looked good on a paper but instead became a battery drain. Also, I feel a lot of the companies forgot the main purpose of the smartwatch - to be an extension to your already existing fancy smartphone without overlapping functionality. Furthermore, smartwatches still look like electronic gadgets strapped to your wrist rather than traditional watches with smart functionality.
I have been wearing a more traditional notification smartwatch for a year now, and it really became a big part of my everyday routine where I prefer to have the time always visible on my wrist and need to be able to see incoming calls, txt, emails, and calendar notifications without reaching out for my Note 2. One day while not keeping a track of the battery, my smartwatch discharged and shut down, leaving me with a blank screen. That made me realize I can survive a day without remote notifications, but I felt weird without being able to see the time on my wrist. I don't buy argument from others who stopped wearing their wrist watch because they can check their time from the phone - I think people use that as an excuse to check social media updates lol!!! If you want to do it in-style, be discrete, and never miss another call or email/text/calendar/app notification - Martian Notifier is the smart watch for you. Let's take a closer look at what I found.
Unboxing.
Starting with a packaging, I found it to provide an excellent display of the product with a detailed list of features. Considering it being offered at Best Buy, this is a good example of how a clear presentation can help a consumer when they are deciding between different products. Inside of the box, beside the watch itself (I chose black/white version, while all black and black/red are also available), you will find a quick start guide/manual and a charging usb to micro-usb cable. Before you get too excited about possibility of using a common micro-usb cable, this one actually has a proprietary extended connector. It has a standard pinout and width dimensions of a regular micro-usb connector, and as a matter of fact can be used with any standard micro-usb port, but it's about twice as a long as a standard connector. I'm sure there was a reason for this decision, but I'm just thinking if you implement a proprietary connector - might as well go for some clip-on version making a watch completely air-tight and water resistant, instead of only being water splash resistant as it is now. This is probably the only hardware gripe I have with this watch since I enjoyed everything else about it.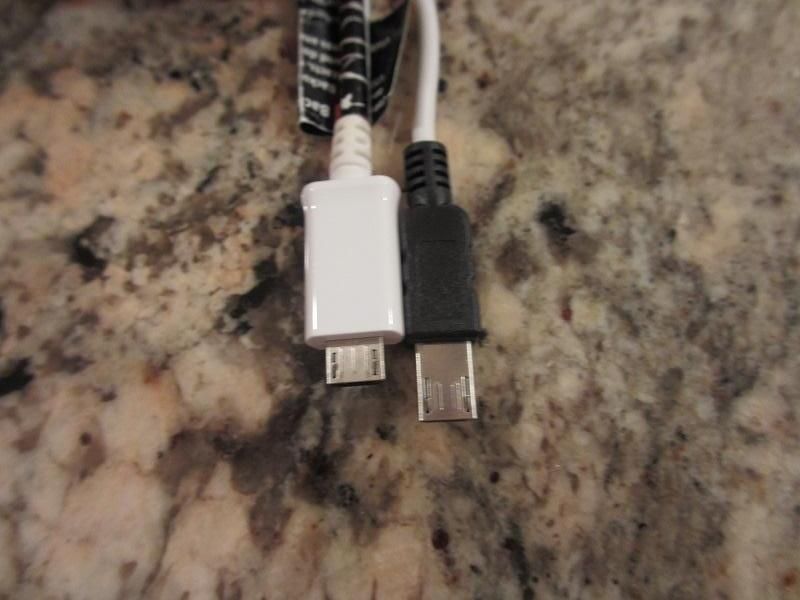 Design.
While so many others trying to alienate themselves from a general consumer crowd with futuristic gadget designs or compatibility with a specific phone or OS, Martian guys decided to start with a familiar round face analog watchface and add a minimalistic 96x16 pixel OLED single line display. Also, compatibility with Android and iOS is a big bonus. What really makes Notifier standout are two separate batteries, one to power up the watch itself (should last 2 years) and rechargeable battery for notification/BT functionality (should last up to 5 days). As a matter of fact, after 3 days of a typical average use I found a battery going down to about 80% which suggests Notifier might last even a week. There is also a watch battery % indicator in Android pull down notification, another great idea to keep you informed about battery status, though I noticed % got updated only once it dropped by 20%. Would be great to see in the next update a more precise battery indicator.
To set the time, you do it just like with any other analog watch by pulling the watch crown (located on the right side) and turning it to a desired time. On the left side of the watch, you have 2 push buttons to take care of all the digital functionality. The micro USB port, next to the crown, has a tight cover which should provided an adequate splash protection as well as being able to use the watch and view notifications even when it's drizzling outside. The watch itself has a typical analog watch dimensions and shouldn't be a problem to use with layers of cloth even in a winter with a heavy jacket. I'm bringing this up because with some other bulky/thick smartwatches I found it challenging to extend my arm from underneath of layers of cloth to view a display. Here, the design is very slick and works great for both casual and formal use indoors and outdoors.
And speaking of looks for any occasion, Notifier can accommodate any standard 22mm watch band. Though 3 color variations of Notifier come with a band to match the face color of the watch, you can choose from a bonus of 9 color bands with a special latch design for a tool-free removal. You just pull a latch to release a spring loaded pin, and remove/replace the band. For a standard 22mm watch band just use a small flat screwdriver or an edge of a knife blade just like with any regular watch.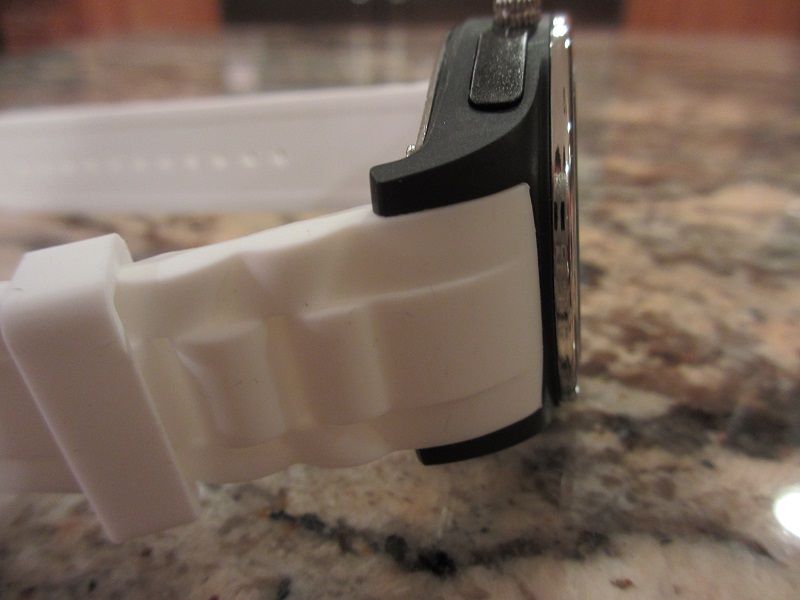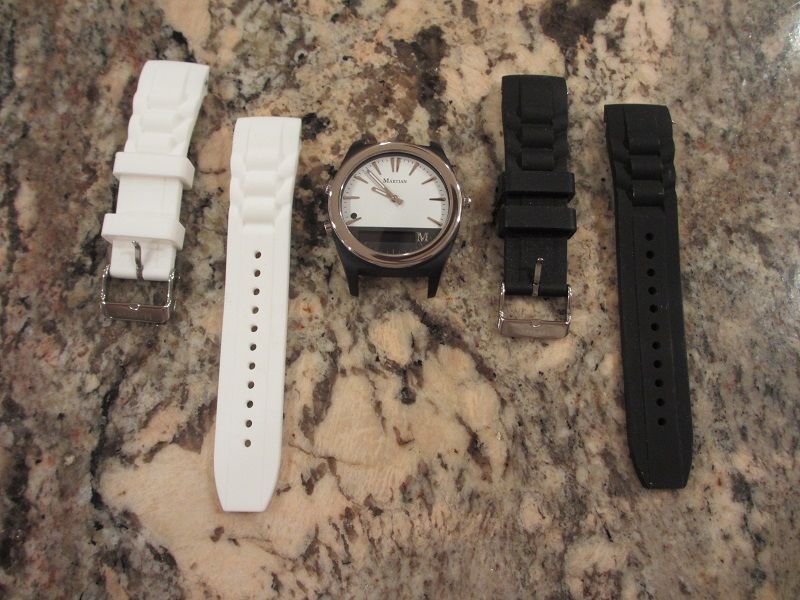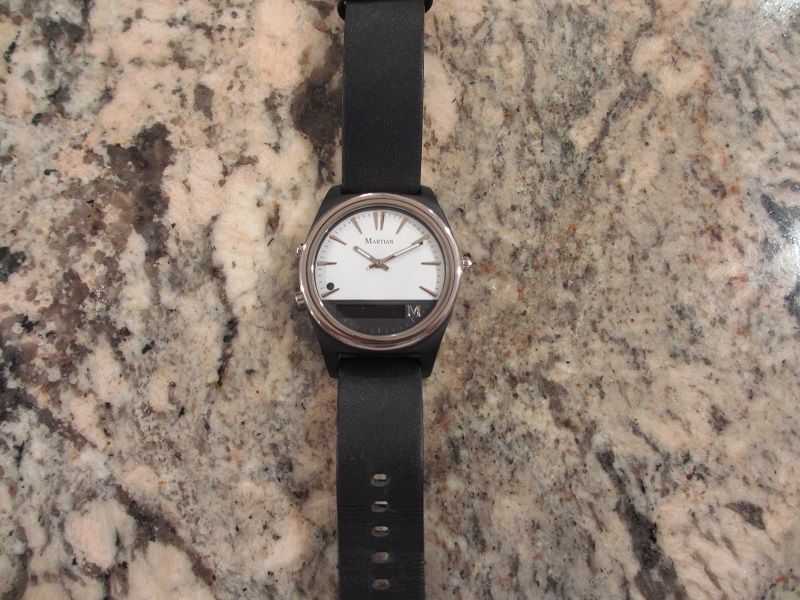 Display.
I was a little skeptical about the display thinking how much can you squeeze into such a small space, especially coming off a watch with a large square digital display. To my surprise, I found Notifier to utilize this space very efficiently providing all the necessary info in a very logical way. While idle, the display is blank preserving a battery. Pushing lower left button once, brings up a digital time, battery and connection status, a date, and a current weather (clock/weather are configurable and activated from within an app). Pushing the same button twice, brings up a setup menu where you can activate the light (blue led stays on once you push upper button and turns off when you push it again), DND (do not disturb indicator to disable notifications), camera mode (to remotely start camera app and take pictures from your phone - works as a remote shutter), find phone (activation will make your phone play a sound as long as it's within "connected" range), and additional Setup menu (to select language, date format, leash mode when you walk out of the range of your phone - alerts you, LED indicator, Android selection, and Update Mode when connected to USB port).
When you receive a notification, you get an app name to identify it, along with a time stamp, sender name, subject line, and even part of the message (up to 120 first characters). The text will scroll through a display, it has a high contrast for easy viewing, and I found it to have a good visibility both indoors and outdoors. You can also activate Voice Commands, where for example by default top left button will start voice dialer which can also be changed to Google Now activation instead. Also, once a message is displayed, you can tap on the glass of the watch to bring up the message again. Pushing both buttons together brings up a history of your previous messages.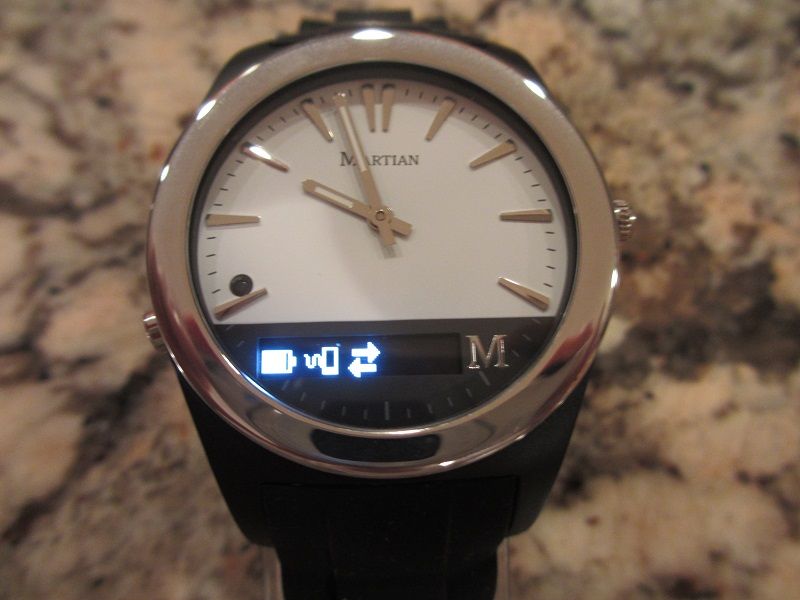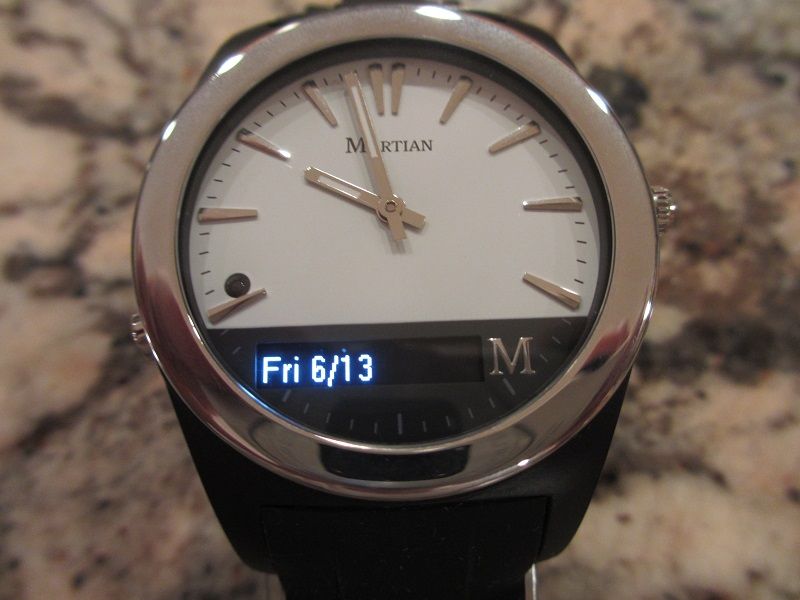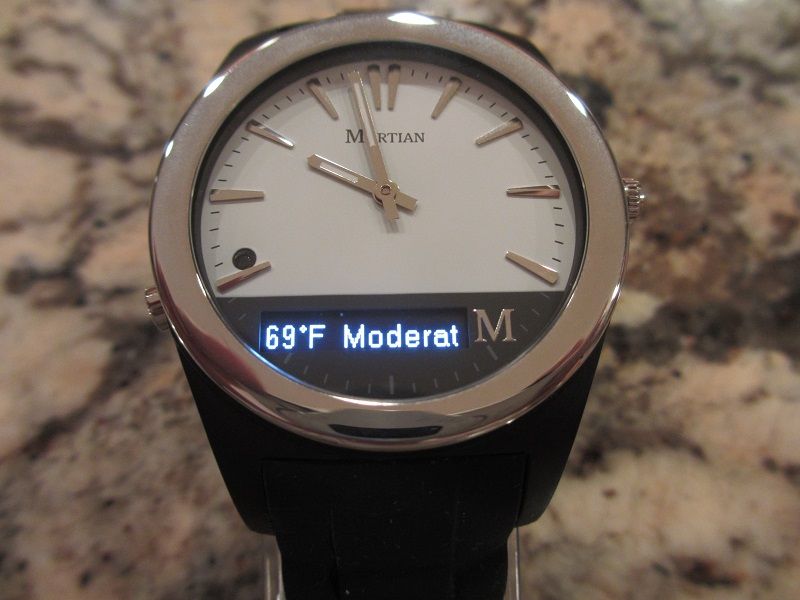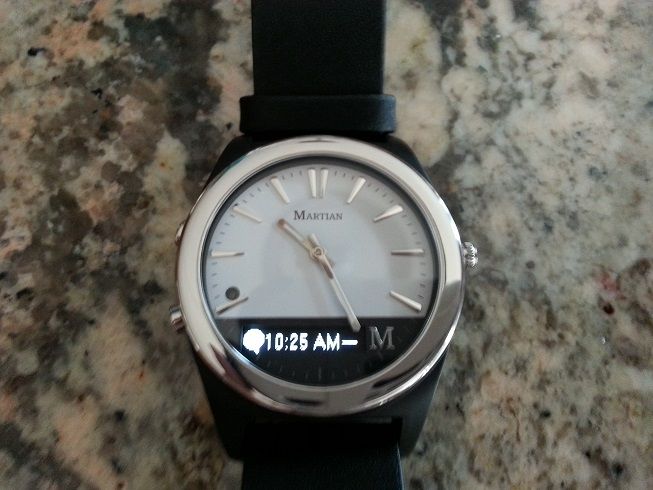 Martian Notifier app.
As much as I was pleased with a hardware of the Notifier smartwatch, their app impressed me even more. I do realize Notifier is not their freshman release, and they already have some experience with previous gen Voice Command watches, but still their Notifier app had a very polished look and user friendly navigation. One thing that deserves a special mentioning is their Alert section. You get a detailed list of all the apps on your phone where you select exactly which one you want to send a notification to your watch. What makes it stand out is that you can configure a custom 4-pulse vibration pattern for every notification, and also set the overall intensity of the vibration (all great options to preserve battery life). For every pulse you select Long, Short, or Pause (no vibration) unique pattern. Of course, it would be very hard to remember every custom vibration pattern, but it becomes very useful where you can, for example, group your home emails under one pattern while work emails under another and choose a different pattern for phone calls or text messages.
There are a lot of other goodies available in the app. For example, you can set Repeater notification to buzz your watch every hour at a specific minute activated between specific hours. Or you can set different Alarms, and so on. You can also configure a clock and weather for display, configure other setup options, and go through a various Help topics, including a manual. Everything in the app has a clear label, every app in the Alert list had an icon next to the text, and even when you configure vibration patterns you have an option to test each one before you set it. I also thought it was clever to include in Help section a Demo sample notification for either text message or email to help you verify your connection with a phone after pair up (which was very easy as well).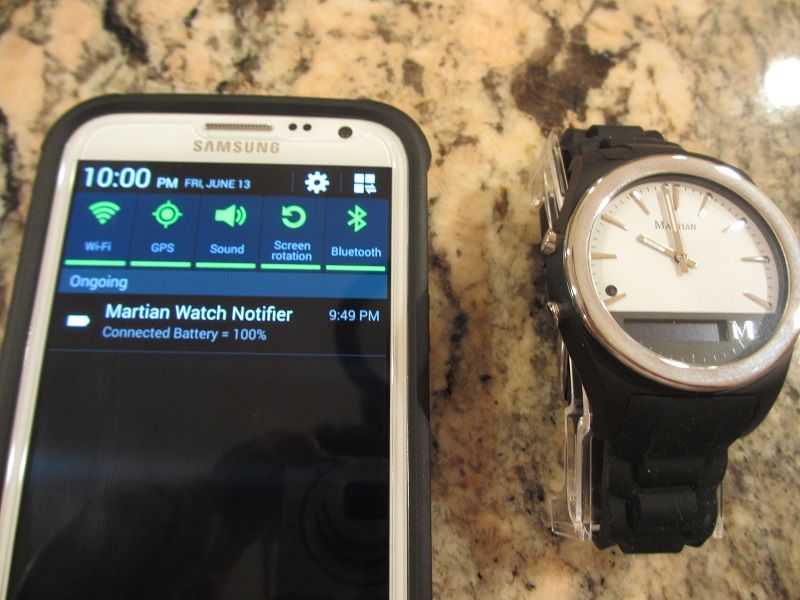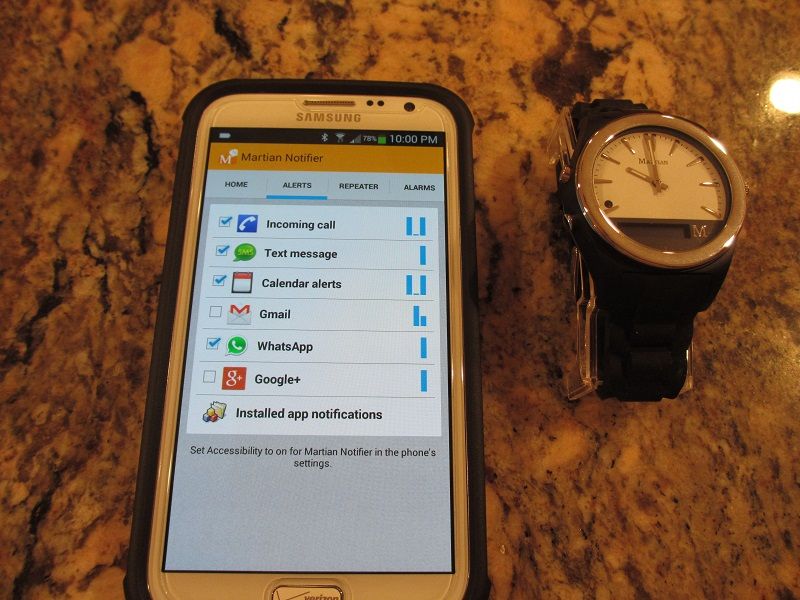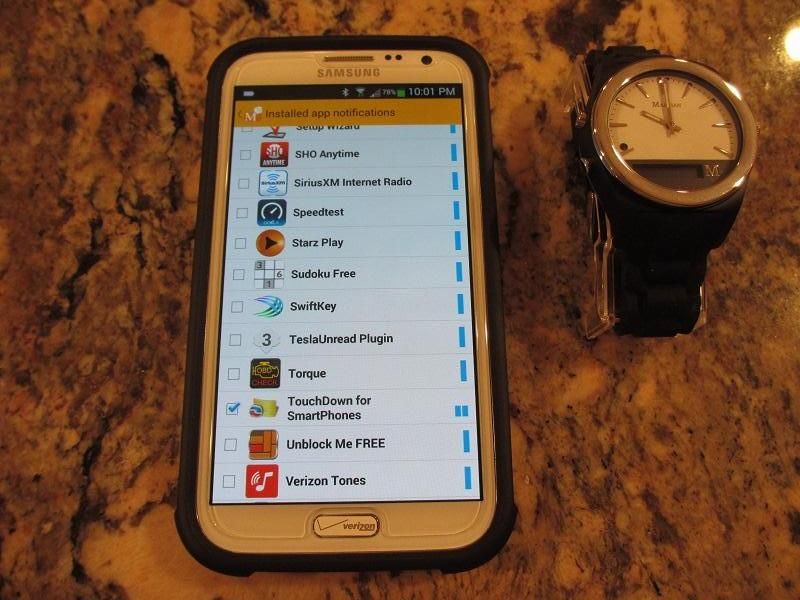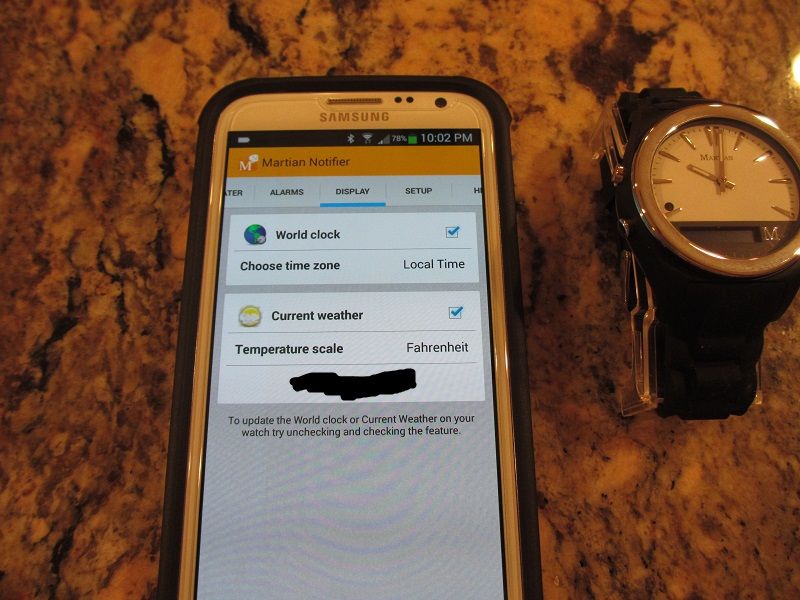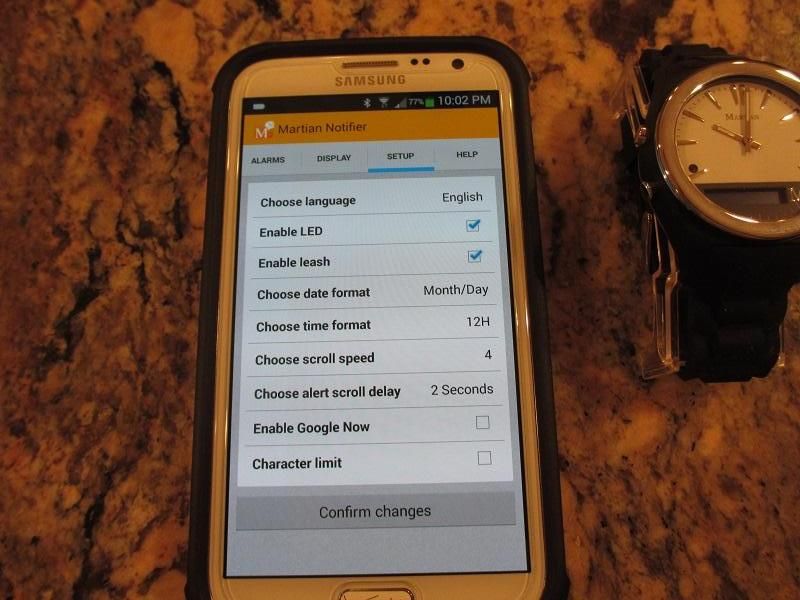 Conclusion.
Overall, to say I was impressed with this smartwatch would be an understatement! I had my share of other full digital screen -notification and android-on-the-wrist smartwatches, and found both to be an overkill for my personal taste. Don't get me wrong, I love gadgets and always get excited with how much functionality could be squeezed into a small footprint. But once all the excitement settles down and you take a step back to evaluate a practical aspect of the product, when it comes down to smartwatches I find less to be more. Doesn't mean that I will not be as excited once new Android Wear devices will start popping up, but at the current moment Martian Notifier is at the TOP of my recommendation list. It is driven by my own personal preference and experience of using other smartwatches, and I think it will also appeal to a lot of other consumers who were intimidated by current selection of smartwatch gadgets. Do I think Martian Notifier is an absolute perfection? Not necessary. As I mentioned before, I would like to see in a near future a full waterproof model, and maybe adding a few basic health sensors (step count and heartbeat monitor). There is also some room for improvement in terms of fine tuning the App with additional functionality. But I can tell you that after I registered on their forum and joined a few others with my suggestions about additional features (like adding remote music control) - I received within a day a reply acknowledging my suggestions and possibility of implementation in upcoming firmware/software updates. That gives me a piece of mind they are working on constant improvements and listening to their customers. For me, this is a truly Out of This World (as noted on their packaging) smartwatch with a great value for $129 which I highly recommend!