Greetings, allow me to introduce myself! My name is Ron, a veteran game developer working in the industry for several years now (creative development on Tony Hawk, Heroes of Might and Magic, Alpha Protocol, among others). In the past couple of years I've decided to go my own way and develop for the independent scene - it's been a blast so far!
Our studio
Headcase Games
has released a couple of apps for iOS and we've since moved onto Android. Our first undertaking is a souped-up version of our extremely popular iOS action-puzzle game 180 (
website
). This won't be merely a port, but rather a major overhaul with a fresh, stronger presentation, new features, new game modes, and a rather different approach to monetization (you'll see!)
With hundreds of thousands of downloads on iTunes, our original game is highly rated and is available for $1 (
LINK
) I'd suggest you wait to see the new evolution of this project though, as it will be releasing within a few weeks!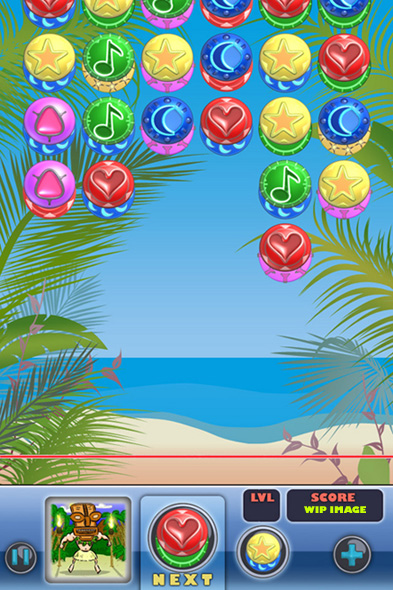 early WIP image - larger size
HERE
The game itself is a colorful match-3, with very simple mechanics overlaying a complicated chaining and scoring system. It's heavily inspired by games such as Bust-A-Move and Tetris Attack (and can sort of be seen as a hybrid of both, in certain ways) although the "touch any piece to flip" mechanic is completely new and truly makes this a game all it's own. Simple enough for any casual player to pick up, but devious enough to hook the hardest-core players, the reviews of this game already speak for itself and I know this new version will be even better.
Visit the website (still iPhone-centric, that'll be changed as we near launch) to get a sense of the game. Here's a handcam YouTube vid of the older iPhone version showing how intense the gameplay can get (
LINK
)
WE NEED YOUR HELP!
As we approach with our first Android release, we need all the help we can get to put the word out. I've got huge plans to put out more great Android apps this year, 180 is just the beginning. Only with your support/downloads/word of mouth can we get that happening bigger and faster! I'll post back in this thread with some promotions to get the ball rolling; in the meantime, feel free to talk about anything relevant in this thread: the history of Headcase Games and 180, ask about my previous
studio
experiences, the goings-on of independent development and marketing (which have been my life 24/7 for a few years now!), plans for the future, etc.
Additionally, follow our
blog
/
twitter
/
Facebook
to get a leg up on what else is goin' on, and note that we run a lot of contests and promotions if you are keen to try and win stuff..!
I think it's safe to say that Android development is really going to explode in a big way shortly, and I am very excited to be a part of it!