Markeet Fight :: Motorola Atrix 4G Vs Iphone4
Motorola has managed to come up with a very good concept. Its essentially a very powerful phone, which can be converted into a PC or a netbook. This will provide a serious competition to the iPhone4 and also provide a single device which can double up as a PC or a netbook.
It has two docks which are optional accessories
* The Motorola HD Multimedia Dock has three USB ports and an HDMI port enabling connections to a keyboard, mouse, speakers and HDMI-compatible monitor for working at your desk/office, or connecting to an HDMI-compatible television and home theater audio system for interacting with content and enjoying video, music, games and more in your living room.
The Motorola Laptop Dock has an incredibly thin design with an 11.6-inch screen, full keyboard, stereo speakers, 36Wh three-cell battery that delivers up to eight hours of battery life and weighs just 2.4 pounds. Users simply dock their Motorola ATRIX 4G into the back of the Laptop Dock to turn it into an active, connected machine to experience true mobility at work, home and playing on-the-go in a form factor thatís lighter and smaller than most laptops on the market.
Deathmatch: Email, calendars, and contacts
For testing, I used a personal IMAP account, a personal POP account, a personal Gmail account, and a work Exchange 2007 account. Both devices work directly with IMAP and Gmail, as well as with POP; my email, email folders, calendars, and contacts all flowed effortlessly among the smartphones, my laptop, and the server.
Both devices try to autodetect your settings wherever possible, but the Atrix was typically unsuccessful. In manual mode, I spent hours trying to get it to send emails from my POP and IMAP accounts, logging failure after failure. After comparing the Atrix's settings to a standard-UI Google Nexus One device, I found the cause: Motorola Mobility's MotoBlur kept overriding my manual settings to add a user name to the SMTP settings, even though neither my POP nor IMAP Internet service providers use one for authentication. That unwanted information essentially caused both servers to reject the mail being sent from the Atrix.
The Nexus One, which uses the plain-vanilla Google Android OS (both the Atrix and Nexus One run the Froyo 2.21 version), lets you disable such authentication, and it had no trouble sending email from both accounts. For the record, neither did Motorola Mobility's own Xoom tablet, reviewed here. The iPhone (I tested the Verizon Wireless version running iOS 4.26) also handles these accounts without issue. This "I know better than you do" override is a major problem -- and emblematic of flaws throughout the MotoBlur interface, which cannot be removed or disabled -- that will make the Atrix unusable for many people's email accounts.
The custom interface of the Atrix is most notable in terms of social integration. When you start the phone for the first time, you'll be asked to link a number of accounts to it, including Facebook, Twitter, and Google (all optional). There's an individual screen purely loaded with social features, oddly combining everything into one spot. It's a bit clunky and confusing, but it's not completely integral to the Atrix's function (though it could be a great supplement). The interface certainly isn't as intuitive as the iPhone, though many of the features, like the side-scrolling homescreens, are the same.
iPhone 4 vs Motorola Droid Bionic vs Motorola Atrix 4G vs Nexus S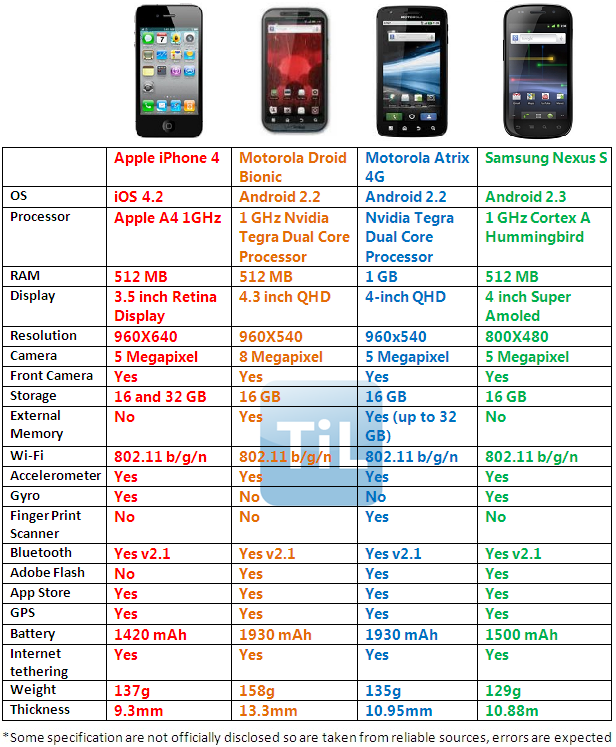 Source: www.motorolaatrixforum.com