For those what want to get a tablet PC but not sure about which one to get or how much to spend on it, i would like to share the information of the most Popular Chinese branded Tablet PCs to you, so that you can have a quick glance at the tablet PCs with relatively high cost performance.
Firstly, before introducing these Tablets, you need to ask yourself a few questions to help choose the right tablet PC.
1 what are you going to do with it ?
Generally, people buy a tablet PC for the entertainment(seeing movies, playing games and so on) or working purples, some buy it as a gift.
2 How much is your budget ?
The prices of tablet PCs are from $60 to $300, even over $1000.
3 Which screen size do you want ?
The screen sizes of the tablets on the market are manily 4", 4.3", 7", 8" and 9.7". (If you want to take it anywhere, 7" is portable and large enought, but if you just use it at home to see movies do the net play and play some little games, 9.7" screen would give better operating experience.)
AINOL NOVO7 Paladin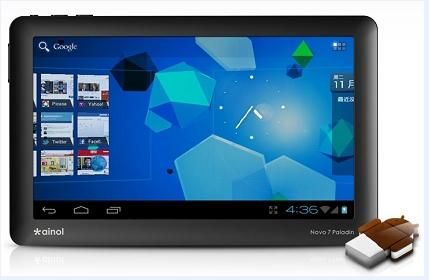 It is the first Android tablet with the 4.0 Ice Cream Sandwich OS
7 inch multi-touch capacitive touchscreen
1GHz Ingenic JZ4770 Xburst processor
Supports WiFi
$96.93 $115.93 - TinyDeal - (AINOL) NOVO7 Paladin 7 Multi-touch Android 4.0 ICS OS Tablet LNOV078G05 $96.93
Amazon.com: Ainol NOVO7 Paladin - Android 4.0 (Ice Cream Sandwich!) Tablet PC, 7 Inch, Capacitive, 8GB, 1080P output, Black: Computers & Accessories $114.98
Onda Vi40 Elite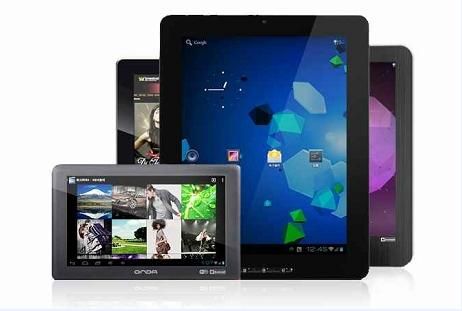 Display:
9.7
-inch high-definition IPS Capacitive touch Screen, supports 5-point touch, resolution 1024*768
OS: Google Android 4.0 ICS
CPU: AllWinner A10 Many-Core, overclocking @ 1.5GHz, clocking @ 1.2GHz
Dual Cameras: front 1.3MP, rear 5.0MP
Memory: 1GB DDR3 RAM + 8GB Nand
Ports: HDMI output, 3.5mm earphone jack, OTG port, microSD card slot, etc.
Full access to the official Android market
Onda Vi40 Elite Android 4.0 10 inch Capacitive Cortex A8. Only $269.99! $239.99
*****: Low-Priced , USD 269.99, ONDA VI40 Elite Version Tablet PC Android 4.0 9.7 Inch IPS Screen 8GB 1GB RAM 5.0MP Camera HDMI (CN110248) USD269.99
ONDA VX610W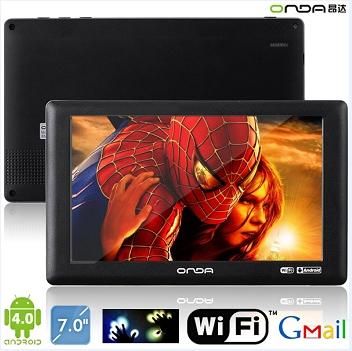 7" capacitive touch screen
Supports video and audio playing, picture browsing
Wi-Fi and HDMI video output
Google Android 2.3 OS
Built-in 3D graphics acceleration and plays 720P & 1080P HD videos
3D G-sensor, 3D videos
$118.99 - TinyDeal - (ONDA) VX610W 7 Multi-Touch WiFi Tablet (ARMv7/8GB HD) L-76406 $118.99
Onda A10 VX610W Luxury Version 7" Capacitive Touch Screen Android 2.3 Tablet PC with Wi-Fi, G-sensor, and 3D Video (Black) CE0008B - $132.57 - Affordable Tablet PC $132.57
Amazon.com: Onda VX610W 7" Android 2.3 Tablet PC Mid 512MB 8GB HD2160P Wifi Capacitive: Computers & Accessories $139.99