Enjoy moon phases widget and beautifully animated zodiac circles. Touch-n-turn the moon to change the date. Browse moon calendar, get automatic GPS location or set any location, date, time. Look at moon azimuth, moonrise time and learn when next moon phase is. Explore unique moon astronomy and astrology with style.
Features:
- Moon phase widget.
- Moon calendar with moon phases and zodiac signs.
- Animated Zodiac circles.
- Sidereal and tropical zodiacs along with astronomical constellations.
- Touch-n-turn the moon to change the date.
- Phase scan tells you when the next phase will be.
- Automatic positioning by GPS or cellular network.
- Network independence: works anywhere without Internet or cellular connections.
- Flexibility: you can manually set location, time, date and UTC offset.
- Displays current moon's age: how far along the moon is in its full cycle.
- Percent of the illuminated moon area.
- Full names of all moon phases.
- Zodiac sign the moon is in.
- Moon timers: amount of time since moonrise and until moonset.
- Moonrise and moonset times for your location.
- Moon azimuth.
New Deluxe Moon Video is available:
Youtube Video
YouTube - Deluxe_Moon_Android.avi
Screenshots: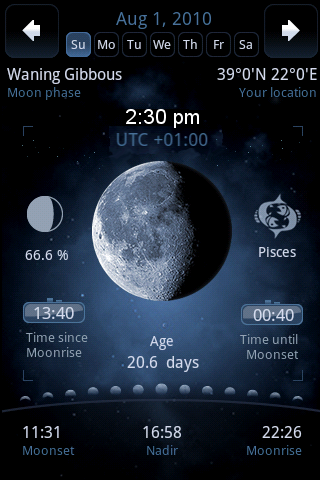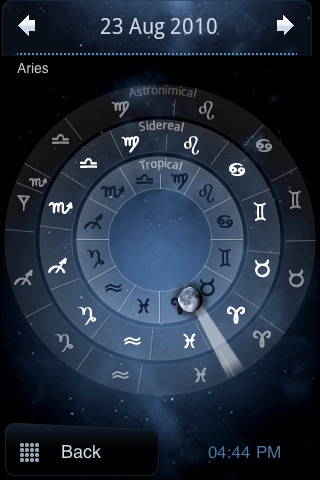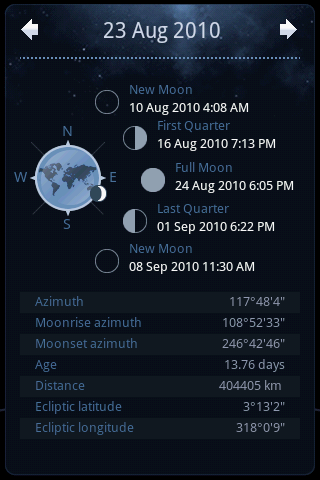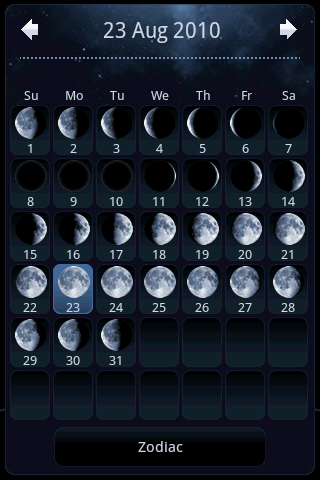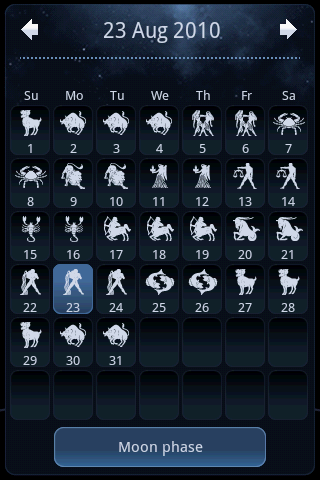 Demo: Deluxe Moon Lite (FREE)
Deluxe Moon Lite - Android
Developer WebSite:
http://www.lifewaresolutions.com