A VNC SERVER FOR ANDROID WITHOUT ROOT REQUIREMENT
VMLite VNC Server allows you to remotely view and control your android phone or tablet from a desktop computer or from another mobile device using the popular VNC protocol.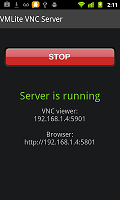 You can purchase this app from Google Play Store:
https://play.google.com/store/apps/details?id=com.vmlite.vncserver
Company site:
VMLite VNC Server Overview
FEATURES:
- no need to root your android devices
- works on API level 7 and above, including Eclair, Froyo, Gingerbread, ICS and Jelly Beans.
- supports ARM and X86 devices.
- supports typical VNC clients, TightVNC, Real VNC, etc.
- supports Java enabled browsers. You can connect to the android device from a browser using a Java applet
- supports HTML5 compatible browsers, you can connect to your android device without any other installations
- supports reverse connections to vnc viewers running in listening modes
- supports VNC password
- supports scale and rotation
- two-way clipboard support (text only)
- full mouse and keyboard control
- supports special keys, such as Home, Back, Menu, Search, Power, etc.
- supports long press keys, e.g., you can press and hold the search key
- supports mouse wheel
- supports swipe/fling gestures
- auto turn on screen when you press any key from VNC client