Well, there haven't been a lot of themes posted here, so I decided to share mine with others who might not know how to do so or have my awesome photoshop skills.
(isn't Android about customization?)
New release (August 24th)! There's no big change, except that the Power Control Widget acted weird when you pressed them (it changed color, but not really correctly, it's a detail. Now fixed.) Also I removed the background for the application drawer, because I now use ADW launcher and the tray is somewhat transparent.
Anyway, I didn't make this theme for others, I made it for myself. I didn't plan on sharing it, and it's in no way a complete makeover for your Galaxy. I wanted
a few things
to be different, so I changed them, and I constantly mess around with this theme.
What I use: Galaxo 1.6.3.3 with Helix on the screenshots, I now use Galaxo 1.6.3.4 and ADW launcher from the market (with root explorer I went and deleted launcher.apk, so I get all my memory. Ask if you have problems).
DO A NANDROID BACKUP FIRST!!!
Note: To install Helix launcher, download this one, get into the recovery, fix package permissions, apply any zip and select HELIX.zip (if you download from the market, your phone will be slow: the original launcher is locked into memory, the one I gave you will overwrite it. I recommend using ADW though.)
GalaxOrbit-1.3
How to install:
-Download the GalaxOrbit-1.3.zip and extract it.
-Download and install Metamorph on the market (there's a free version).
-Run metamorph once.
-Place the extracted theme folder in the new "Androidtheme" folder of your SD card.
-Run metamorph
-When the check is over, select the bottom right option (Existing themes), and select GalaxOrbit-1.3
-In there, select GalaxOrbit-1.3.xml and then the bottom right option (Apply all). Answer yes to the prompts they give you, and there you go!
Screenshots (the Google logo in the search bar is now back to its original color):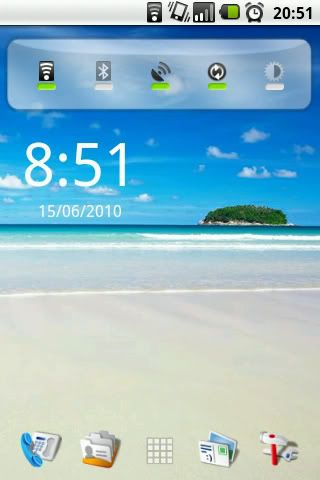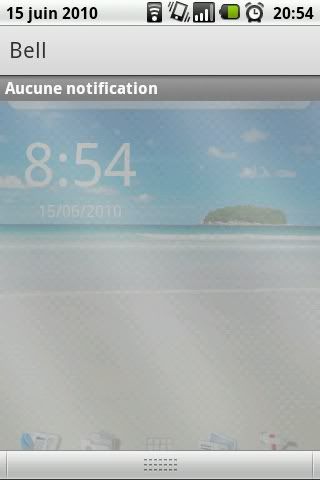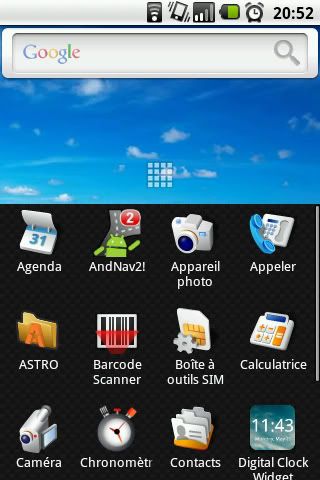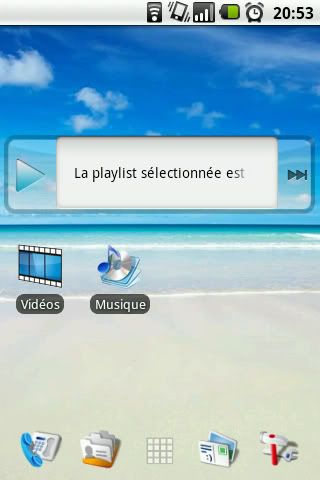 FAQ:
What are the changes?
The power control widget is now transparent, same goes for part of the music widget. The notification tray is now transparent too, with some lightning effects. The application tray background now has a texture (it's plain dark with Helix launcher). The Google icon in the search bar now has colors (NOT ANYMORE, check edit at the bottom), and the icon for the stock music and video apps were changed. You can see all those changes in the four screenshots. The beach background was added too.
Why GalaxOrbit? That's a stupid name.
No reason, it's one of the first words starting with O that came to my mind (it was almost called GalaxOhMyGod, GalaxOrbit doesn't sound too stupid now, eh?)
What's the time widget?
You can see it in the screenshot where the app tray is opened, it's called Digital Clock widget
¸
Why did you start with the 1.1 version? Why not 1.0?
I started with 0.1 up to 1.1 and then I decided to release it. I tested many things during the 10 versions, such as: new launcher icon, transparent Google search, icons for the power widget control, new battery indicator, more wallpapers, etc etc. I decided that this was simple and nice-looking, so I went back to most of the stock stuff.
That's it. I don't expect many people to post and even less to use this, but I think it looks nice, and it might raise the awareness that you can do this yourself and it's REALLY easy. No need to code, to use ADB, the only thing you need is a program like winrar to open the .apk files (apk = zip) and then you can directly modify the icons, as they are simple png pictures. What I did was take an existing theme (GalaxAir, by Korline), and check out how it's done. I was surprised by its simplicity.
EDIT: GalaxOrbit 1.1 was removed and replaced with 1.2. I don't think anyone used it, but if you did, I suggest a Nandroid restore and using 1.2 instead. With 1.1, I would always get force close when installing an app from the market (probably because the Google apps were modified), so I removed the colors from the Google in the search widget. Going from 1.1 to 1.2 won't do the job, as Metamorph can't remove files, and I didn't include the original picture in 1.2 just in case it would do the same thing. 1.1 link was removed.
Any questions, comments, requests, feel free to ask.