So it's no secret that the super-special-awesome multimedia and car docks use magnetics to get you into that mode. But I got curious just now, so here is what happens when you put 1/4" cube neodymium magnets on certain spots on the device. If you already figured that this is how it works, good for you.
These pictures are terrible, yes. You can click on them to see them in their full-sized horror. I didn't make a point of being artistic here, I just want to show you what happens. And yes, that is a box of Sensodyne. It was on my bathroom vanity, which is the best-lit area of my house at nighttime.
This is where you want to put the magnet to activate the sensor.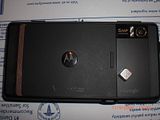 But the polarity is the key to choosing which "dock" gets activated. I don't have a polarity indicator to tell me which pole is which, but suffice it to say that one pole activates multimedia, and the other activates car.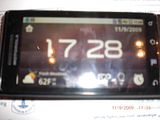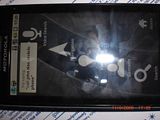 I tried this with 5mm diameter, 1mm thick neodymium disks, but they didn't work. That's the only other size I have besides 1" cubes which I'd be afraid to put by my phone though.
You may want to look into something like 5mm by 2mm or 10mm by 2mm or something. 1/4" cubes aren't very compact if you're looking to be thrifty and make your own dock. You could just slip a thin disk into your design and it'd be totally discreet. Hey, making your own dock or buying an el cheapo one and slipping in a 10 cent magnet sure beats buying a $30 one, doesn't it?
This also shows us that there may not be any more special docks to come, and if there will be, they won't be based on this technology. After all, both poles of the magnetic sensor have already been used.