I hope some of you will find this mod useful or at least entertaining with all the pictures
If you dare to do it, it shouldn't take more than 10-15min.
One of the greatest features, among so many, of Note 2 is being able to connect a number of usb devices (peripherals) such as keyboard, mouse, usb storage, etc. without a need for rooting. It's a stock option! Of course, you need OTG (on-the-go) usb cable as a bridge to connect these devices. Those are unique micro-usb to a regular (female) usb cables where Pin 4 (Sense) of micro-usb connector is shorted to a ground Pin 5, thus turning our Note 2 into usb host. Solution is simple - go to ebay and buy $0.99 OTG cable. If you are in US, simple search for US reseller and sort by cheapest price. Don't pay a penny over 99 cents for these cables - they are all the same quality, the only difference some might have straight micro-usb while others right-angled micro-usb connector. Typically such cable is 4.75" in total end-to-end length. Combining it with a tiny SanDisk Cruzer Fit usb drive - and you got a relatively short and portable attachment to watch movies without anything excessive dangling off the phone. Well, I decided to challenge that and make this cable even shorter, to be exact by almost 2". Tools are very basic, x-acto knife/blade, scissors, electric tape, and wire stripper.
Start by slicing the outer plastic/rubber shield of the cable to expose the inner guts.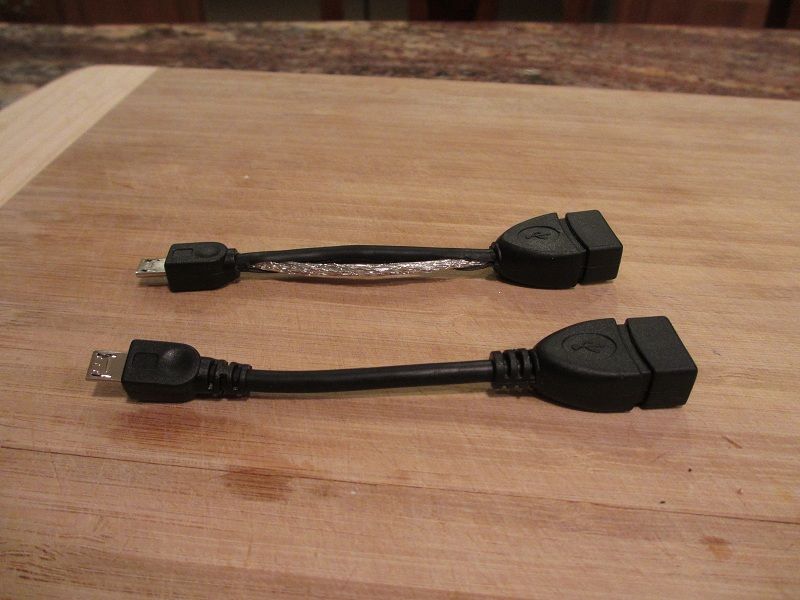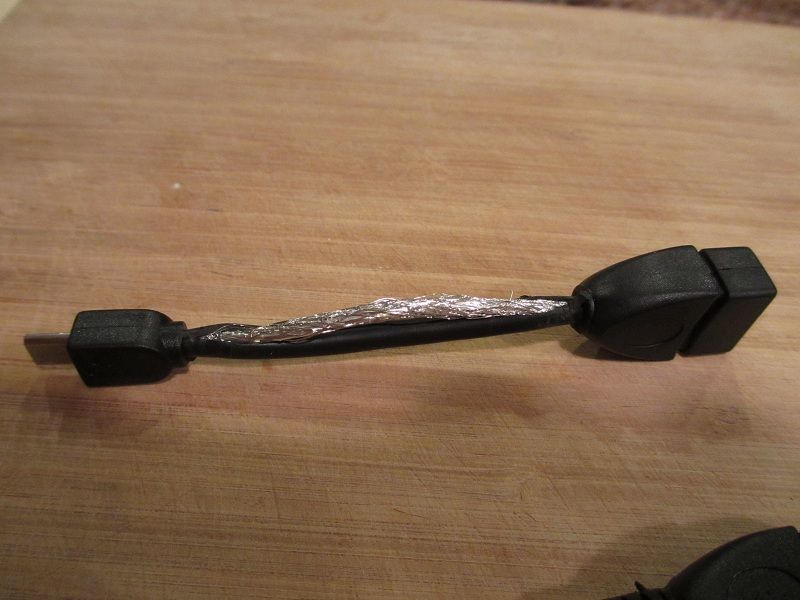 Inside you will find 4 wires (red/black - power/ground, the other two - data +/- wires) wrapped in a shielding foil and more shielding wires. For a longer cable this shielding is necessary to prevent pick up of external electric field interferences, but since we are making cable as short as possible - it doesn't really matter in this case. Here, I stripped the shielding and cut the wires, stripping each wire individually to expose the actual copper core. You want to cut it as short as possible, but at the same time leaving enough length to connect/twist wires together.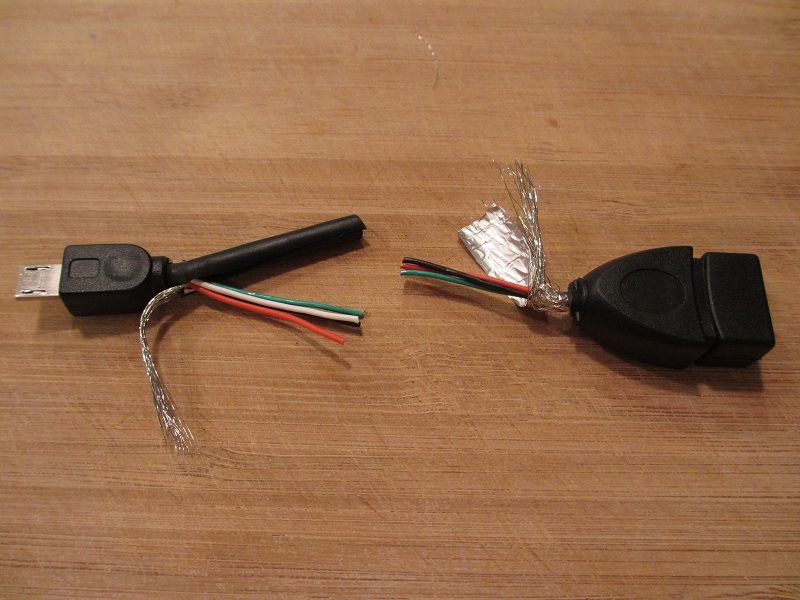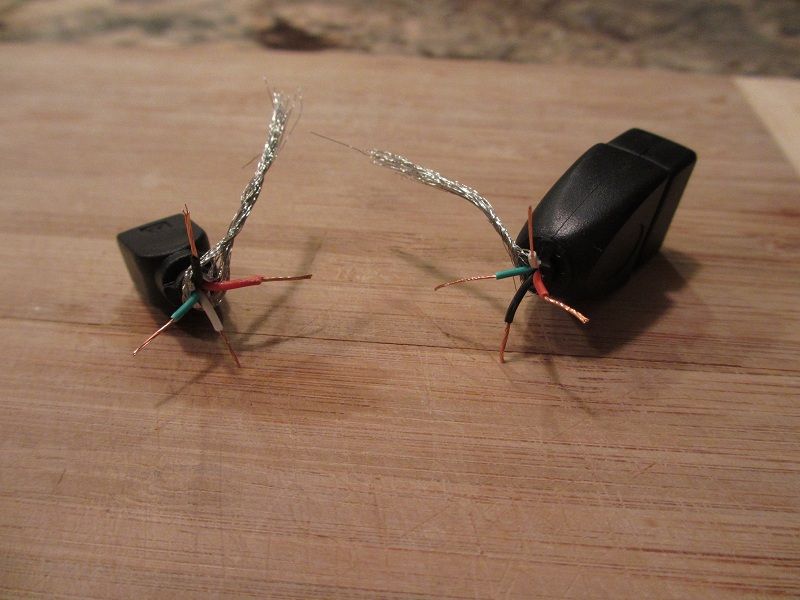 Keep all 4 wires separate and twist them together to link both usb connectors.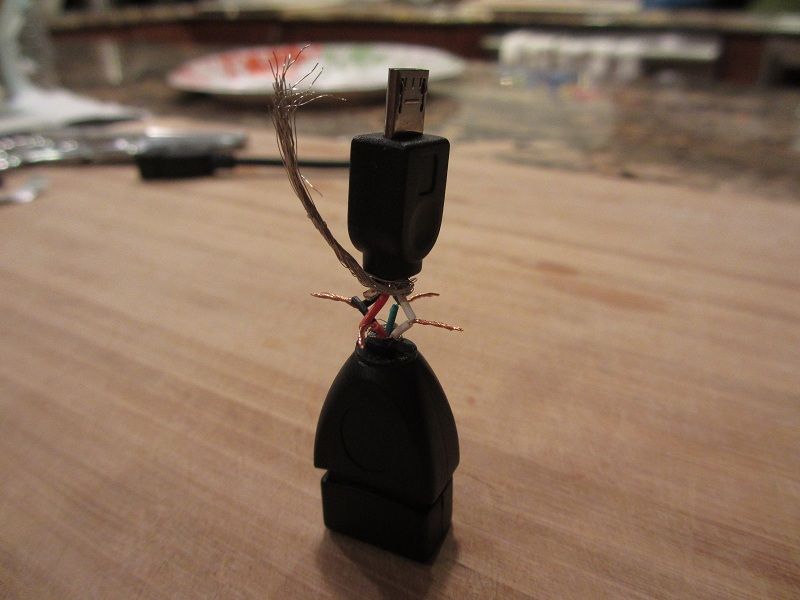 In the final step, use small strips of electric tape to wrap up each twisted connection pair. It is very important to keep each pair wrapped separately to make sure when you apply final electric tape wrap to bring everything together - no copper parts of matched wire-pairs are making a contact.
DISCLAIMER !!!
- if you short Power and Ground together by not isolating every connection pair inside of your final wrap, you can fry your phone (damage battery, internal components, etc.).
The result is a very short OTG cable; very convenient in conjunction with Cruzer fit usb drive to watch movies on your Note2
Again, if you decide to follow these steps, be
VERY CAREFUL
not to short any wires by keeping each pair of twisted connections isolated with electric tape.
Enjoy!!!