Actually this is a double review where I would like to share with you my latest two portable speakers, one is Hi-Fi Super Bass Bluetooth speaker music player for $14.50 (
Wholesale HI-FI Super Bass Bluetooth / TF / Handsfree Phone Intelligent Voice Speaker - Black - Speakers & Microphones
) and the other one is Kaidaer Mini-speaker music player for $8.30 (
Wholesale Circular Mini Speaker Music Player for iPhone Mobile MP4 MP3 PC, Support TF Card - Green - Speakers & Microphones
)
When I started doing my reviews early this year, my main goal was to prove to myself and to others that you can get a high quality product and don't spend a fortune. That was mainly in reference to phone cases and screen protectors. I was skeptical about anything else outside of that, especially something like speakers where even big name companies with products $100+ can't get it right. Recently I had success with quality of stuff I got from tvc-mall.com, so I figured to give it a shot with a few speakers that were dirt cheap and looked cool as hell on a picture and in description. Turned out that I was in for a huge surprise when I got these in this week. I actually been playing with these for a few days just to make sure it wasn't my first impression reaction. Still LOVE it and planning to order more since both of my kids already got their hands on it lol!!!
Let's first start with Hi-Fi Super Bass speaker. When it comes to portable speakers, small is great and this one is about 55mm in height and 60mm in diameter, but also you want it to be heavy thus knowing it has a better driver - and this one at 206 g feels nice in your hand! The construction is very solid, aluminum, with a top firing speaker covered with a grill The bottom of the speaker has a non-slip rubber-ring pad to keep it steady on the surface, comes handy during bass shaking
It has a rechargeable battery, 700 mAh, so no need to worry about replaceable batteries, just use mini-usb cable (included) to charge it up and you are ready to go! The speaker is both bluetooth and also has micro-sd card which turns it into a music player. The play controls are at the bottom where you have Play/Pause, +/- for volume up/down when you hold those buttons or Next/Prev track skip when you just press it briefly, and M mode change button to switch between bluetooth and micro-sd card, as well as pairing up function button. There is a guiding voice that tells you when you turn the speaker on, when its bluetooth or card, and when it gets paired up with your phone. In bluetooth, its also a speaker phone and switches seamlessly when you are playing a music from your phone and receive a call - it pauses the music, switches to call, and when you are done goes back to music. The volume control is DUAL, which means you can use either +/- control buttons or a specially designated ring volume control which is located around bottom of the speaker. That volume control is super cool, just turn the dial clockwise/counter-clockwise to raise or lower the sound.
Here is where it gets totally insane - the sound quality. Yes, it has a nice deep bass sound and a very loud overall sound with clean and clear mids/highs. The bass is so good, it will shake in your hands! For a no-name generic speaker - this is very impressive. Another very impressive part is that playing the same song through bluetooth or directly from micro-sd card - doesn't change the sound quality. Due to bandwidth limitation, bt compresses the sound often cutting lows and highs - not in this case. Overall I was very impressed, considering this is $14.50 speaker with so many features, controls, and great sound quality. You can definitely use it both indoors and outdoors because it's loud enough.
Here are the pictures.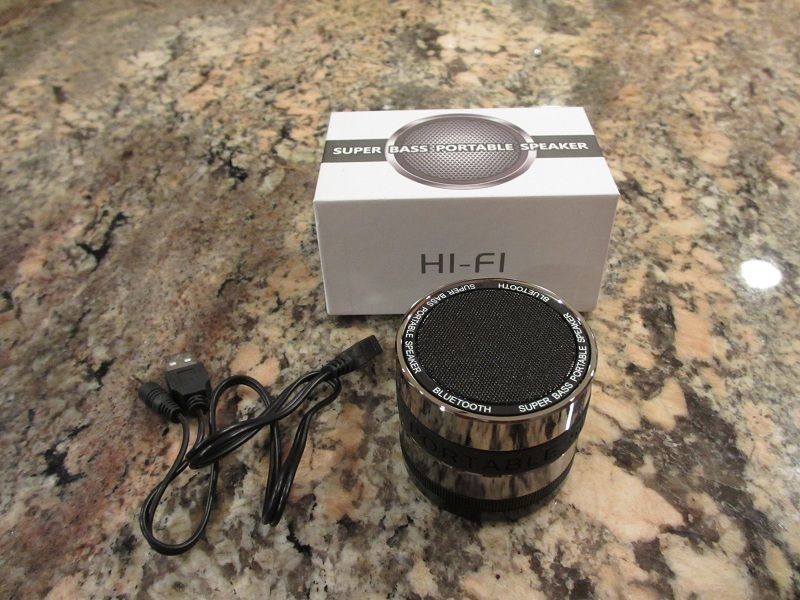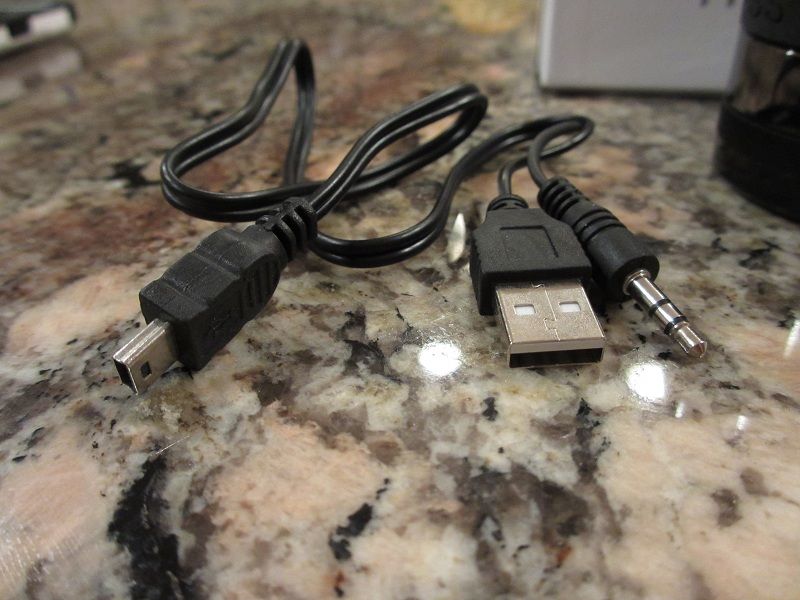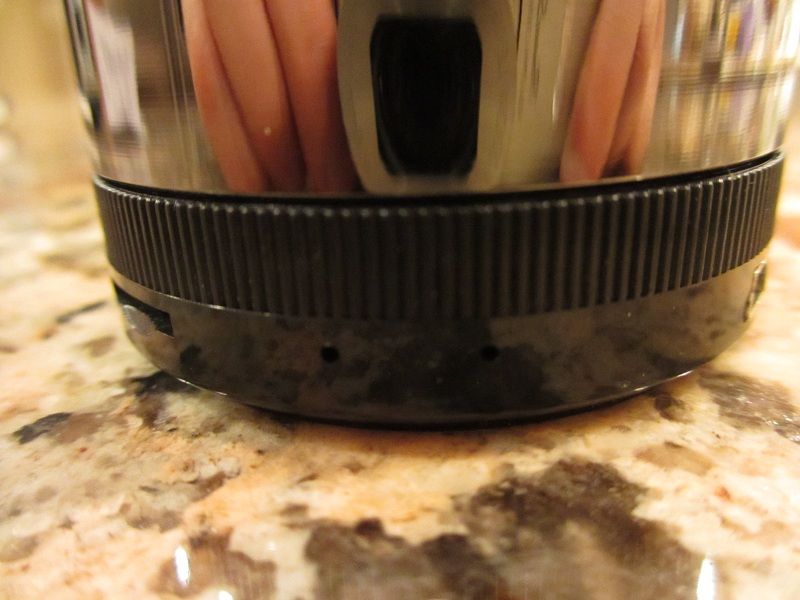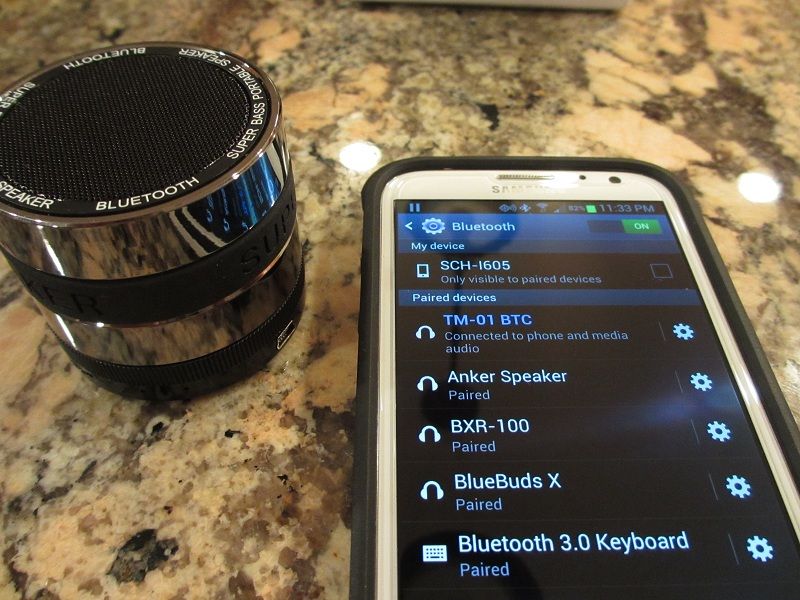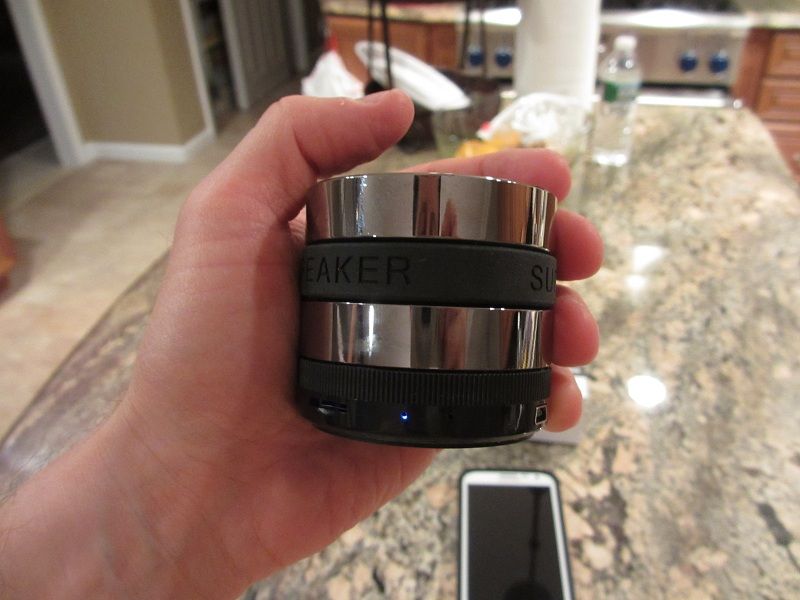 The second speaker is actually brand name, although its probably local HK company which I never heard of, Kaidaer. It's only a speaker with micro-sd card, no bluetooth. But it also offers Line Input to connect any other device or to use 3.5mm cable as antenna since it has built in FM receiver. You also get headphone output for private listening, you get different playback modes and a separate EQ setting buttons, along with Play/Pause button and Skip Next/Prev which doubles as volume up/down when you press and hold it. This one is also rechargeable and mini-usb cable as well as 3.5mm audio cable come with included accessories. The speaker is even smaller than a previous one, being under 2" in height and diameter, about 130g in weight, top firing speaker with a nice mesh grill, solid aluminum design (my youngest dropped it a few times already, still like new!), and a small built in translucent stand with non-slip surface which also transmits light from a blue led inside of the speaker. Although smaller than previous one and also cheaper (at $8 plus change) - it actually LOUDER and has even cleaner mids and crispier highs which actually sound natural rather than exaggerated. OK, I do listen mostly to EDM and Dubstep
but I'm comparing it to other high quality sources I'm referencing it against (like Klipsch and UE). According to the description of this product, it has aluminum vibration loud speaker film. Whatever it is - its brilliant and for $8 and 8 different color case choices - I highly recommend it! Turn off the lights in the room, and have a rave party lol!!! (I have it demonstrated in my last picture).
Here are the pictures.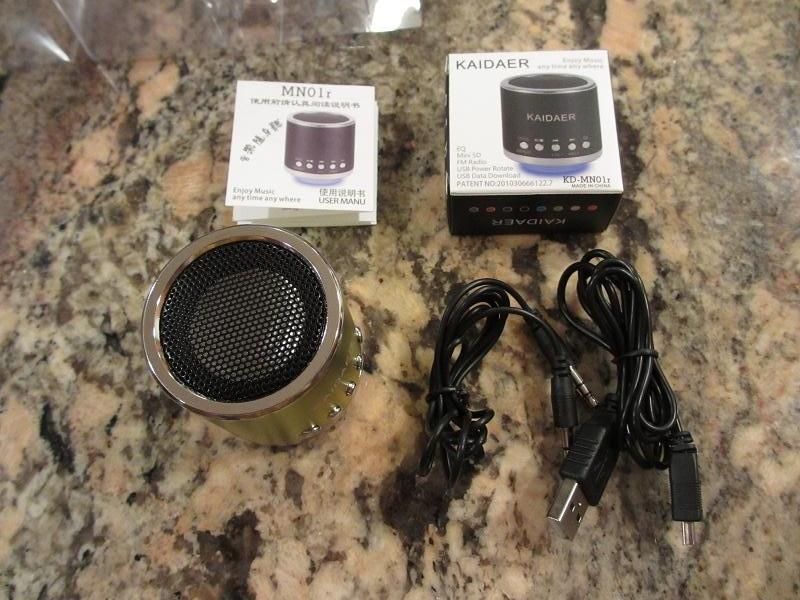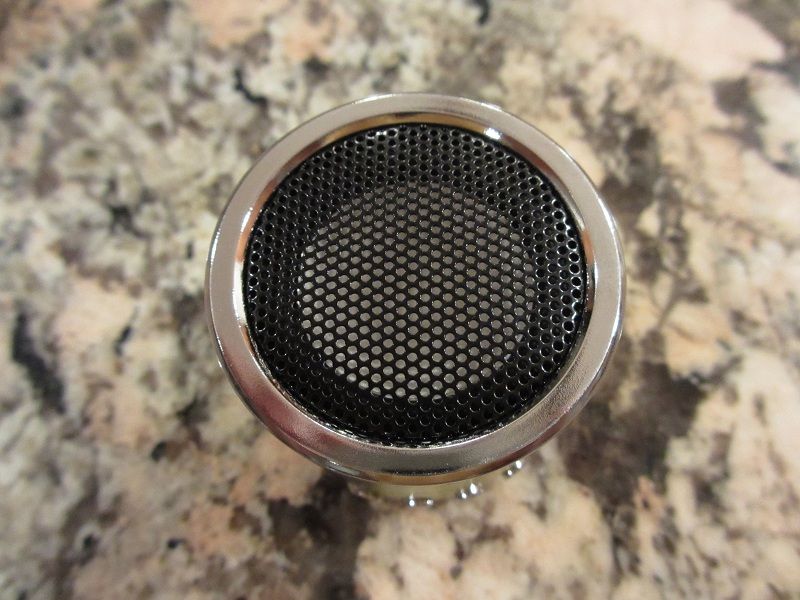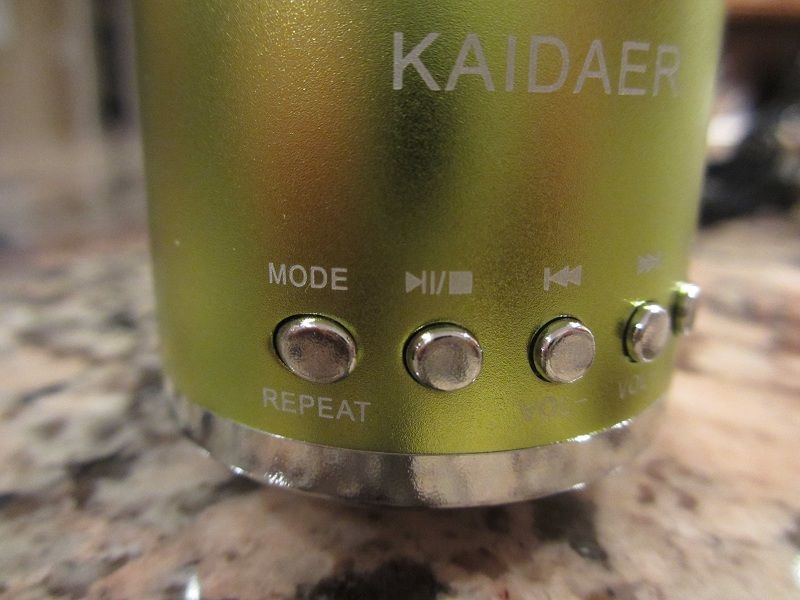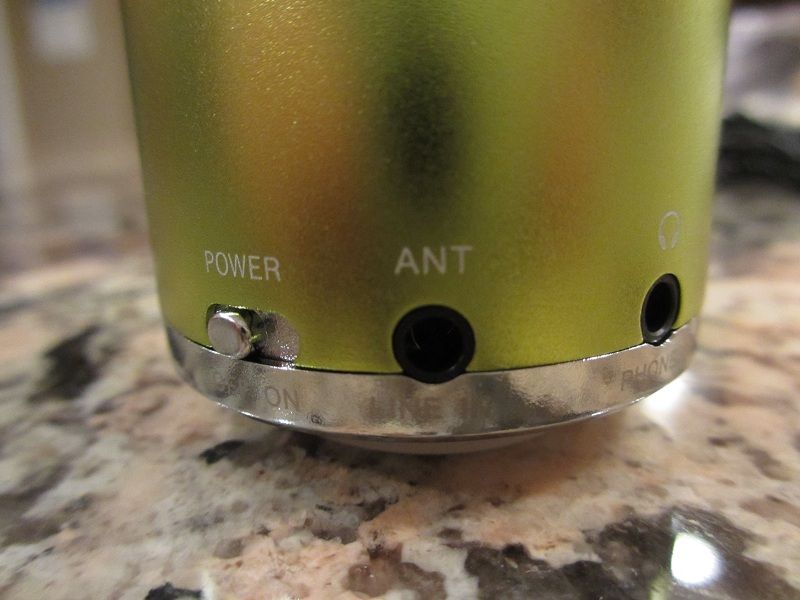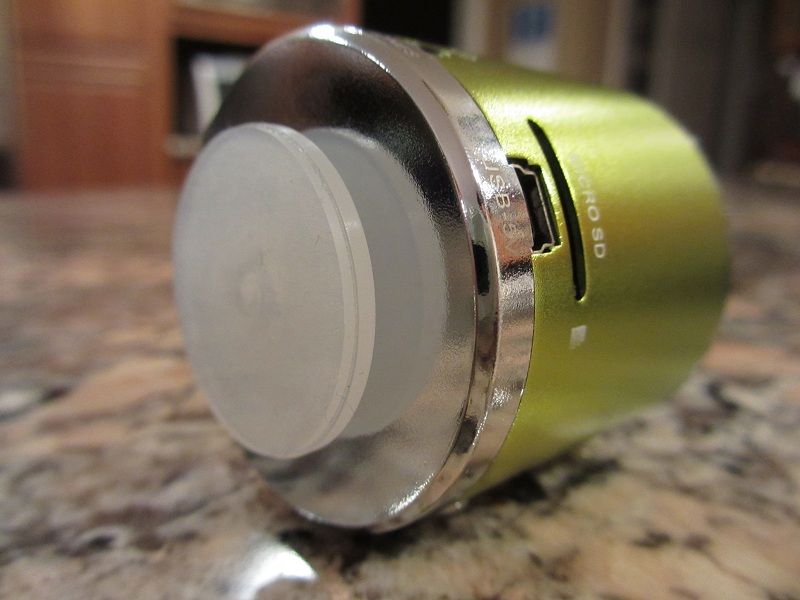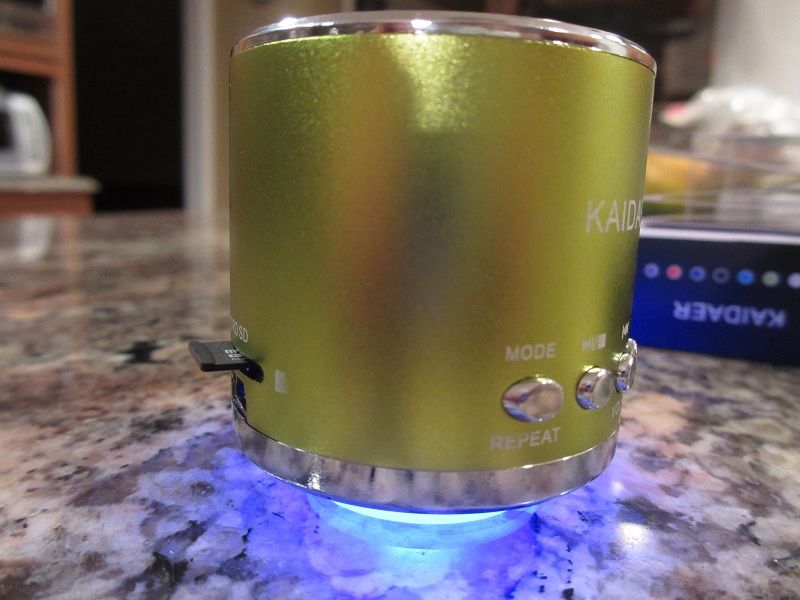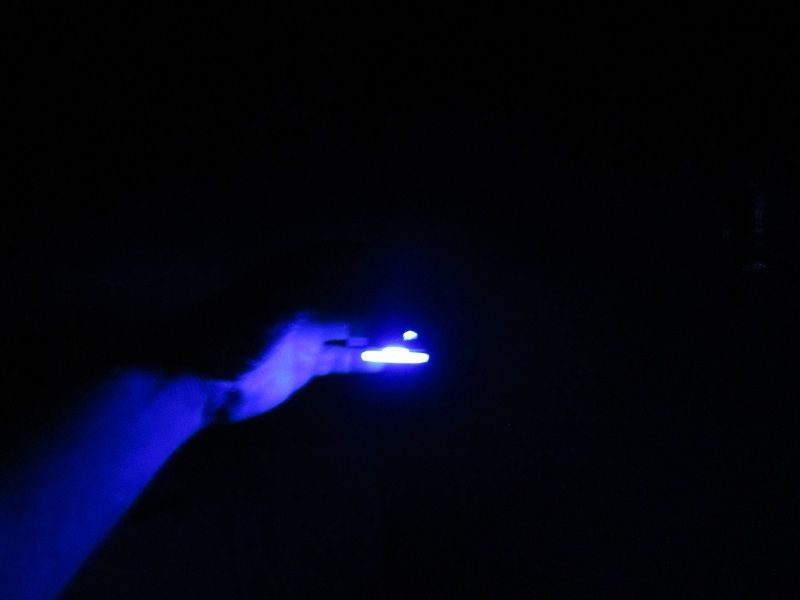 Last but not least, I was also using micro-sd card from tvc-mall (
http://www.tvc-mall.com/details/4GB-MicroSD-TF-TransFlash-Memory-Card-with-SD-Adapter-MCARD-401B/
), another no-brand product but for $5 this 4GB card with sd adapter and class 4 rating did a good job being used with both of the speakers to host my music. I have no idea if its reliable for long term use in your phone (considering even my trusted Sandisk failed and had to be replaced under warranty), but I'm definitely using it for the music.
A few pics as well.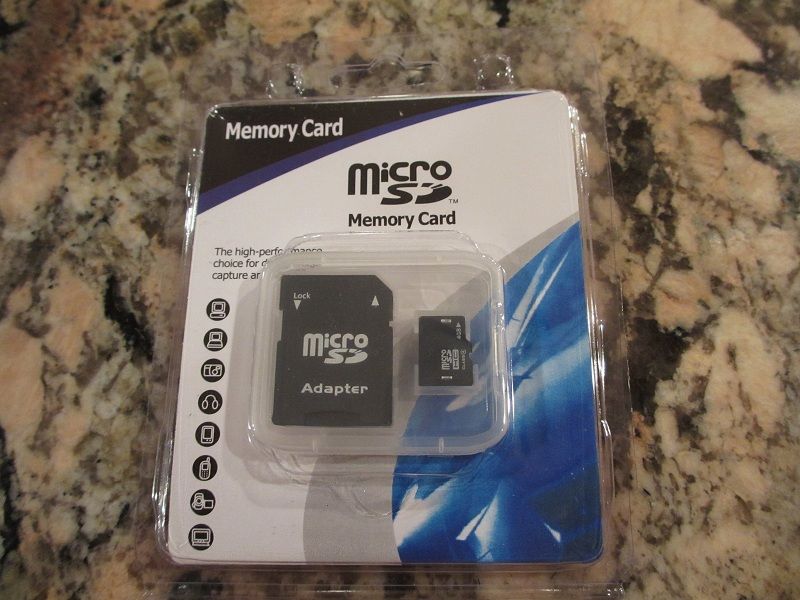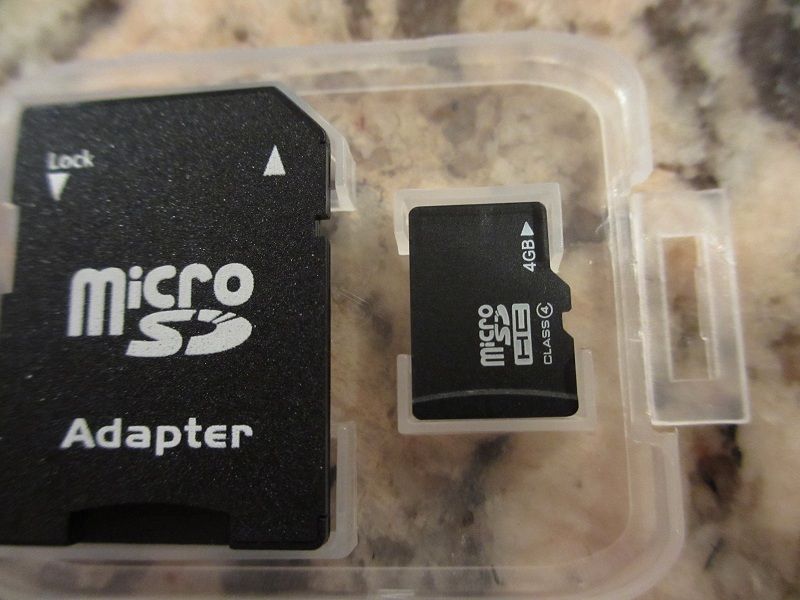 Bottom line, I was more than impressed with a built quality, functionality, and sound quality for such a small price, and without naming other brands I can tell you these $14 and $8 speakers sounded the same or even better than some $100+ I heard and tested before.