This is a review of EcoXGear EcoROX wireless rugged speaker.
ECOXGEAR - Yes It's Waterproof! | ECOROX
With so many products I have reviewed in the past, I can tell you this was the MOST FUN review I've done to date. Wireless speakers I looked at before came in different sizes, shapes, and sound quality. But none of them offered a true waterproof design with a durable shock protection that would dare me to drop the speaker in the water or get it soaked by my kids. EcoRox got all of that with a very impressive array of additional features, although at a premium price.
I was hooked on this speaker after watching EcoXGear hilarious commercial at
ECOXGEAR - Yes It's Waterproof! | ECOXGEAR Videos
. When I received my review sample and picked up the box, I thought someone forgot to put the speaker inside. It was that light! The next surprise was actually taking it out of the box to discover how small it was. With a dimensions of about 5.3" x 2.5" x 3" and weight of under 11 oz (that's including detachable carabiner clip) - it is super portable and also really "cute" looking. My kids wanted to turn it into wall-e by putting eye stickers when I had it mounted on gorillapod. Like I said, the whole family had fun reviewing it
Although lightweight, the construction is very solid and highly durable. Beside the front and the top metal speaker grills, the edges and the sides are encapsulated in a quality rubberized material. The back is hard plastic with a tightly fitting rubber flip/gasket to seal micro-usb charging port and 3.5mm aux input. Also on the back you find a rotating loop to clip the included carabiner. The bottom has a universal mounting tripod thread that comes very handy to mount EcoRox either on tripod or any other accessory such as suction cup or bicycle handlebar. Underneath of the front grill you have 2 front firing speakers, each rated at 3W RMS for a total of 6W. The top grill covers a passive bass speaker/port. On the front top edge you also get 3 led indicators for power on, bluetooth connection, and battery status (charging status as well as an alarm when you are down to about 30min of battery charge). Speaking of charging, this little guy houses a whooping 1400 mAh battery that will enable playtime of over 10hr from full charge!!!
What I totally didn't expect was a full set of dedicated controls without any double functionality. You have a dedicated power button with led indicator, bluetooth pairing button also with led indicator when it's paired up, a separate volume up/down control, a separate skip next/prev control, and play/pause button which also picks up a call. There is also a microphone at the front bottom of the speaker. EcoRox did a decent job as a speakerphone and seamlessly switched between playing music and picking up calls. The caller on the other end didn't have any complains about sound quality or background noise. Next was the music playback test. I do realize these are small light drivers so there is no high expectations. 6W of power is pretty good for a high volume, but unfortunately at higher volume sound was somewhat distorted especially in low frequency range, and high frequency content wasn't as clear as I expected. I wasn't surprised with a results since these are no audiophile speakers. Another thing I noticed was a slightly limited bluetooth range in comparison to other speakers that can play easily at 30+ ft away from the phone, while EcoRox started to get choppy reception at half of that range when I was holding it by it's sides. In clear sight or on a tripod it was fine, only while holding it. Not sure if that was just an issue with my review unit, but in general that was also expected because of a rugged shell probably interfering with the signal sensitivity and my hands blocking it even further.
Now, here comes the best part of the review - water dunking!!! This speaker is rated at full IPX7 & IPX8. You can submerge it under the water without causing a permanent damage!!! As you can see from the pictures, I had the power on, dunk the speaker under the water, took it out and it was playing wet'or'dry without any problem. One thing to note, when you drop the speaker into the water it floats with bass port up and speaker port submerged into a water where you can't really hear the sound well. It's great to know if you are around the pool and drop EcoRox or outside in the rain or someone hoses it with a water - your speaker will be safe. But if you are planning to have this speaker floating in the pool and playing music at the same time you better off trying EcoXBT which is designed to float with a speaker facing up. It's another great speaker from EcoXGear collection which I hope to review in a near future, although its a bit larger and less portable than EcoRox.
Overall I think its a great rugged portable speaker, perfect for outdoors, by the pool or on the beach, mounted on a bike or with a suction cup in the shower, on a tripod mount or by itself or clipped to your backpack. It's not for audiophiles, but the sound quality is not that bad considering the size of the speaker/driver, and its a huge bonus to have full dedicated playback/volume controls and speakerphone functionality. It comes at a premium price which I hope after initial introduction might drop under $100 which is more reasonable for this speaker (and sound quality).
Here are the pictures.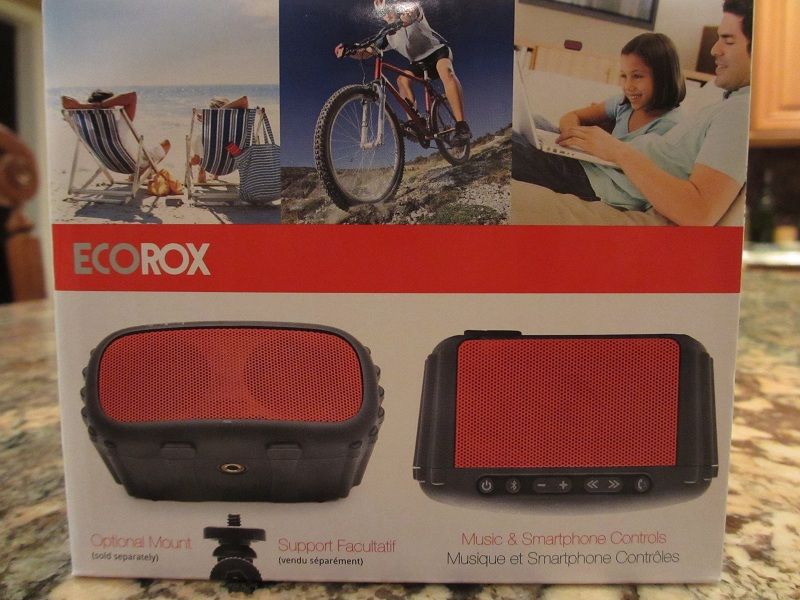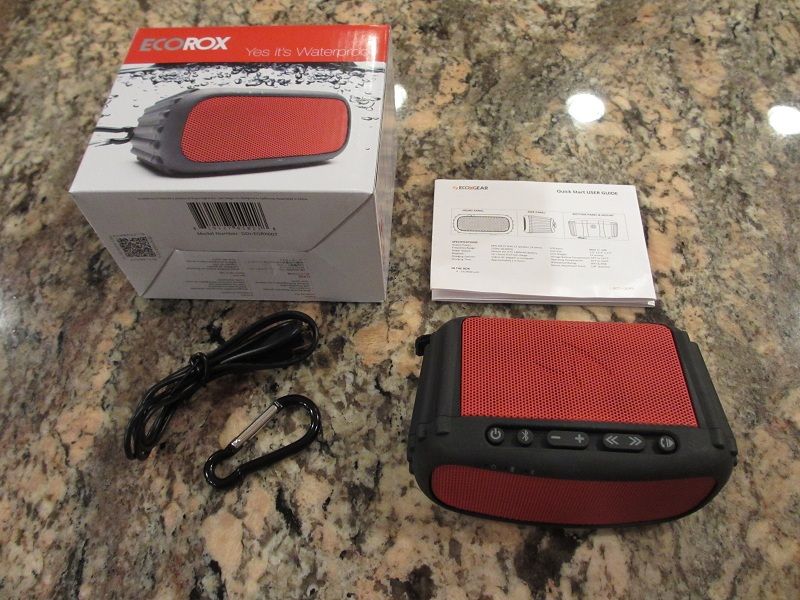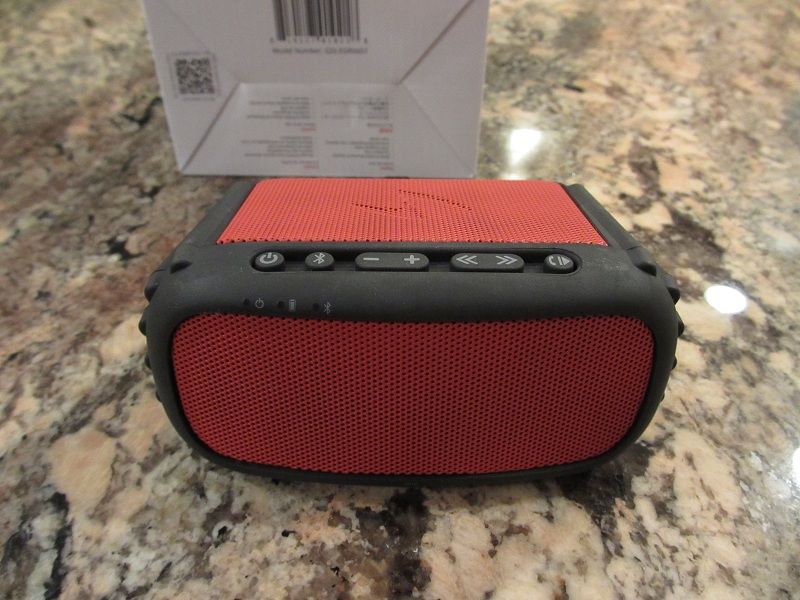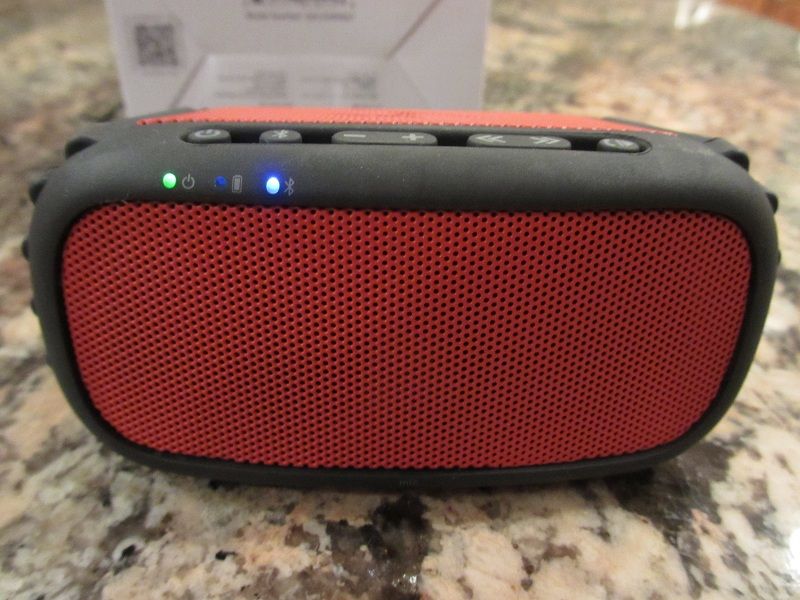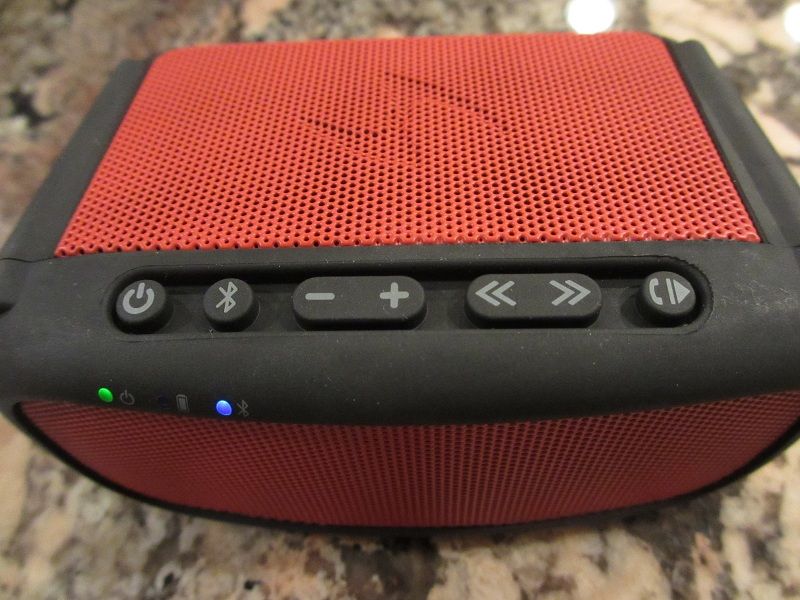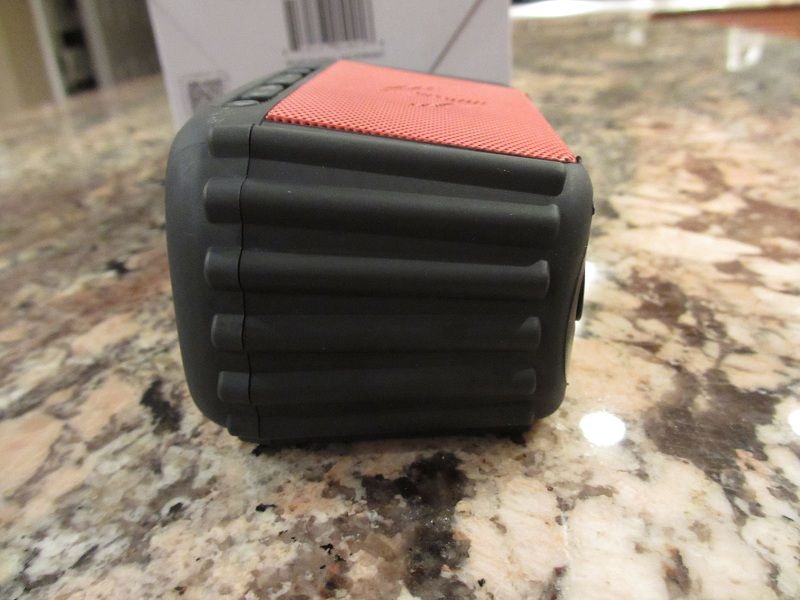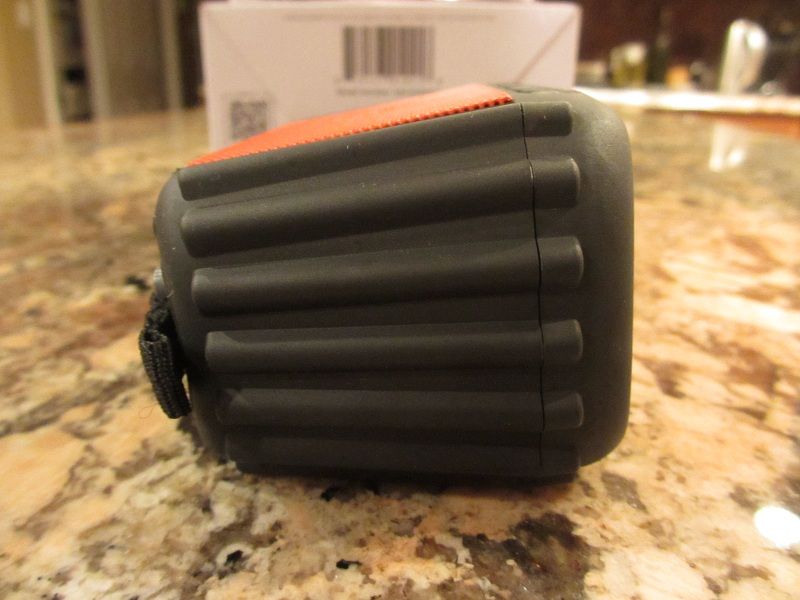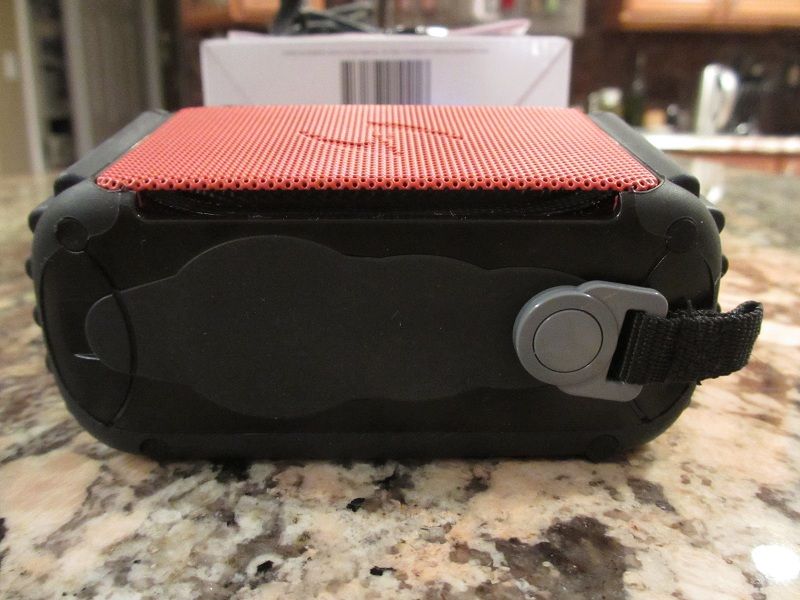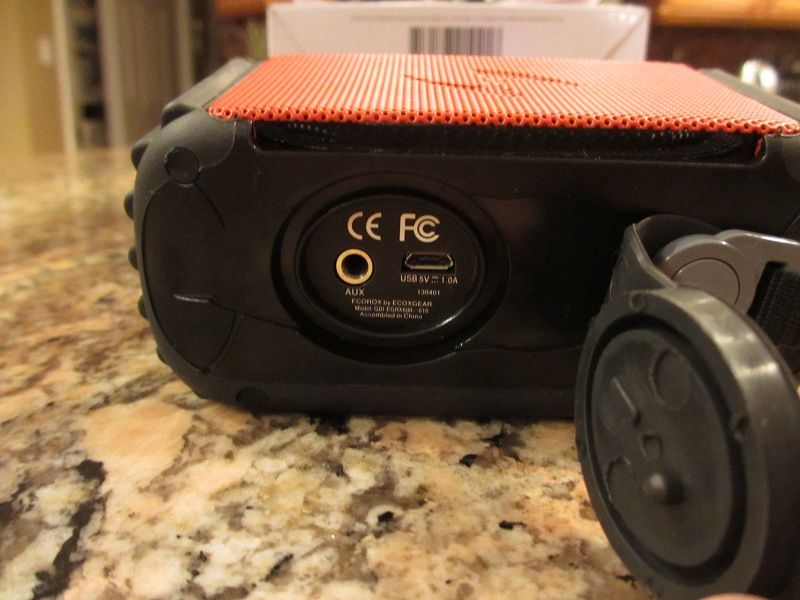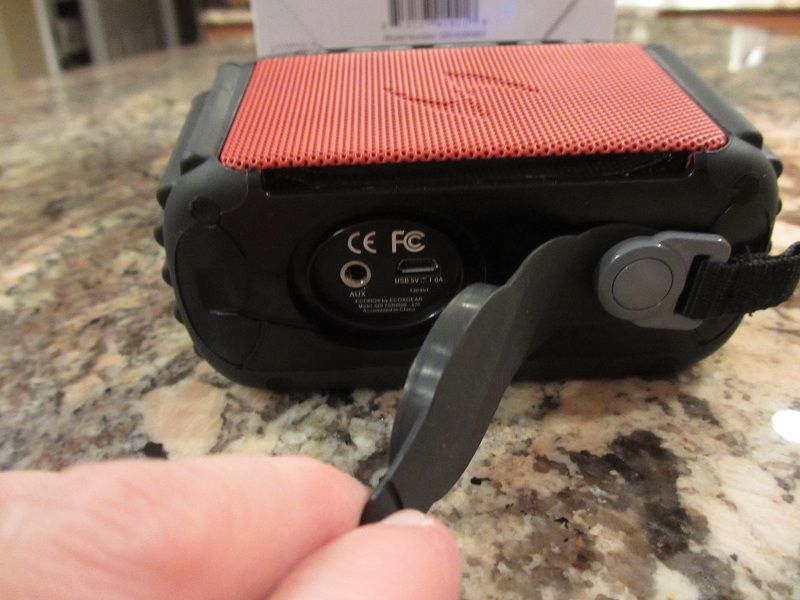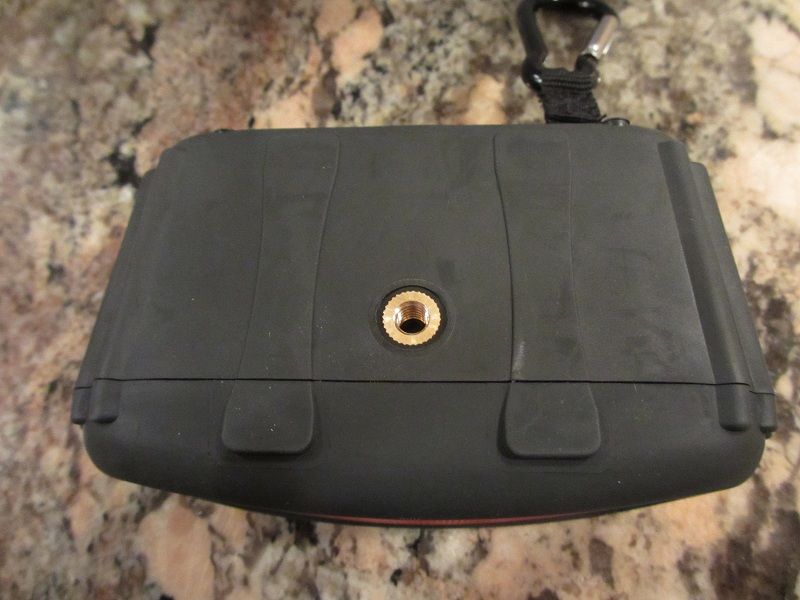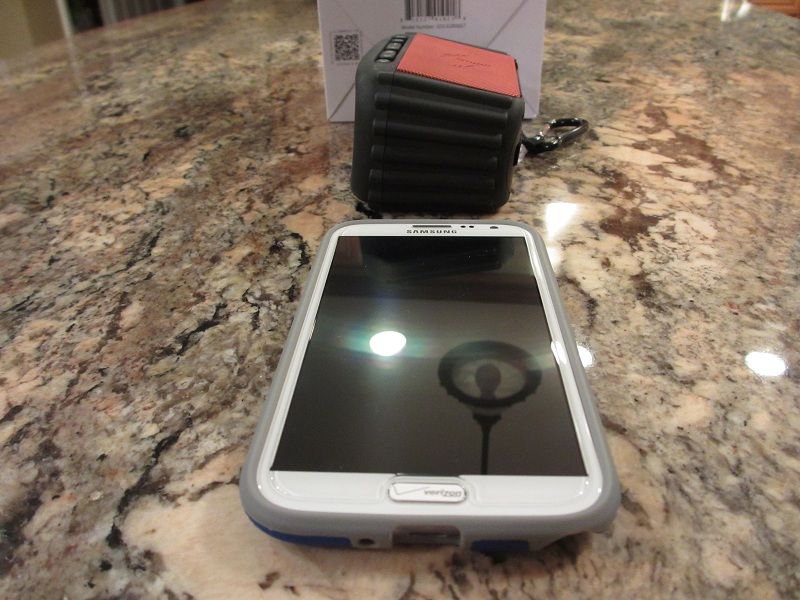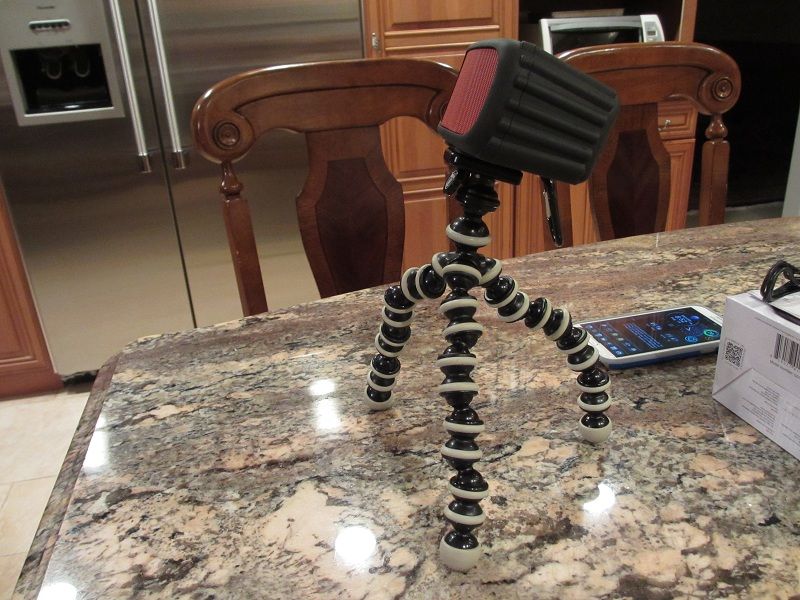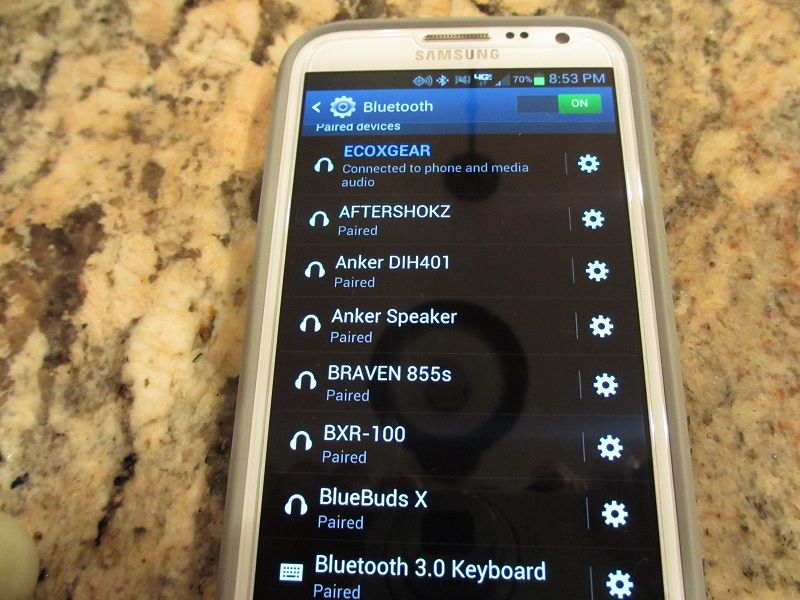 in a water