Seidio OBEX Case and Holster for Galaxy S4
Seidio has proven to me that they are a force to be reckoned with when it comes to quality cell phone cases. I've owned a Seidio case for ALL of my Android devices (HTC Hero, HTC Evo, Samsung Epic, Samsung Droid Charge, Droid Razr, Nexus 7 (2012), Nexus 4 and now the Samsung Galaxy S4). All of these cases have been excellent and others have hands-down blown me away (such as their Active Case for the Nexus 7 - ) and now the OBEX Case for the S4!
To be clear, I've owned numerous other cases and products also along the years ranging from inexpensive TPU cases to other "industry leading" fan-favorites. Seidio has met and exceeded my needs and wants each and every case I've owned and has proven time and time again why they are good at what they do.
This case is EASILY an
A+ Quality
device that easily shows what sets Seidio apart from their competitors and shows what happens when ANY company puts their minds towards creating a great product!
Technical Specs
For those who like specs, they can all be found at Seidio's website (which basically says the following):
Quote:
This product is not compatible with the Samsung Wireless (Inductive) Charging Cover or the Samsung GALAXY S4 ACTIVE.

Protecting your Samsung GALAXY S4 is not always easy, but Seidio's OBEX® utilizes advanced technology that not only safeguards your device against drops, but also keeps external elements from damaging your device. This daily use case will protect you from water and accidental coffee spills, inclement weather including rain and snow, and from the dirt and grit of everyday activities.

We have simplified the design to ensure that your GALAXY S4 is protected at the highest level possible in the form of a slim and sleek case that is easy to install and devoid of any loose parts or covers. Our unique tunneling design enables true passage of sound, while the built-in screen protector promotes touch sensitivity and clarity. OBEX® will give you the ultimate protection – anytime, anywhere.

Waterproof
- Case meets the IP68 rating, signifying that it is both dust-tight and protected against complete, continuous submersion
- Critical points of entry are blocked by a two-stage protection system
- Anti-reflection glass protects the camera lens without interfering with photo quality
- Water proof membranes shield the microphones and speakers while maintaining with sound quality

Drop Protection
- Exceeds the MIL-STD-810F standard and can survive drops from up to 6 feet
- Internal structure is designed to protect your Samsung GALAXY S4 in the event that it is dropped or compressed
- Combination of Polycarbonate (PC) and Thermoplastic Polyurethane (TPU) materials provides protection from impact
- Raised edges on the case and the 4H hardness rated screen protector create a barrier from external elements

Everyday Protection
- Designed so your Samsung GALAXY S4 remains fully functional for daily use
- Easy installation of only two parts creates a unibody design and eliminates the worry of loose pieces after case assembly
- Soft rubber stoppers keep dust and liquids out of headphone and USB ports while still allowing easy access in dry conditions
- Case will not interfere with radio signals, Bluetooth, IR Blaster, or NFC (Near Field Communication)
Additionally, Seidio says that the OBEX case "exceeds the stringent requirements for both IP68 and MIL-STD-810F certifications."
More information at
http://www.seidio.com/document/IP68.pdf
and
http://www.seidio.com/document/MIL-STD-810F.pdf
.
In other words, regarding IP68 certification, the OBEX case is the highest level of contact protection (rated 6 - Dust Tight) and the highest level of protection against liquid and moisture (rated 8 - Completed and continuous submersion in water for up to two meters for 30 minutes). As far as MIL-STD-810F certifications… it's a 529 page document. I can't even pretend that I've read it all or understand it. Needless to say, from what I have read, it appears to be pretty intense testing!
First Impressions and Installation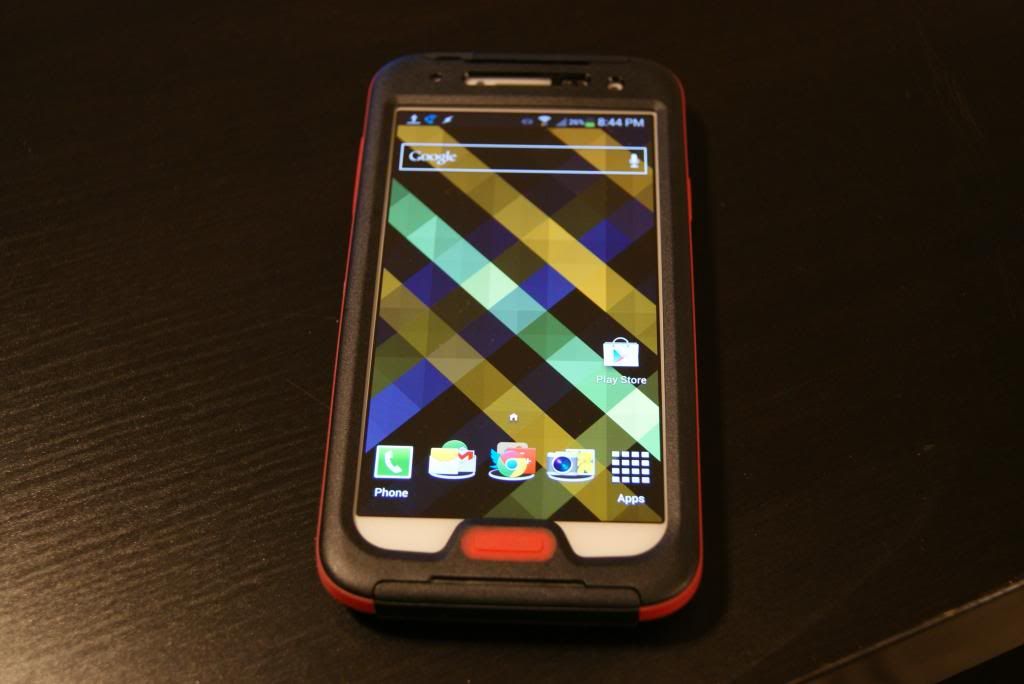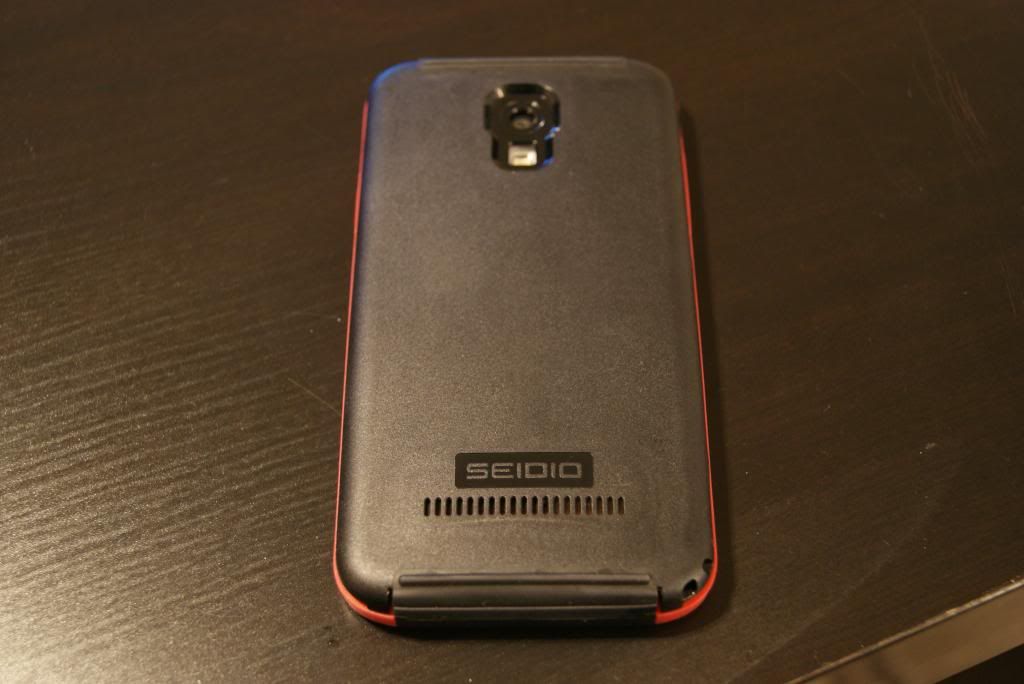 Honestly, no one cares what the packaging looks like as long as it's not a ziplock bag (it's not by the way). Packing was professional and well done. Included in the packaging I received a waterproof 3.5mm Male to 3.5mm Female Audio Adapter (which I have not tested), the OBEX case for the Samsung Galaxy S4 and a belt holster (optional).
I had no idea what to expect when I received the case. Would it be huge and bulky or reasonably sized? Would I hate it and send it back immediately or would I give it a fair shake-down? Initial impressions really didn't sway my mind one way or another. It all had to come down to testing. Regardless though, this surely HAS to be better than running in the rain with my phone in a ziplock bag, right?
OBEX Case Impressions
The $1,000,000 question: Is it REALLY waterproof to the specs that they listed and will it keep my device dry?
YES IT WILL!!!
Initial waterproof test:
Dunk Test!
But… before we get that far, let's cover some details.
For some unknown reason, Seidio decided to put the instruction manual for the device INSIDE of the case. So the only way to know how to open the case is to risk breaking your expensive new waterproof case in hopes of not damaging it (luckily I didn't damage it), try to find directions online or ask Seidio for help. I did all three.
STOP!!! Before installing - Check these two links!!!
Here is some useful information I found on this:
THIS VIDEO
and the installation manual found
HERE
.
Those who are familiar with Seidio's signature soft-touch texture on the case will NOT find it here. This case does not have the soft-touch that we know and love and is more of a generic plastic feel. The colored sides are a rubbery-plastic material that offers a grippy texture.
All ports are clearly accessible (once ports are opened), the power and volume buttons are crisp and responsive. All phone calls reported that voice was clear and understandable and sounded the same regardless of if the case was installed or not. Additionally, playing music through the phone while the case is installed sounds perfectly ok and does not appear to add any muffling regardless of if the phone is placed screen up or screen down!
The camera and flash feature anti-reflective glass coverings that do not interfere with camera or flash functionality!
The headphone jack is accessible by a rubber plug that plugs into the top of the phone and also is attached to the case. As mentioned, the device comes with a waterproof jack but for the number of times I've caught my headphone cable on something and yanked it out of the phone, I'm not sure if I would even consider using this in a water-prone situation.
The top and bottom clips were somewhat of a pain to pry open but having done them a few times now, they DO get easier to do and still hold firm. Long term use will prove more valuable for how well these hold up.
The screen is dimmer and less clear than with a glass screen protector or with a naked screen. Such is to be expected with a case/screen protector like this. As you know, you don't purchase a case like this just so you can have the clearest screen possible. You purchase this case to keep your device as safe as possible in as many preventable situations (such as snorkeling) and unpreventable situations (such as sudden dust or rain storms) as possible.
Note: While the case DOES fit with a glass screen protector installed on the phone, the touch response is garbage. I would advise using the case with ONLY the screen protector built into the case. Additionally, for those that have the aluminum home buttons installed, they will need removed also to ensure proper "clicking" of the home button. I cannot comment on film screen protectors.
OBEX Holster Impressions
The holster for the OBEX case is pretty straightforward and similar to the holster for other devices. This is, without a doubt, a MUST HAVE for anyone looking for a belt holster. There are a few improvements and differences with this holster that I haven't seen (or have been redesigned) in previous models.
The Holster can hold the OBEX case in a "screen in" or a "screen out" position. Both positions leave the headphone jack accessible. NEITHER position allows the charging port to be accessed (though I'm hoping that Seidio considers a redesign for this as I feel it is clearly an oversight).
The first and most notable difference is on the center of the holster where there is a sliding switch that slides to a locked/unlocked position. This is actually an excellent idea as it allows the holster to become a modular unit! This lock secures the physical belt clip to the holster unit. This allows not only broken clips to be replaced but also allows for expansion to products such as car mounts and other accessories. Judging by the instruction manual linked above, there appears to be products in the works for this. My ONLY suggestion/complaint on this is that a car mount is significantly more useful if you can charge the device while you are using it (such as GPS on long trips); not being able to charge the device while it's hooked to the holster is something I feel needs to be addressed.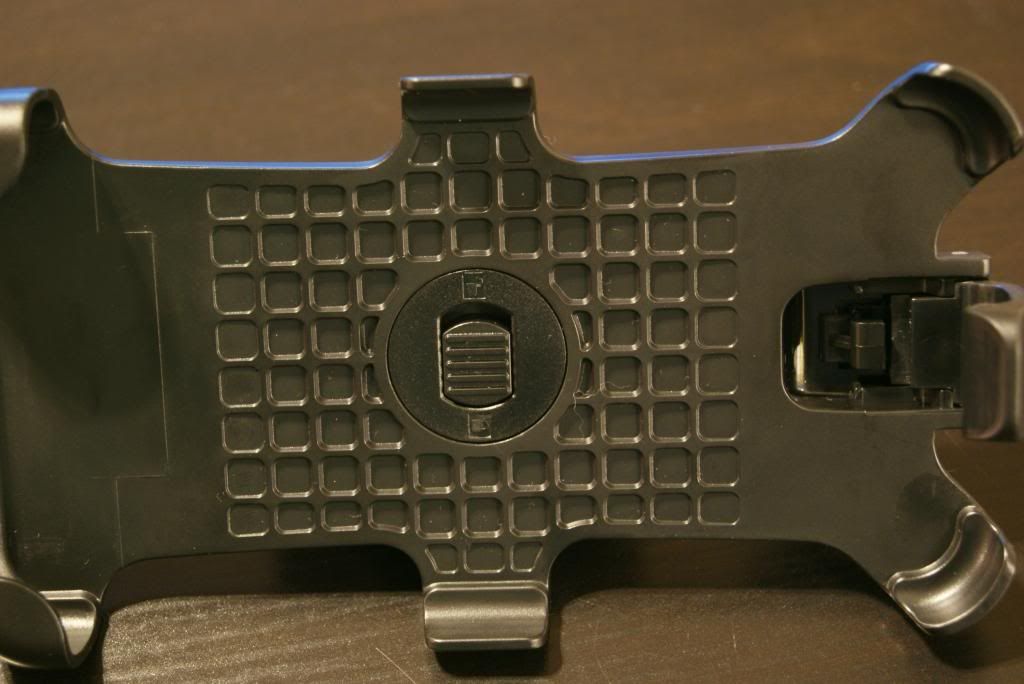 The second difference is the return of a locking, spring loaded latch to secure the OBEX case in the holster! Oh how I've missed this feature on my past few devices. For those who are familiar with the locking latch, this is a new and improved version that is much easier to work and is more secure. For those who are not familiar with the locking latch, this version has a textured plate that slides up to the top of the device to hold the latch in the locked position and slides down to toward the bottom of the device to allow the latch to spring open/closed when inserting or removing the device from the holster.
Other than the singular flaw with being able to charge the device while in the holster, it's a PERFECT holster in my opinion!
Cost
There is no beating around the bush with this one. This is one EXPENSIVE case! But, those of us who aren't on a carrier that offers the S4 Active and would like some kind of additional dust/water/drop protection now have a great option to chose from! It is, undoubtedly, well worth the money.
Seidio sells the OBEX case on their website for $79.95 in black (with red or grey stripe) or white (pink or grey stripe) at the date of this review.
SEIDIO | OBEX for Samsung Galaxy S4
The OBEX case and Holster combo is an additional $10 dollars with the same options for the case.
SEIDIO | OBEX Combo for Samsung GALAXY S4
Photos
Look at 'em below!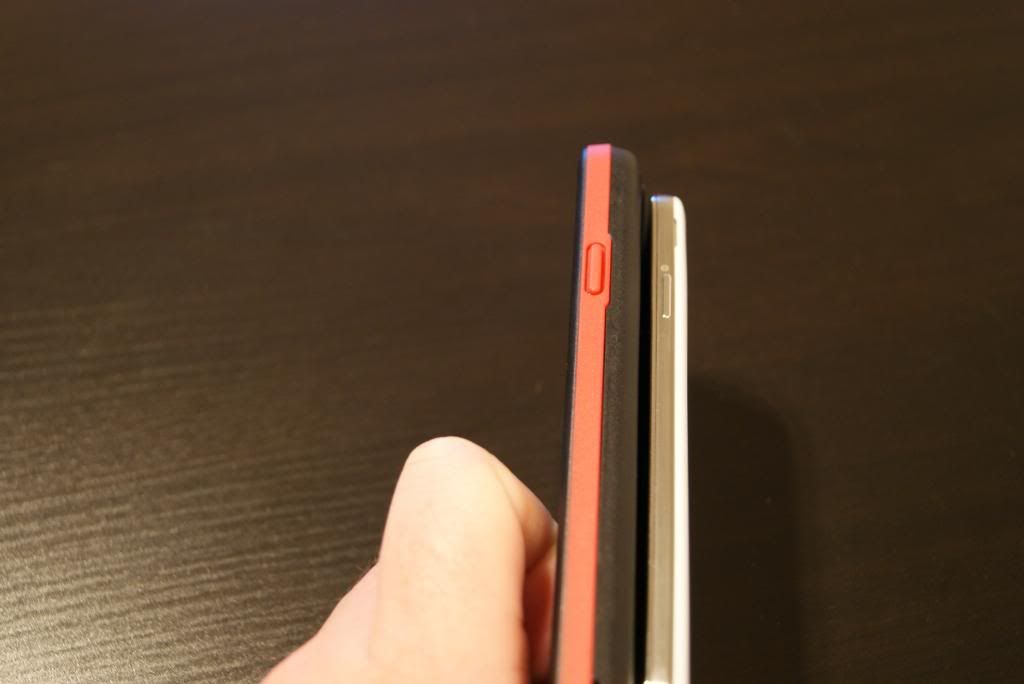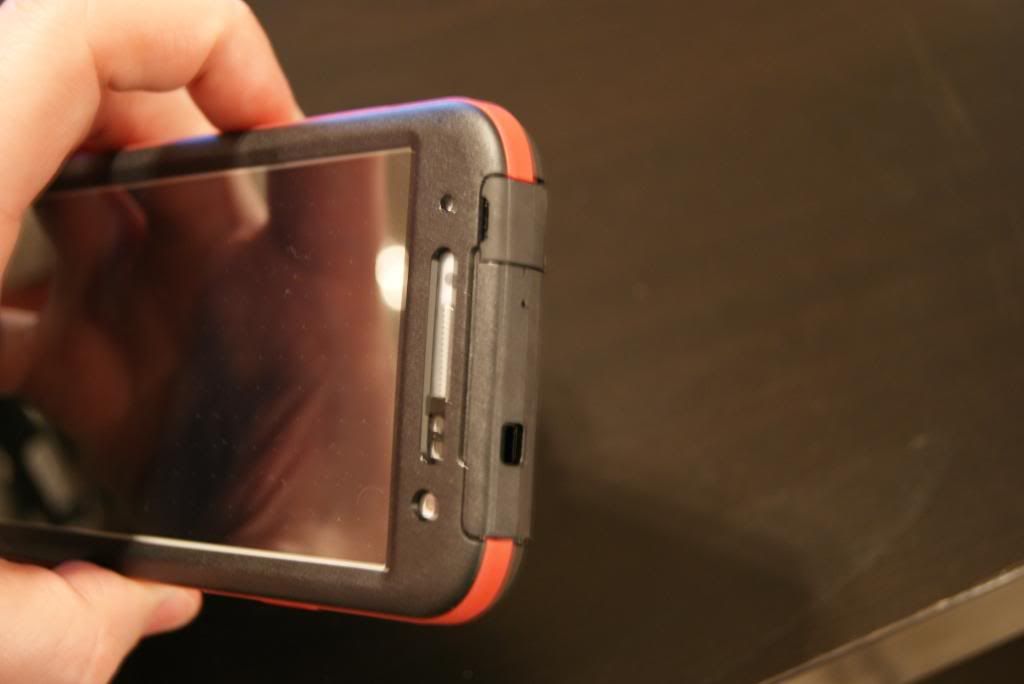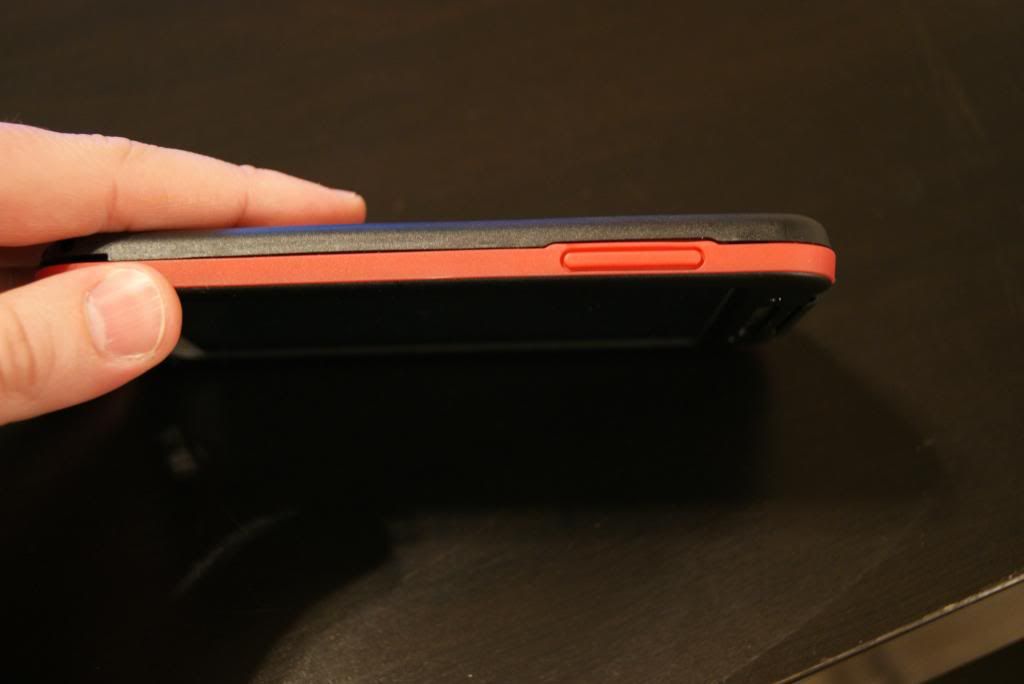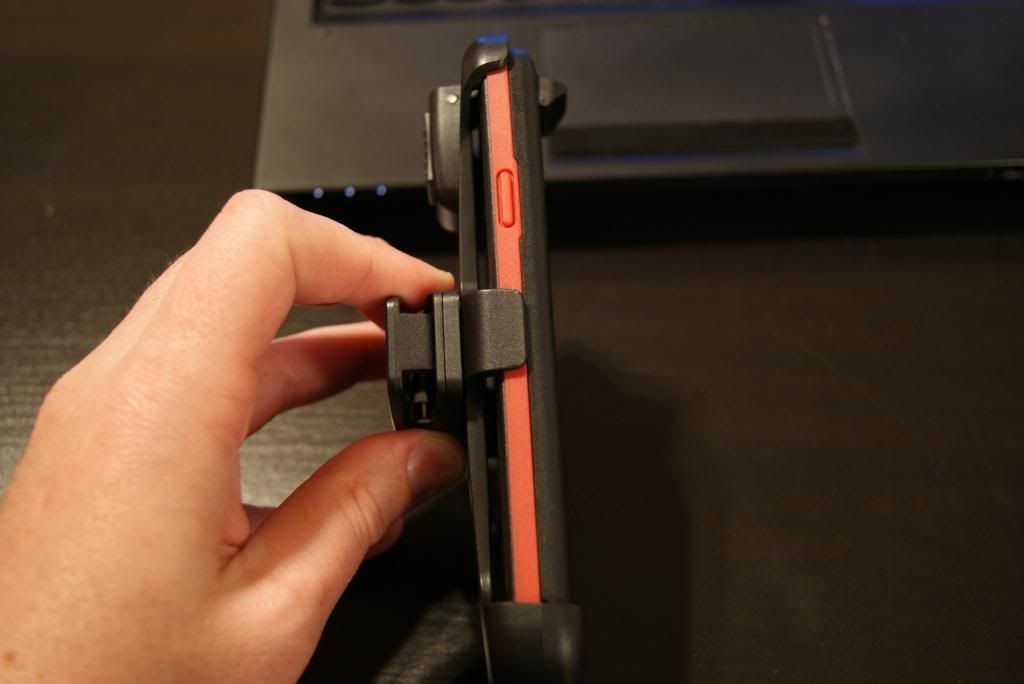 Have any questions or need a specific photo? Let me know!