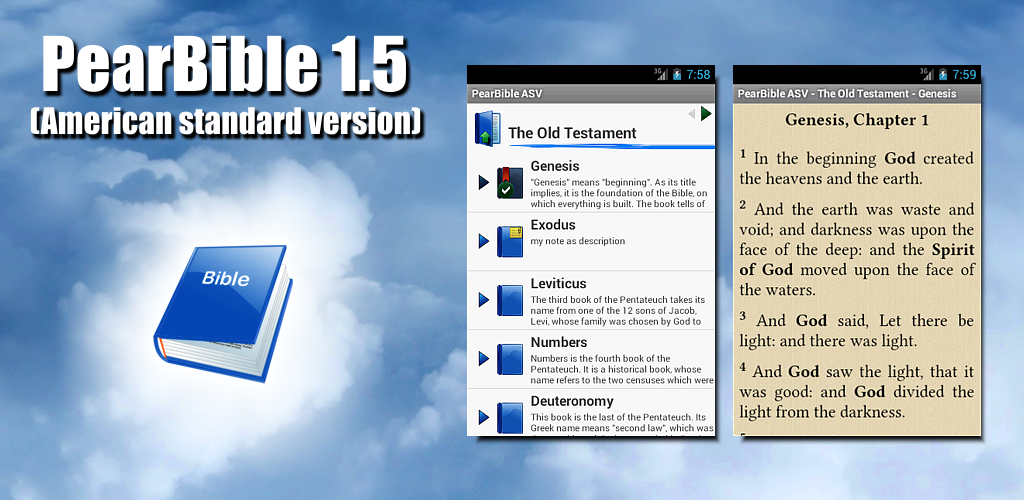 Download from Google Play:
https://play.google.com/store/apps/details?id=com.pearmobile.pearbible.asv.lite
Download from HomePage:
http://pearmobile.com/products/bibleasv_android/
Bible ASV is an amazing electronic version of Bible that will help you to read this excellent book anywhere you go. You don't need to carry heavy bible books with you any more, now everything you need is in your mobile device! You don't need to download anything from internet, all texts of Bible ASV are accessible offline. SQLite database gives to the bible application very high performance in data search and usage. Amazing interface will help you to understand how to work with Pear Bible ASV from the first sight.
Features:
• American Standard Version ( ASV ) of Bible
• Old and New Testaments
• Off-line access to the all components of the application
• High performable SQLite database engine lays in the basis of the application
• Widget "PearBible Daily Verse"
• Description for each book of Bible
• Bold font for proper nouns
• Fonts support
• Themes support
• Bookmarks and Notes for the Bible Verses and Bible Books
• Fast bookmark selection
• Possibility to highlight the verses using colors
• Variety of styles for verses
• Possibility to mark book or chapter that you have read
• Copying text in the clipboard
• Gestures support
• Simple and user-friendly interface
• Flexibility of the application
Download from Google Play:
https://play.google.com/store/apps/details?id=com.pearmobile.pearbible.asv.lite
Download from HomePage:
http://pearmobile.com/products/bibleasv_android/
• Support is available from the app or you can write to
support@pearmobile.com
• Like our page on Facebook:
https://www.facebook.com/bibleholyonline
• Follow us on Instagram:
https://www.instagram.com/bible_holy_kjv
• Follow us on Twitter:
https://twitter.com/saint_gospels
• Read Bible online on
www.bible.promo