Some have asked if they qualify for a corporate discount with Sprint or some do not know that their company offers a discount. Well there are numerous ways to find out.
1-You can go the the
Sprint Employer Discount
page and enter your work email to see if you do.
2-You can also go to the
Sprint Employee Value Program
(EVP) page to enter your work email.
3-You can call Sprint at (888) 457-6294, answer a few questions or provide them with your work info.
4-You can browse through the Sprint Employer Discount lists below and go through one of the above links.
A-M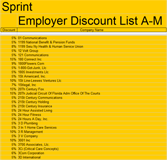 N-Z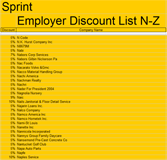 Note: Each list is compiled in Google Docs and has numerous tabs.
Disclaimer #1:
Sprint usually checks to see if you indeed work for the company that you are requesting the discount for. Sometimes its worth looking at the lists because you may have other options rather than applying just with your company's' discount. For example:
You work at company X, which is a hospital. Company X gives you 10%, but since you work in the healthcare field, that gives you 17%. But you also are a NY city worker, that gives you 25%. So choose, but choose wisely.
Disclaimer #2:
The Employer Discount lists have been compiled from numerous sources. They may or may not be accurate or up to date.
If you encounter or have a company that is not in the list, feel free to contact me so I can add it.
TS out