Hi all,
I've just finished and published my new Android app
RandUtub - Random YouTube
and I really hope it will be useful for you.
What is it ?

RandUtub is a tool which allows you to watch YouTube videos. But the interesting part is that it will find a
totally random
YouTube video and play it.
You can watch the full video
without Ads
and the application
doesn't keep any history
.
This app is for people who don't know what to watch, people who want discover new video and channels. No need to think, just
choose the language of the video
and click on the
Next video
button and you'll will watch a new random each time.
If you like the current video, you can open it into the default YouTube app to get information about the video and the channel. You can also share it with your friend or on any social network.
The app is available in free and pro version. You can see the comparison below: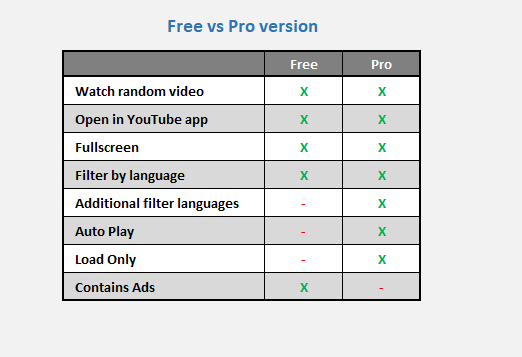 I plan to add more option for the Pro version as favorite videos, cast to Tv (or a TV version), etc...
Where to download it ?

You can download it using the links below:
* Free version:
https://play.google.com/store/apps/details?id=com.amandin.randutub
* Pro version:
https://play.google.com/store/apps/details?id=com.amandin.randutubpro
Hope you will love and all feedbacks are welcome. You can also follow me on Facebook or Twitter:
-
https://www.facebook.com/AlexMobileDev
-
https://twitter.com/AlexMobileDev
Thanks.
Last edited: