Hi all,
I am a developer in Korea.
A week ago I released a 3D shooting and racing game.
The title is LastAction Free.
Official release will be up in the end of Jan.
https://play.google.com/store/apps/details?id=com.enumnet.game.lastactionfree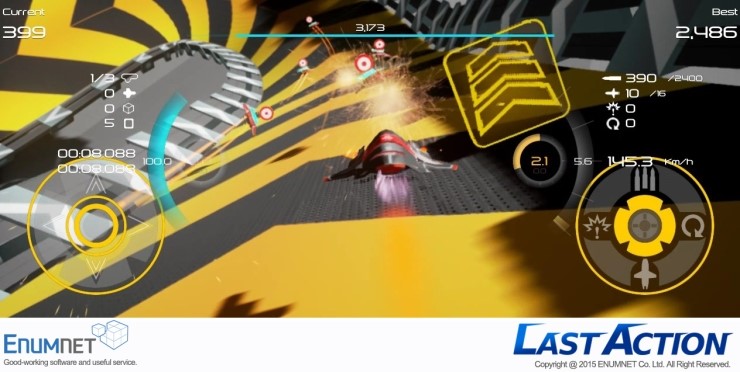 Prior to official release I want anyone to test this game.
There are several trailers in here
Some map on the trailers are available in official release.
You may think this as legendary game Wipeout or 34 bigthings' RedOut.
There are 2 types of game mode.
One is for Arcade(High score mode) and the other is for Time Attack(Shortest racing time rank mode)
And you can play on 3 different track types. Road, tunnel and pipe.
Also each maps have own different simple mission.
Features & How to play
- 3D Shooting & Racing
- 3 type tracks : Road, Tunnel, Pipe
- Boost & Turbo : Touch Accel button to speed up
- Get Bullet, Missile, Health, Shield, Boost, Turbo, Climb and random Item
- Destory obstacles and get Special Item (Homing bomb, carpet bomb, beam
- Shoot the enemey & Boss : Touch bullet/missile button to attack and shoot the enemy SpaceShips.
Tested Device List
- Nexus 5, 6 higher
- Samsung Galaxy S3, S4, S5, S6 higher
- Samsung Galaxy Note 3, 4, 5 higher
- LG G2, G Pro 2 higher
- Sony Xperia Z2 higher
Thanks for your reading.