This
is my new favourite game on android!
I downloaded it from their site 2 days ago and absolutely love it. The game installs a 1mb app, and then the app downloads the addition 160mb (yes, 160!) files to the sdcard which keeps everything nice and neat.
But once you start playing it you can see why it's such a large game. It looks GREAT. And certainly, on my milestone anyway, runs perfectly smooth. The game has 4 locations - Fiji, Scotland, England, and America (64 holes in total). Though not all available at first.
The courses are nice and varied, so there's no feeling of playing the same course over and over with just trees placed in different places - some holes are on an island, some have massive gaps or ravines in between the fairways, and each hole really does feel like a "new" hole.
The controls are great too - once you're ready to take the shot it's the usual tap once to stop the power bar moving, tap a second time to get accuracy, but there's a good bit of setup you can do before you take your shot:
- you can chose what club to use with a simple thumb flick
- you can zoom up the the "estimated landing grid" and move that about
- you can compensate for the wind
and
- after a shot you can put spin on the ball to help your landing.
Thankfully the game sets you up with the right-ish club and right-ish direction each shot so the flow of the game doesnt get broken with endless setup's between each shot. It's an arcade game after all, not a boring person game like Tiger Woods or something!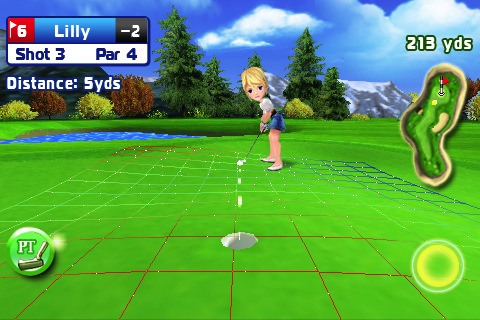 There's a bunch of unlockables too - people, clubs etc. I won my first 9 holes last night (4 under thank you very much!) and my eagerly awaited prize was....a schoolgirl outfit for one of the girl characters! Not exactly what i had in mind, but it indicates there's a lot of unlockable replayability in the game.
Apart from the usual tournament, arcade, free-hole game options, there's also multiplayer. I havent actually tried this yet however so the biggest question for me is whether the game is cross-platform compatible like the Polarbit games. If it's not, i can see game rooms being a bit sparse for a while until more people get the game!
Overall for €5, it's the most "game" i've seen by a long shot. Absolutely well worth the purchase.
There is a downside though. For those that haven't bought (or didn't know how to) anything from Gameloft yet - it's a dumb process. There have been lots of problems raised by people getting dodgy links, games not downloading etc etc, but that all seems to be fixed now. The real problem lies it the fact that the game is on the official android market.
When you browse to
Gameloft
you get presented with gameloft's android games. Then you click buy, enter credit card details, and it downloads. Fairly easy. However when i mailed them asking about a storage locker like slideme, download history like the market, or simply how to I get the game if my phone get's wiped/i get a new one...I got a response saying
"One purchase entitles you to one download of the game to one phone number and on one phone model only"
. Which is pretty pathetic tbh. So if you plan on flashing a new ROM or changing your phone, you better be pretty good at managing both the app, and the extra downloaded files in order to keep the game!
Despite that, i think this game is too good to
not
throw down the price of a BLT sandwich on.