I bought the Motorola Droid only a few months ago, only used it for about 2 months before I got jealous of my boyfriends Incredible and bought that instead. I want to sell the Moto Droid now....
It's in really good condition, comes with the charger. Good for Verizon, clear ESN, and I'll throw in a Droid Bag (see picture).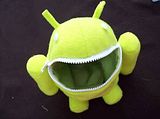 I'm asking $225 for the phone and bag together.