PLAYSTORE LINK:

https://play.google.com/store/apps/details?id=com.MegaSloth.ChoreoGoLoco
DEVELOPER
MegaSloth Studios

PUBLISHER
None

LAUNCH DATE
17th November 2020

PRICE
Free!

PLATFORM
Android (IOS to Follow)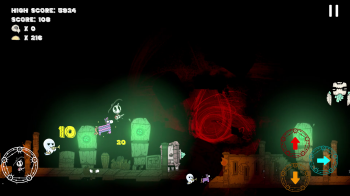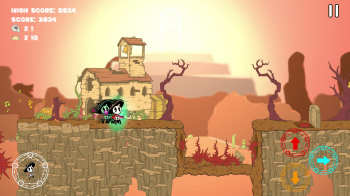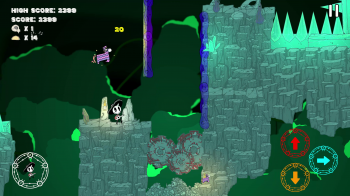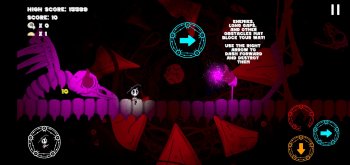 Choreo: Go Loco! is a 2D endless-runner / platformer featuring hand-drawn art, and a dynamic music system that alters the score as the player collects band members.

Synopsis:
Sealed within the Eternal Prison by five ancient entities, the eldritch god Choreo slumbers, and from its dreams reflections of the world it once ruled are born. Possessing the body of Loco, an innocent villager once consumed by the deity, the ancient god begins a tireless journey through the shattered realms that are trapped within its tomb, desperately seeking escape as it pushes against the seals that contain it.
------------------------------------------------------------------------------------------------------------------------
With the Eternal Prison stretching before it, Choreo sets out to find a crack in the maze that binds it. Differentiating itself from the traditional endless-runner, Choreo: Go Loco has a greater focus on platforming challenges, with precision jumping, dashing and diving required to make it through the prison alive.
Scoring this entire experience is a Dynamic Music System that ebbs and flows as the player collects and loses various band-members imprisoned in Choreo's mind. When a band member is collected, it adds a new instrument to the overall soundtrack (which begins with just a main guitar), so that the more followers the player collects, the more vibrant and complete the games music is! This also doubles as a health system, so colliding with an obstacle or enemy will result in the loss of the follower, and the relevant instrument to the score, meaning the music ebbs and flows with the players success.
With lovingly crafted hand-drawn art, and custom musical tracks developed for each biome, journeying through the Eternal Prison is a vibrant bombastic experience, one that will keep players coming back as the Prison expands over time.
------------------------------------------------------------------------------------------------------------------------

Features:
Dynamic Music System:
Featuring a Dynamic Music System, Choreo: Go Loco! is a 2D endless runner where the music ebbs and flows with your success and failures. As you make your way through the eternal prison, gather innocent victims and conscript them into your band. Each member added will bring a new instrument to the score, while providing protection for Choreo against the enemies and obstacles that lie in wait, following your path as you explore each biome.
5 Biomes:
Choreo: Go Loco! Features 5 distinct environmental biomes, each accompanied by their own specific soundtrack. Race your way through each, gathering as many points as you can in preparation for a confrontation with the Solar Colossus, the first of several planned bosses.
Hand Drawn Art:
The vibrant world of Choreo: Go Loco features a variety of hand drawn art that helps bring the landscape and it's inhabitants to life! From the temporal abyss, to the outskirts of the city walls, each area is lovingly rendered with detailed, colourful art.
Compete for High Score:
Choreo: Go Loco! features all the leader-board goodness you know and love. Compete to see how far you can make it through the eternal prison, and how close you can bring Choreo to freedom.
Plans Post Release:
Skins and Cosmetics:
While not initially included in the launch version of the game, we will be aiming to bring a variety of cosmetic enhancements to the game that players can earn with in-game currency, or purchase outright.
Additional Bosses:
Beginning with the Shrieking Cozcacu, more bosses will be joining the fray post-launch, as the denizens of the prison fight to put Choreo back into its slumber.
Additional Biomes:
When Choreo fell, a large portion of it's world was drawn into the Eternal Prison with it. New environments will gradually appear as the endless maze cycles.
The game is currently in open-testing, with it's release rapidly approaching on the 17th of November 2020!
We originally released a platformer prototype, Choreo: Legend of Loco, on Itch and Gamejolt a few years ago to some fantastic community support, but sadly due to various reasons we were unable to take the project forward.
Over the past 4 months our small 2 man team has been working to resurrect that IP into a new format that's more widely accessible, engaging, and casual, which has brought us to our new title, Choreo: Go Loco! The game is very much a passion project, and has been great fun to work on, so we hope you enjoy it!
If you have any feedback, suggestions, or questions, we'd love to hear them.
Social Links:
TWITTER:
https://twitter.com/HeraldofLoco

FACEBOOK:
https://www.facebook.com/gaming/HeraldOfLoco/

CONTACT EMAIL:
choreocustomerservice@gmail.com
PRESS KIT:
https://www.dropbox.com/sh/qhxo1lz9oq9qgd9/AACGcTr_7XhNnDXKDNm3juGUa?dl=0