Jul 30, 2010
2,247
928
223
This is a review of iSmooth Nexus 7 HD (2013 version) screen protector and Installation/Cleaning Kit.
Nexus 7 HD Ultra Clear Screen Protector - iSmooth
and
Installation and Cleaning Kit (Individual Size) - iSmooth
When it comes to screen protectors it's very easy to get overwhelmed with all the choices. Especially when you are looking for a film screen protector rather than tempered glass. You can get lost in a pool of all those cheap ebay sp claiming HD quality while selling half a dozen for a few dollars. What you get is a thin cheap film and a tiny synthetic piece of cleaning cloth, and sometime they arrive with only one peel off protective side cover. I went through a number of those back when I was looking for Note 2 screen protector, all of which ended up in a garbage until I discovered iSmooth by searching amazon where I discovered them as one of the top selling brands of film screen protectors. At that time I actually got both iSmooth and Spigen, but found iSmooth to be of the same quality, easier to install, with more accessories, two screen protectors in the package instead of one, and cheaper.
Two essential pieces of protection before you start using your tablet are the screen protector and the case. Still waiting for my cases, but received my iSmooth screen protector already. So what makes it special? First of all, quality of the film. This is not a cheap thin film but rather 3H hardness PET film. Even before you apply it to your tablet, you can feel in your hands how thick and rigid it is. Then, you get a top support where even if you mess up both of the films and explain what happened, they will take care of you with a replacement. Not to mention they put out plenty of YT instruction videos with installation tips. Don't forget, you also get lifetime guarantee. Oh, and it comes with other accessories too. You get 4 dust removal stickers, comes very handy and eliminates a need for making those scotch tape sticky loops
You also get a generous size microfiber cleaning cloth, very high quality, and they also include a written installation instructions.
Speaking of microfiber cloth, that is one of the things that really make iSmooth stand out from a crowd. For anybody who had their screen protectors before, you will know what I mean. The size of those cloth pieces is rather larger and it's made out of high quality material. For sure you will end up using it later for your other smart devices. And since their microfiber cloth became so popular, they actually released a separated installation/cleaning kits that include multiple pieces. For my review I got Individual Size package which also included bonus dust removal stickers. A package like this would be very useful for cleaning any/all of your smartphones, tablets, glasses, etc.
Now, back to the screen protector. The install was very easy, but you have to be careful to space the film within borders to make sure especially top/bottom edges stick to the screen. During install, make sure you are in a dust free area and also keep in mind cloth you are wearing because static of screen protector is strong enough to pull any specks off your sweater or whatever else you are wearing during install. Pretty much, it went on easy, no bubbles at all. I had a few specks of dust which I removed with included stickers, no problem. Screen protector really covers display edge to edge, and makes it hard to tell it's even on. The only giveaway is a cutout around front facing camera.
Overall, I was very satisfied with a quality of the product, ease of installation, amount of included accessories, and the PRICE!!! Speaking of the price, I noticed that
www.ismooth.com
has a cheaper price than it's on Amazon, $12.97 vs $15.97, so I would recommend buying it directly from their website. Furthermore, they provided me with a special DISCOUNT code of
DHPMIDXX0OAA
where 15% will be taken off any item during checkout which means you can get this screen protector package for $11. I definitely highly recommend it!!!
Here are the pictures.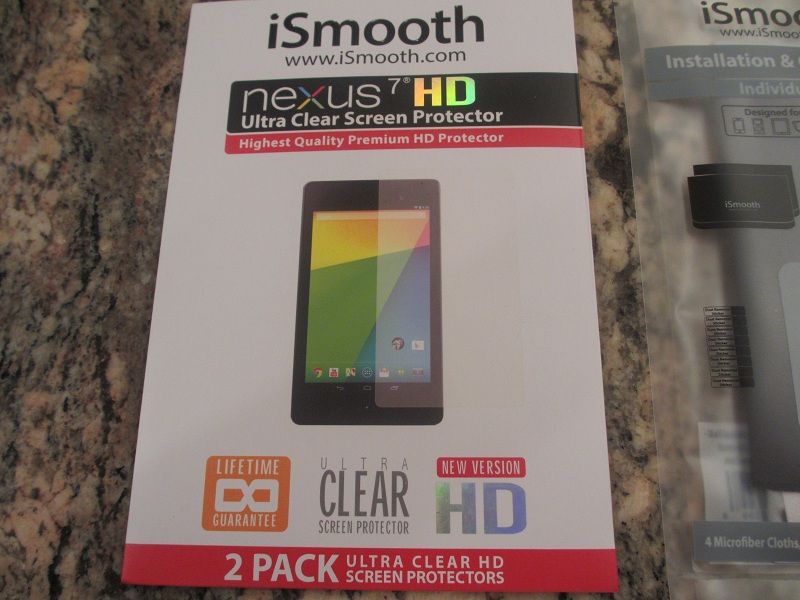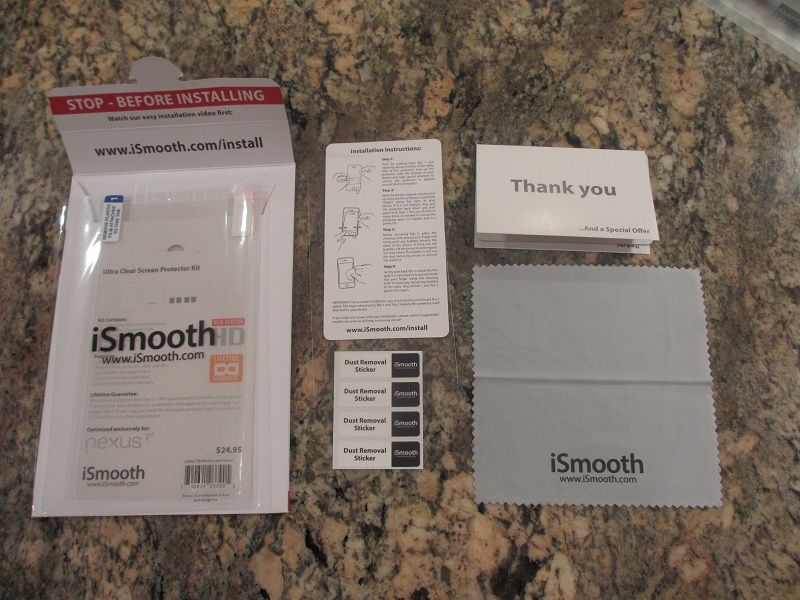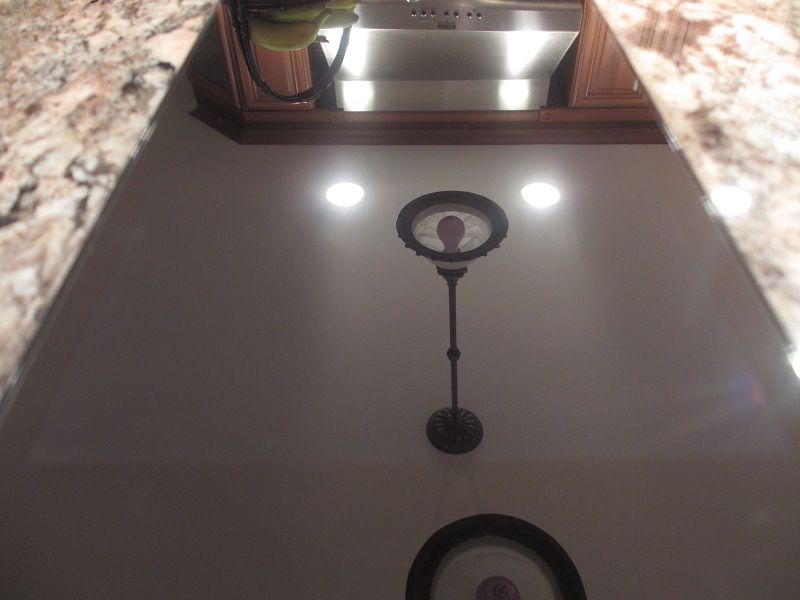 And the Install/Cleaning kit: