Jul 30, 2010
2,247
928
223
This is a Review of Metawatch META M1 Smart watch:
http://meta.watch/collections/smartwatch-all
As a fan of Metawatch and a long time user of STRATA and FRAME, I was very excited when I heard that MW is releasing a new version of their smartwatch. There was also a lot of buzz circulating about Frank Nuovo, the founder of Vertu and the man behind numerous Nokia phones, being involved with a design. But when I finally received my review unit of M1, I made a mistake of thinking it's going to be an upgraded version of FRAME. This mistake contributed to my first impression when I started to make comparison between FRAME and M1, and even contacted Metawatch to express some of my concerns. Not until I realized it was a wrong way to approach this review, I decided to take a little break from M1 and to re-introduce myself to this smartwatch with a more open mind. Here is what I found after a few weeks of continuous use.
As a background, Metawatch was a spin off from Fossil Group back in August of 2011, and their philosophy was to have a functional and fashionable watch with a smart functionality instead of a gadget on your wrist. Being true to their believes, they always stuck to their principles no matter what was trending in crowdfunding world or released by big name manufacturers. Still, FRAME and STRATA had enough geek followers fueled by community contributions with custom manager app and various built-in widgets to be an underground hit, though never a mainstream breakthrough. That was a good strategy at the beginning when company put more focus into hardware and allowed users to tweak the software/firmware portion of it. But seems that rise of Pebble and upcoming Samsung releases shifted their focus back to a more frequent software and firmware updates to polish and to optimize their interface while still providing plenty of customization power to their users. With various announcements about a new upcoming watch, a lot of people assumed they are going to see a new version of FRAME with an e-paper display and pivoting hinges attached to a wristband. Instead, it looks like Metawatch took a step sideways with a different approach going back to their original fashion watch roots to make it stand out from the crowd and to add smart functionality while keeping your phone in the pocket streaming notifications to your wrist.
The first sign of this change is very clear by looking at the packaging of META M1. It arrived in a regular wrist watch display setting, the kind you find in a jewelry store instead of a black gadget box originally used for STRATA and FRAME. From the get-go this packaging makes you realize it's a design watch and not some cheap plastic gadget. Taking M1 out of the box and putting it on your wrist re-enforces this message loud and clear after you feel the weight and the chunkiness of a solid metal frame. For those used to a typical plastic lightweight smartwatch on your wrist, it will take a little while to get used to this extra weight. Even FRAME users will notice a difference because M1 design, at least M1 Core with a black leather strap, has an additional weight of solid metal hinges. The watch outline is similar, but now you have pivoting hinges that extend and add a curve-appeal to the back of the watch wrapped around your wrist. You still get a total of 6 buttons, 3 on each side, but top and bottom pairs integrated into hinges while a middle pair is standalone with an etched Meta logo. Leather wrist band is high quality and looks like it could be replaced, though I haven't tried it yet. Also, it has a nice solid metal buckle with a stamped META name. Another thing that made it standout was a new e-paper display, very similar to Pebble and some other notification watches using Sharp brand screens. Unfortunately, resolution is still pretty low so you should expect a rather pixilated graphics reminiscent of 90s digital watches. I will leave it up to "YMMV" since some people might enjoy this retro look, while others will find it to be non-complementary to a rather bold exterior design.
Staying consistent with 3 ATM water resistance rating, Metawatch guys kept a similar recessed 4-pin connector on the back to prevent any exposure to moisture. The improvement here, in comparison to FRAME and STRATA, is a magnetic attachment that easily mates with a back of the watch without any tedious alignment effort. I find it to be a much better solution in comparison to previously used connector clip, and you can actually see the screen while charging with M1 face up. This attachment has a standard micro-usb port to be used with any common smartphone charger. My only comment here is that I would like to see Metawatch providing 2 pairs of these charging attachments in the future, either as a back up in case if you loose one or to keep one at home and another one in the car or at work. Without a doubt, exterior hardware design is very solid and I actually got used to it very quickly, even on my small wrist. Also, after a short while I was ok with a screen resolution since I'm already used to a low-res notification smartwatches/bracelets. Outdoor visibility was ok as well, better than previously used (FRAME/STRATA) reflective mirror display. The only thing I wasn't too crazy about was a rather weak backlight that illuminated only top part of the screen leaving the rest in the dark.
Since I'm on a subject of a display and considering the screen always stays on, my next stop was display watchfaces. With M1 you don't have any flexibility to customize watchfaces, just scroll through a selection of already pre-installed ones. There are a few nice digital watchfaces, with a default city skyline being my favorite one, but don't count on too much variety or a decent looking analog watchfaces due to pixilated graphics. Just like with pre-installed watchfaces, you also get 6 screen views with a different smart functionality: clock/watchfaces, calendar/appointment, weather, music control, notifications overview, and a timer. When you go into the Meta manager app, you have the ability to re-arrange these screen, but can't disable it. I guess it goes back to MW new philosophy of providing the user with a simple tweak-free interface, but my personal opinion on that - I choose Android over iOS for a reason of being more in control of my phone setup, thus I felt a bit frustrated with a lack of customization. It would have been useful to at least being able to disable some of these screens since I personally don't care about a timer and music control doesn't work with my Note 4 - extra screens mean more unnecessary clicking and scrolling. But other screens are quite useful, such as weather (configurable from within an app) and Notification screen with a great implementation of pop-up "bubble" scrolling to step you through calendar, messages, phone calls, phone battery status, and email notifications at a glance.
Moving from the watch to the phone, as I mentioned above the Meta Manager main page mirrors all 6 screens and allows you to rearrange their order. Another important tab is Meta Filter where you can select and de-select which application notification will be sent to your Meta watch. I would like to see Select All and Clear All option in there since depending on the amount of your apps it might require a lot of clicking. Another comment, not all of the installed apps were listed in that filter, with TouchDown being one of the missing ones. But I still was able to receive all of my notifications regardless of the selection, perhaps due to System UI being selected in the filter? But either way, I was happy about it (being able to receive TouchDown notifications), but at the same time had concerns of why do you even need this Filter since it wasn't effective to block notifications of the app not in the list? Also, on a few occasions I missed some of the notifications which never showed up on my watch, but this could be addressed due to software/firmware still being a work in progress. The 3rd tab was for Settings with indication of Watch Battery, Watch version, and App version, plus Calendar preference, Weather location, and other help/support/contact links. And again, I'm not quite following the logic of needing to access my phone to check the status of smartwatch battery. I would personally prefer to keep this functionality mirrored on the watch itself to be able to know when you have to put it back on the charger. If your watch battery running low, you can loose communication with a phone and there is no other way to find out battery status. And speaking of charger, I found Meta M1 to have a consistent performance of one week with a medium load of notifications and messaging - I was very pleased with that. But I wasn't too pleased with a fact that Meta M1 was loosing connection with my Note 4 at least once a day. At the same time, I'm also being realistic this is a new release with software work still in progress, so I will give Metawatch guys a benefit of a doubt that all the bugs will be addressed in the upcoming updates, the same way how it was done with FRAME/STRATA.
Overall, I'm not gonna lie to you saying I was swept off my feet with Meta M1 release. But a lot of it has to do with my slightly biased opinion of being FRAME/STRATA user as well as being influenced by other smartwatches. I honestly thought I will not be able to tolerate it for more than a day or two, but actually ended up using it for a few weeks and still have it on, probably until I end up reviewing another smartwatch. In my book it's definitely an encouraging indicator
Those who are coming off FRAME/STRATA or Pebble or any Android Wear smartwatch will feel a bit handicapped by performance and limited functionality of M1, unless if you don't mind basic one-way notification and prefer a higher build quality smartwatch. For others who have been on a sideline of smartwatch revolution and don't want to be overwhelmed with too much technology and would like to start using their smartwatch right away without spending hours playing with configuration - Meta M1 might be just a smartwatch for you!
Unboxing and design details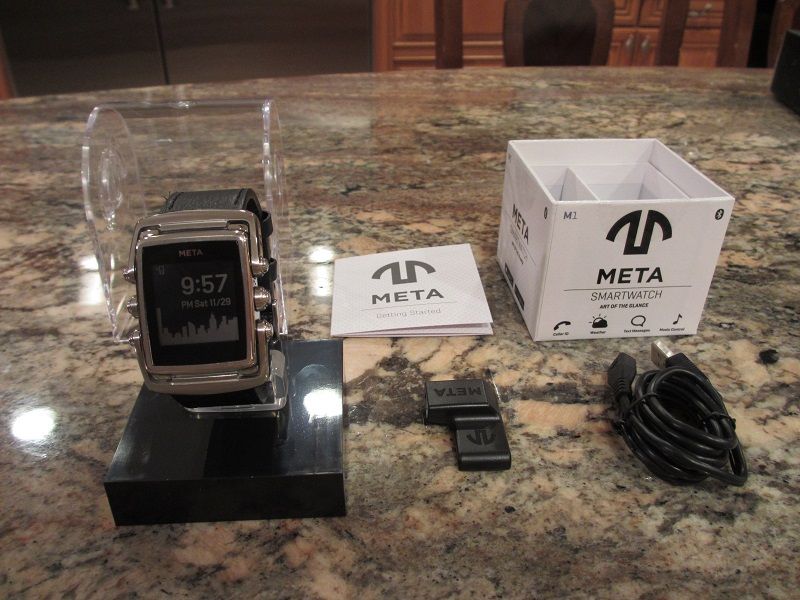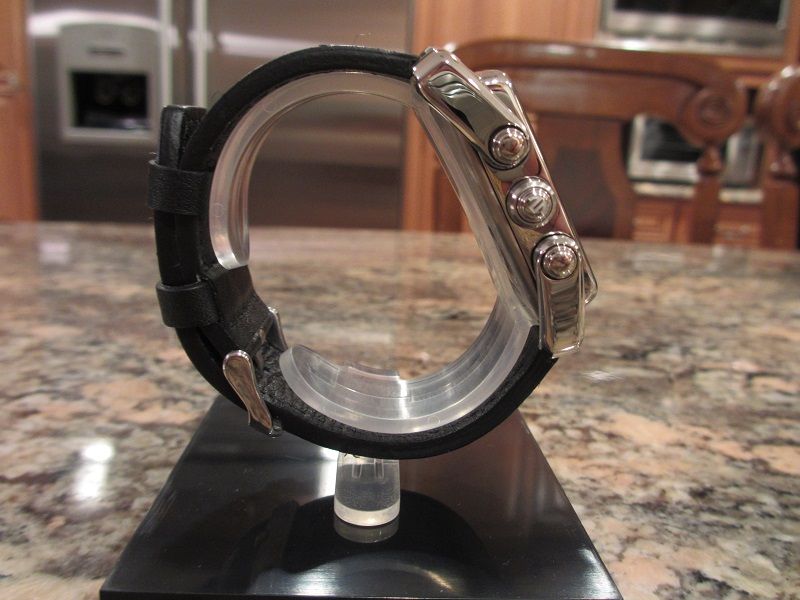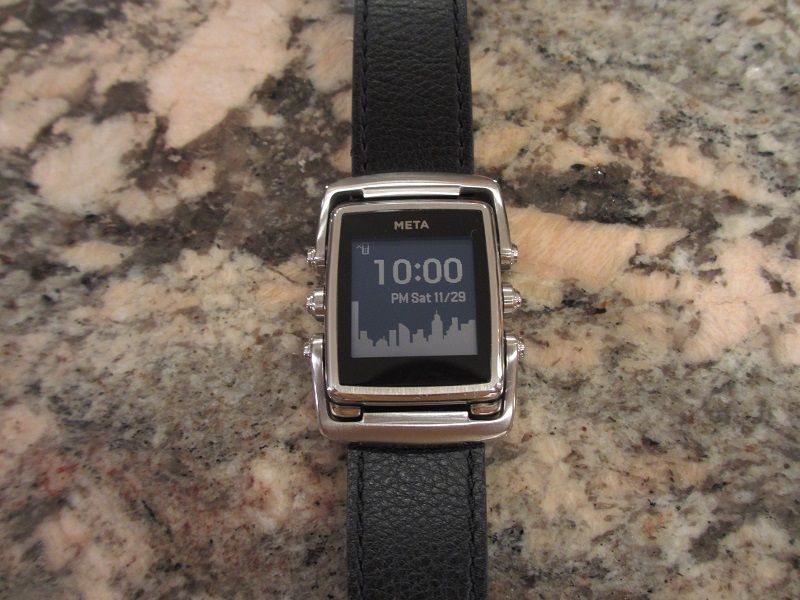 Charging setup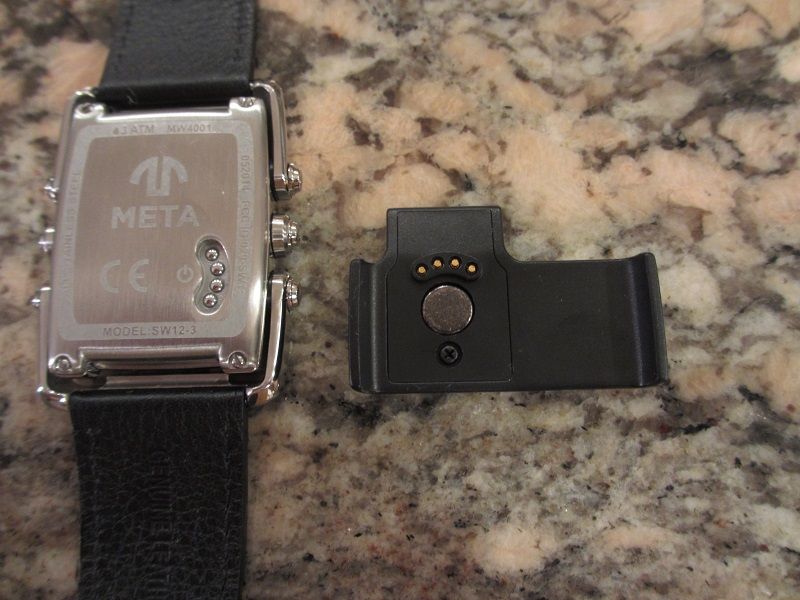 Watchfaces