Jul 30, 2010
2,247
928
223
This is a review of MetaWatch smart watch:
MetaWatch Shop - Bluetooth Connected Watches and Accessories
"Smart watch" - a buzz word we have been hearing about for awhile now, promised by "big" companies as the next big thing. I have no idea when this promise going to become a reality, but I do know that MetaWatch came through with a product which is available now, has been shipping for awhile, has a very attractive design and reasonable price tag of $129 (Strata models), has a support of developers community with a fantastic customizable interface, and IT WORKS!!! I had this smart watch for less than a week, and it already became my everyday essential gadget. While using MetaWatch for a limited time, I finally understood a true meaning of what "smart watch" supposed to be - it's a remote extension of your smart phone! Doesn't matter if your smart phone has a small display or a phablet with 5.5" screen. Taking the phone in and out of your pocket to check if you received a new email or text message, or id who is calling, or to check any upcoming events in your schedule, or to control your music - it's not always convenient. I have my phone in layers of case and tempered glass protection because I'm paranoid of dropping it outside on a concrete surface. During the winter I have to go through pockets to get to my phone. Being outside often makes display of smart phone hard to view due to reflection. If it's raining or bad weather - forget about taking the phone out. When you are in the movie or in a meeting or driving in the car - often you don't even have a chance to view your phone. This list can go on and on. So, what is a solution? A smart watch! A MetaWatch!
Let's first start with unboxing of the product and it's basic spec.
It came in a very nicely packaged box with a secure form fitting foam cutout for the watch and a section with usb cable, charging clip, and also a product info note signed by CEO of the company, Bill Geiser himself. For my review I choose a Strata Stealth model which is a sportswatch model made out of double-injection molded PU strap which is co-molded with PC core. There are also other Strata models available with different colors. Furthermore, MetaWatch offers a Frame model which is more traditional stainless steel case with a replaceable leather strap. The glass lens comes with anti-glare coating, scratch resistant, and also mineral hardened. The all black Stealth design also had titanium finished stainless steel top ring. The whole construction is very solid and feels bulletproof. The watch itself is water resistant with an actual rating of 5 ATM (165 feet). I know it's a sportswatch design, but it feels very premium quality, something you will not be embarrassed to wear everyday at home, at work, or any active style activity in any weather condition. With all that construction, I was surprised how lightweight it felt, only 58g and thickness of about 14mm. It's not exactly a slim design, but because of the light weight and snugly wrap around molded fit - it felt very comfortable on my wrist. All 6 control buttons, 3 on each side, are large enough and easily to access. The back of the watch has 4 charging/data contacts for use with a provided clip where a standard micro-usb connector plugs in. Since the watch is completely waterproof, this is the only logical way to get access to charging and data contacts without compromising seal of the watch.
Side view of 6 control buttons and bracelet: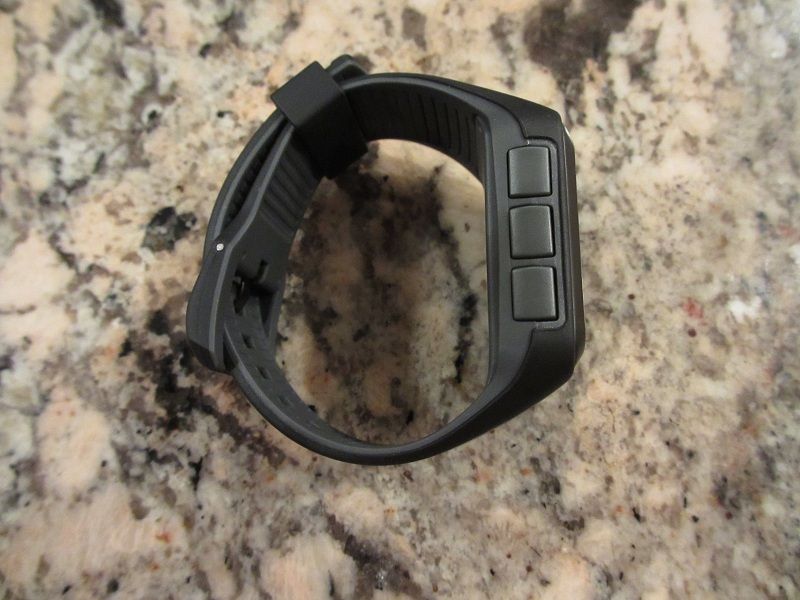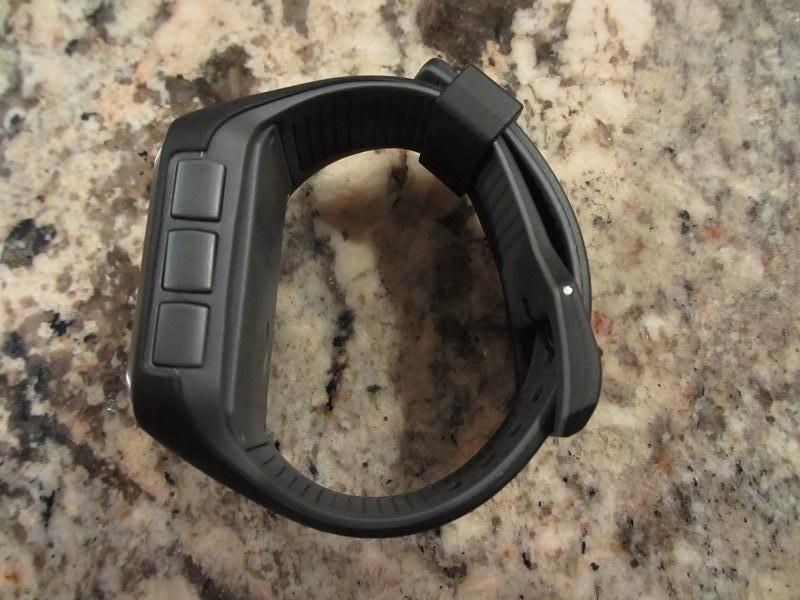 4 charging contacts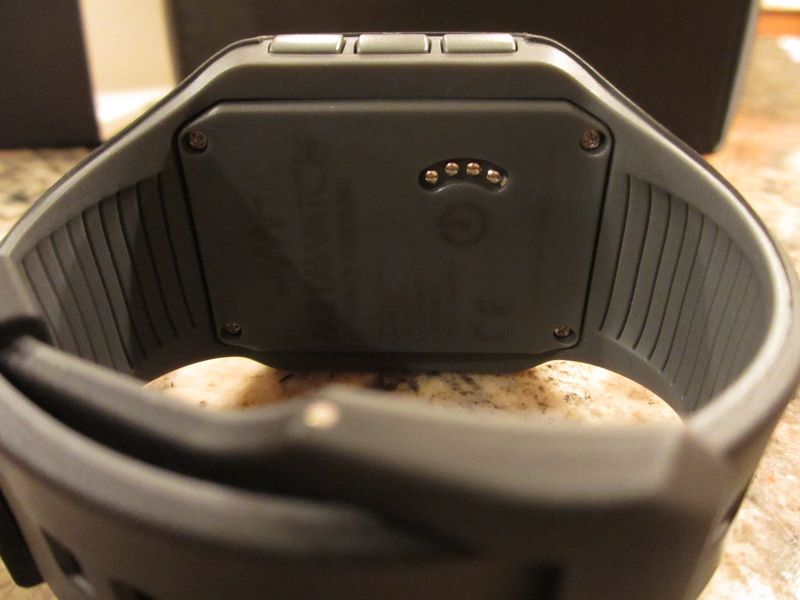 Charging clip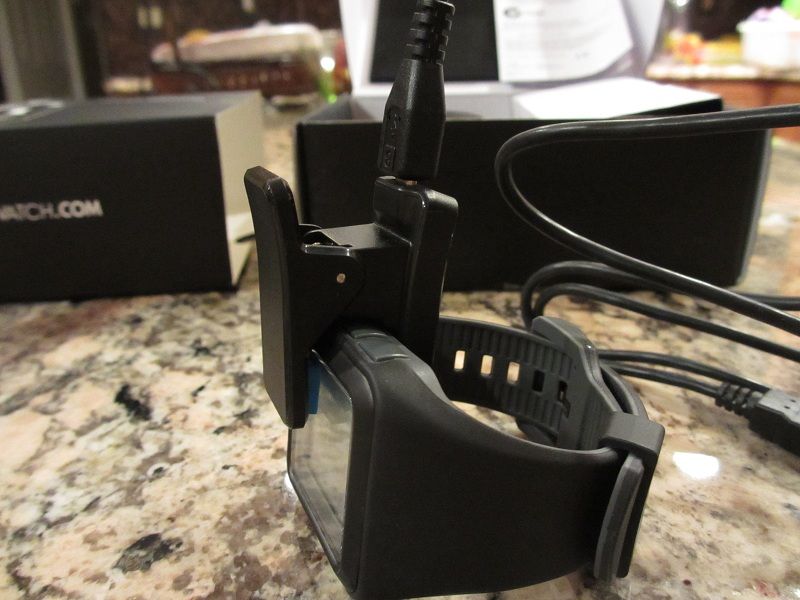 Once you take the watch out of the box, the first thing you notice is the display. About 1.25" across, it has 96x96 pixel resolution, reflective mirror display (polymer network LCD technology), and the most amazing part - it's readable under sunlight. For an additional convenience, you also have backlight button to illuminate display in the dark for a short time duration. Display stays on all the time, and suggested battery life is 5-7 days, although if you are on constant vibration alerts I would think realistic battery life would be closer to 3-4 days. Overall, thanks to it's display technology and firmware upgrades to optimize the performance, I found battery life to be fantastic considering screen is always on, bluetooth is on, and smart watch is enabled with various widgets. It also comes with 3-axis accelerometer sensor and ambient light sensor, and it supports dual mode Bluetooth protocol (BR/BLE).
OK, so we know hardware is solid and attractive, but it means absolutely nothing without software/app support to unlock the full potential of this super gadget. It does come with official app you can download from Google Play, but as of now it doesn't allow to unlock full potential of this device. The MetaWatch developers community took matters into their own hands and put together Community Edition app manager for this watch, with another version called Noah Edition built on top of CE edition. At the current moment, until the official MetaWatch app is still work in progress, I would strongly suggest getting NE manager. That is the one I used to configure my watch. Furthermore, to unlock full potential of email notification if you have multiple accounts beside GMail, I strongly recommend getting K-9 mail app and TouchDown mail app, both of which are supported by NE manager notifications. K-9 mail app will be able to get all of your POP and IMAP message together under one roof, while TouchDown is the BEST choice for your Exchange server work emails. I can't say enough good things about TouchDown - it gives you an even better access and control of your corporate email than using it directly from your Outlook at work
To tie K-9 and TouchDown together with a nice visual widget display, I used Executive Assistant+ app which comes with widgets specifically designed for MetaWatch to keep track of emails, missed calls, text messages, calendar items, etc.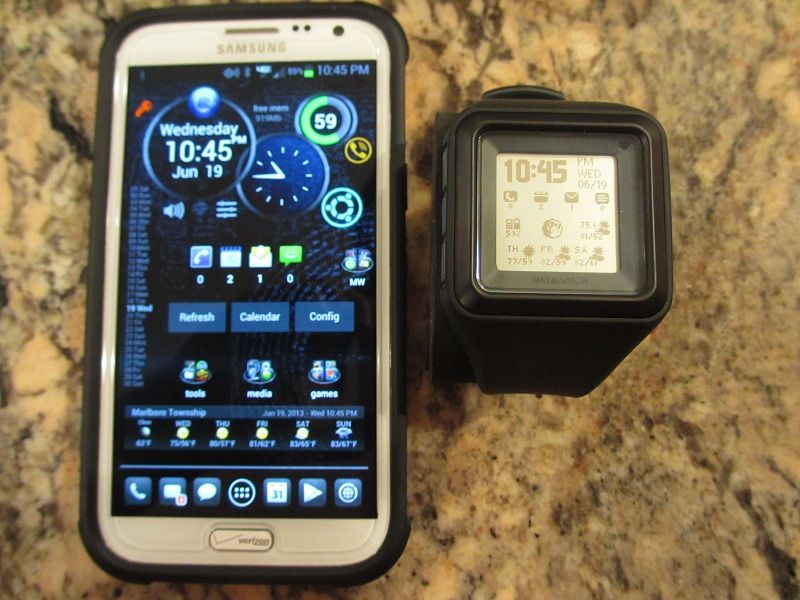 To get an idea of other application here are some more shots (tried my best with a camera)
Main screen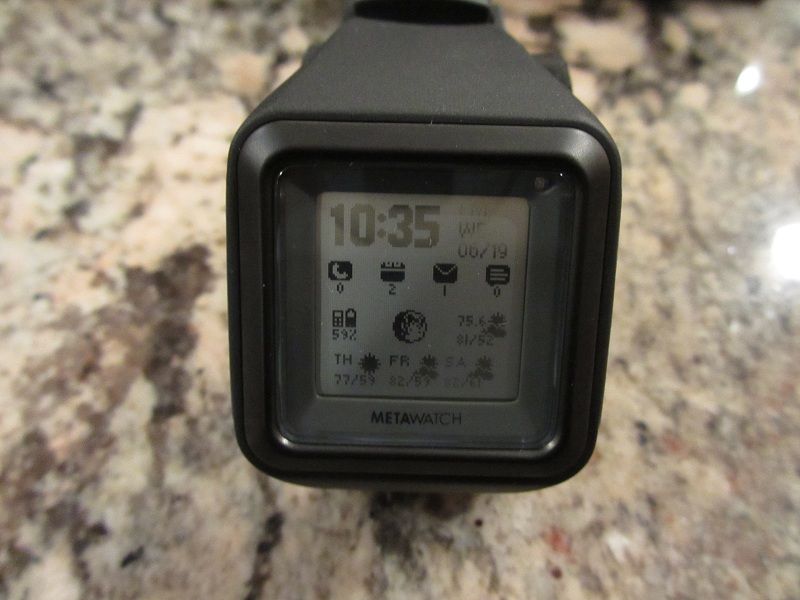 Calendar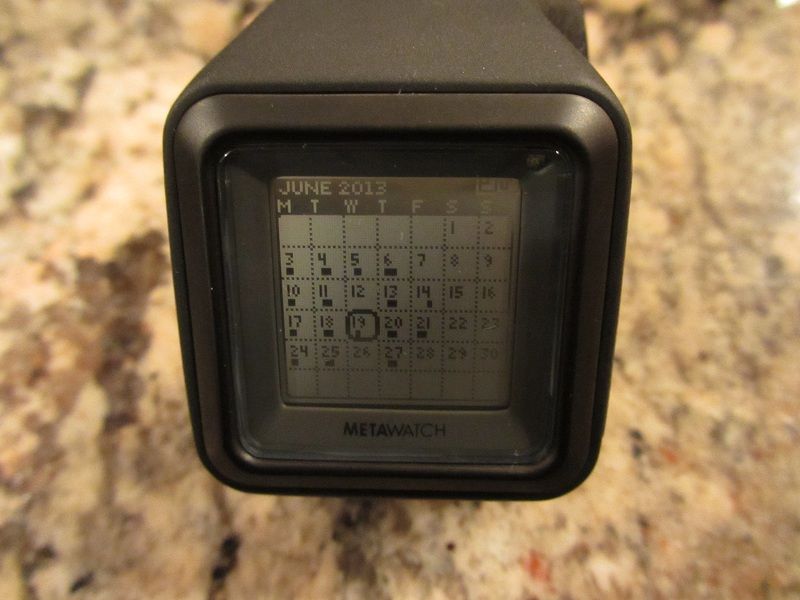 Open view of calendar events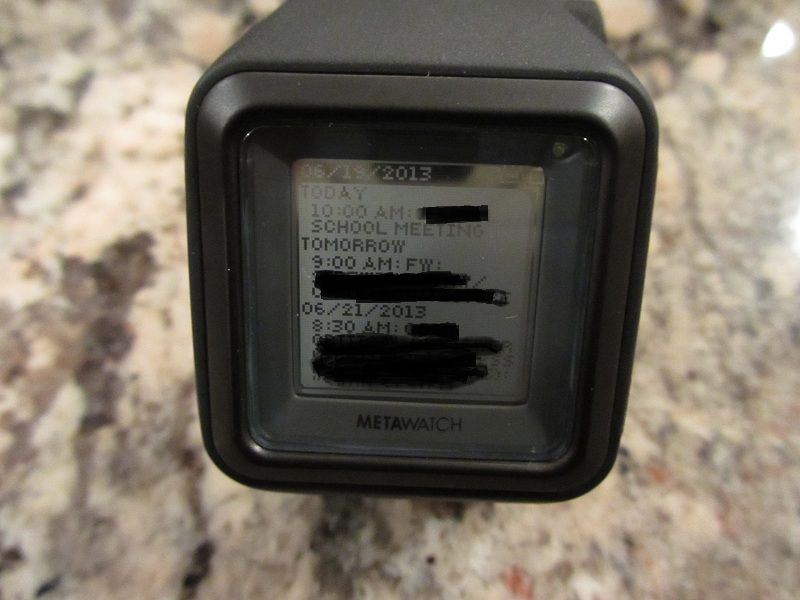 Notification history (emails, etc.)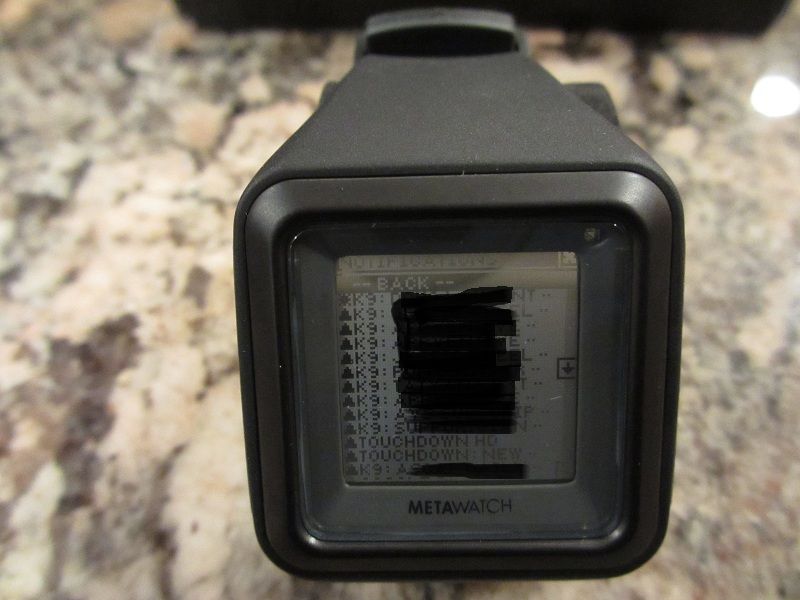 Music player (play/pause - automatically defaults to your music player, next/prev skips the track which can also be assigned as volume up/down, and it also displays song info as it plays)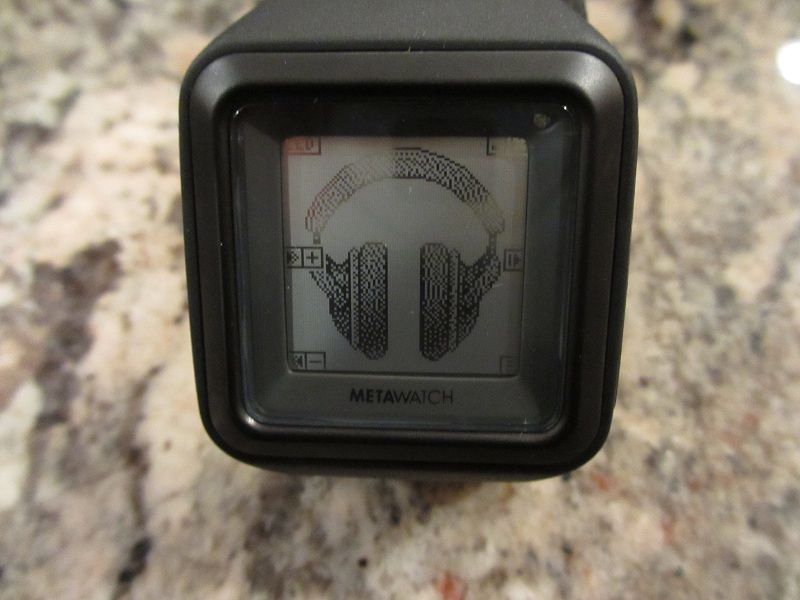 Status screen (bt on, connection to phone, battery %, fw/sw/hw rev)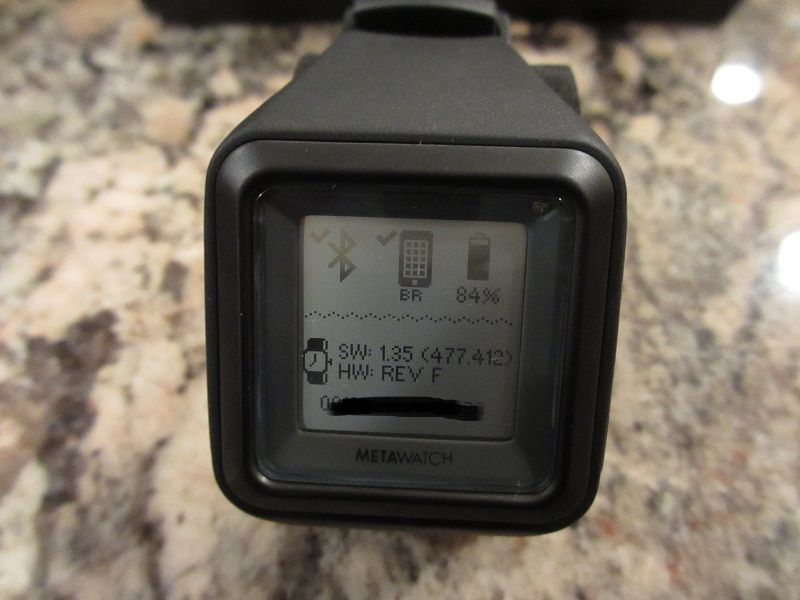 Quick setup page (reverse screen contrast, vibratoin notification on/off, bt on/off, seconds display on/off, exit)
The Manager to configure the screen, using Noah Edition, is very easy and flexible where you build layout of your screen with multiple rows and selection of available widgets. As you building it up, everything gets visually updated in the Manager layout window and on the Smart watch at the same time. As you add more widgets and they no longer fit in first screen, it will continue on the next screen of the watch, and so on.
Widget assignment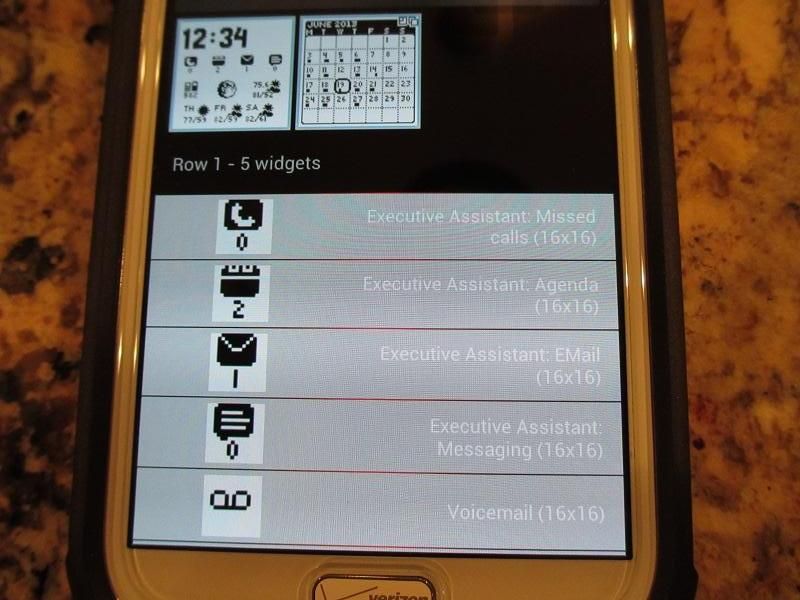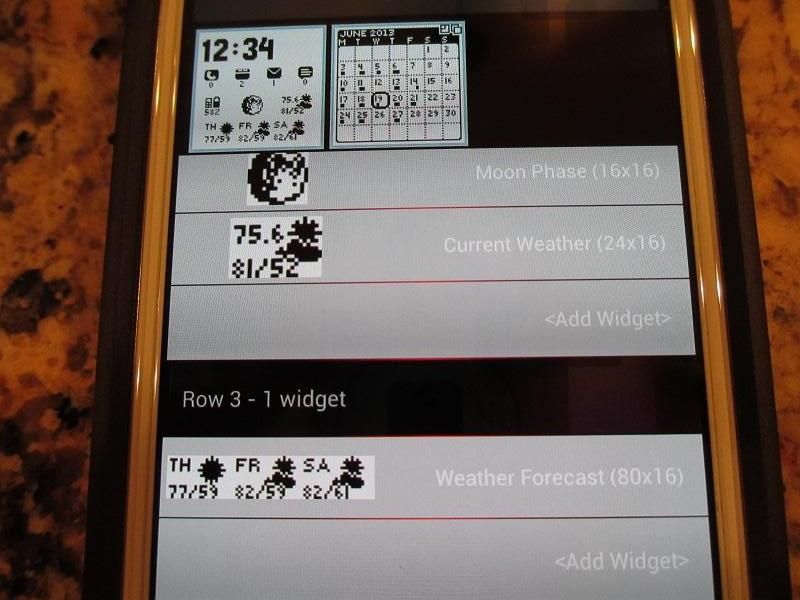 Config page with different options
I was also very impressed with a music player where I was able to start my playlist right from my watch and found it to be extremely useful while controlling my external bluetooth speaker - using my watch as a remote control for external bt speaker while bypassing my Note 2 all together.
Overall, MetaWatch smart watch exceeded all of my expectations! I do have to note, this wasn't right out of the box consumer friendly setup. For anybody using the watch first time and relying completely on official MetaWatch manager - you will be impressed with that manager interface, but not exactly with it's limited content. To unlock full potential of this clock I actually had to read through developer section of MetaWatch forum to pick up pointers from various members. The Noah Edition (Community edition) of Manager is the way to go for now until official manager will catch up, something I have no doubt will happen sooner or later. Just in the last few days there was already an update with some improvements. Also, MetaWatch team is actively working on firmware updates to support further optimization and compatibility with latest Android changes. I'm sure it will be very exciting in the next few months to watch for updates with new upcoming widgets and apps from MetaWatch. I will definitely comeback with more updates and continue to share my experience using this smart watch.
*** FRAME version of MetaWatch smartwatch was reviewed here:
http://androidforums.com/6072792-post9.html
***