Jul 30, 2010
2,247
928
223
This is a Review of Riva Turbo X hi-fi Bluetooth wireless speaker.
http://shop.rivaaudio.com/dp/B00IPS8QXM#.VTb03md0z3h
, also available on Amazon
http://www.amazon.com/Riva-Performance-Premium-Bluetooth-Black/dp/B00IPSC6F6/?tag=vectron00-20
Thanks to the original Jambox, going back a few years, wireless speakers used to be a popular "accessory" for your smartphone and tablet. Consumer electronics market was flooded with all these cute and colorful speakers with a tiny sound, only a fraction louder than a phone itself. But just like with any new trend, the infatuation doesn't last for too long and the product either evolves or slowly fades away from a spotlight. As expected, for a number of companies it faded away because they decided to scale up their mini speakers into bigger and louder versions without realizing that sound quality remained the same, only a few dBs louder. At the same time, a few premium audio quality wireless speakers have emerged with a performance approaching some of the wired setups. One thing these premium speakers had in common was companies behind them with deep roots in pro audio design and manufacturing, not just someone who decided to add speakers to their lineup of accessories or used celebrity endorsements for credibility.
One of such star-quality products I just had a chance to review came from a company you probably never heard of before, but after testing their latest Turbo X Bluetooth wireless speaker – I can tell you with certainty they have a potential of becoming the next household name. RIVA Audio was launched only a year ago, as a lifestyle brand of Audio Design Experts (ADX) headed by none other than a legendary "star" himself – Rikki Farr. With 45 years of experience in building and designing audio products and over 30 Platinum and Gold certified studio record awards while working with some of the top legendary bands – you can rest assured that a chairman and CCO of ADX knows a thing or two about music!!! But were they [RIVA/ADX] able to encapsulate a wealth of this knowledge and experience into their new compact Bluetooth wireless speaker? Let's see what I found.
Even so I usually start my review with a description of the packaging, I wanted to mention how much I was impressed with the actual shipping box and thick pieces of styrofoam used inside to make sure packaging box would arrive undamaged. Packaging box itself was made out of high quality thick carton and had a detailed description of key features, included accessories, technical spec, and even a picture of their Ground Control app. The list of key features really sets a tone to make you realize about dealing with a serious audio product. Of course, the focal point of the exterior packaging is a picture of the speaker on the front and the view of inner design on the back. You can clearly see how much pride RIVA takes in their product by showcasing their design, inside out! With a top of the packaging box off, you'll find a small rectangular speaker sitting on a pedestal of inner base, including more protection inside to prevent RIVA Turbo X from any damage. I do have to admit, it's not a lightweight product, and I was impressed with the amount of thought that went into packaging of it to make sure Turbo X arrives at your doorstep intact.
Unboxing.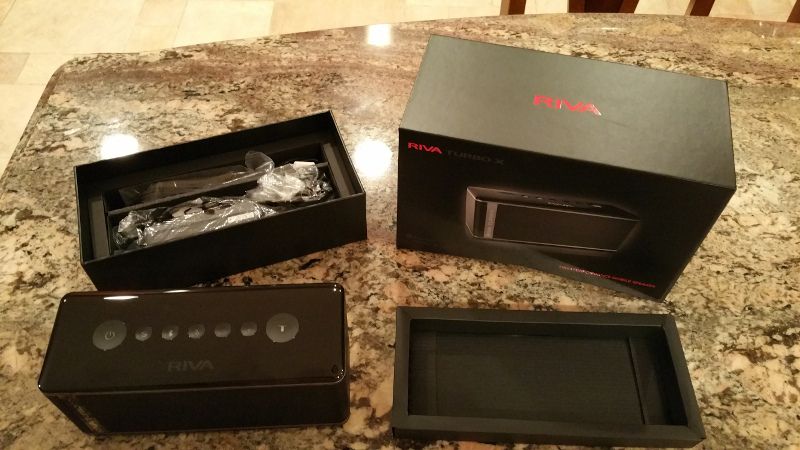 After removing a speaker from the box, you gain access to all the included accessories stored in the base underneath. Here you will find AC power supply, 70" 3.5mm to RCA connector (to connect Turbo X to your external audio source with RCA output port), 48" 3.5mm male-to-male audio cable (to connect Turbo X to any non-bluetooth 3.5mm audio port), and a very comprehensive manual. There is also a special Phono Mode you can activate by holding "+" and "-" buttons together so you can use Turbo X with a turntable that has a low audio output. Although not being able to use a common micro-usb cable for charging, I completely understand why RIVA went with AC power supply (impressive 19V/3.42A output) for a faster charging of its internal massive battery. Even so I didn't see anywhere mentioning of the actual mAh capacity, a mere fact of 26+ hours of battery life (with Surround and Turbo off, and at 75dB of volume level) and capability to charge other devices makes you realize you are dealing with a high capacity rechargeable battery.
Another included accessory is I/O splash cover - a very clever way to cover the exposed usb, audio, and power ports on the back. What makes it unique is how you can store this I/O cover plugged on the bottom of the speaker so you don't loose it. When in need to cover up open ports - it goes right in with a secure fit, and still providing an access to power button.
Accessories.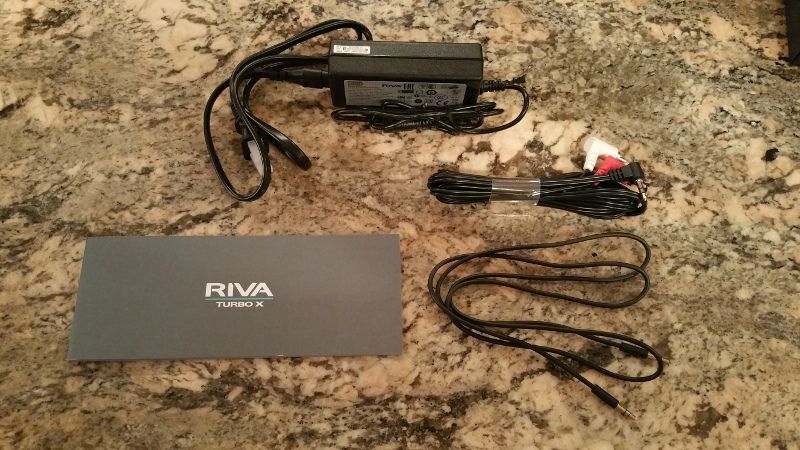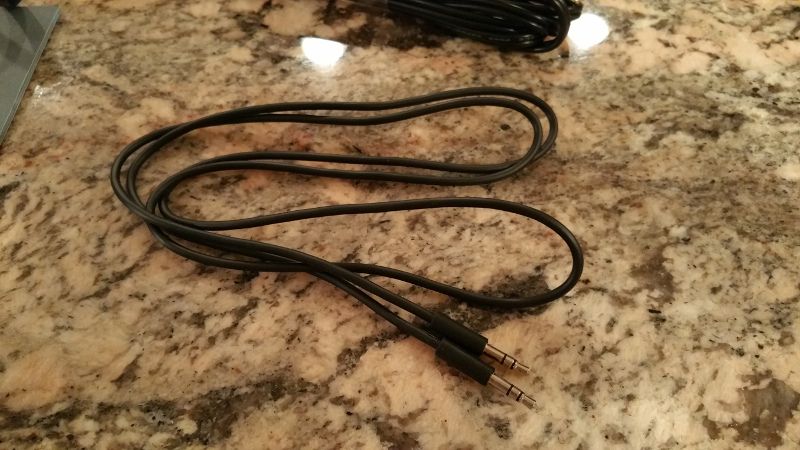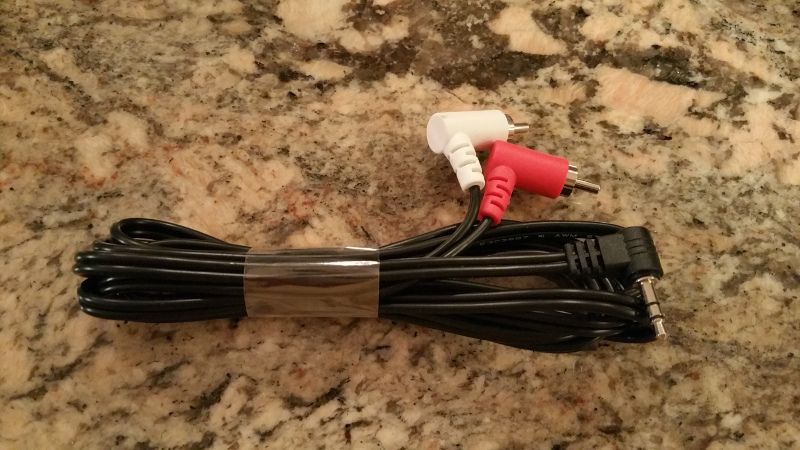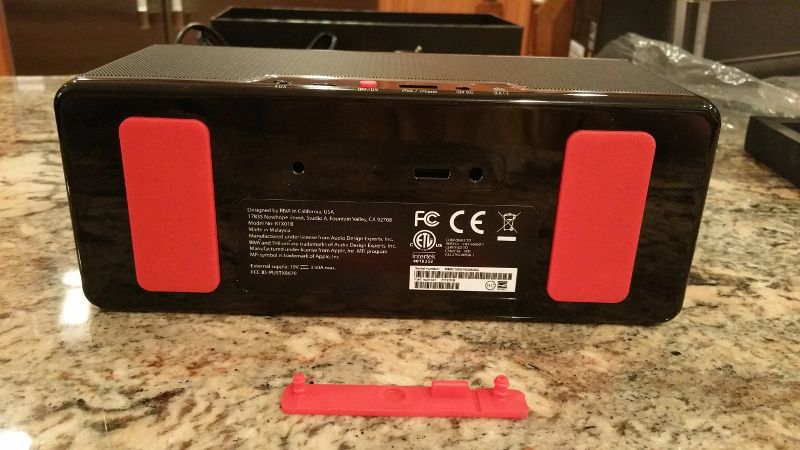 So how does Turbo X looks once out of the box? There is nothing "cute" or "colorful" about it, instead you are looking at a very elegant design in a shape of a straight forward brick. Surrounded by a mesh grill around front/back and sides, it doesn't scream "look at me", and as I later found out - it grabs your attention with its sound rather than flashy looks. The bottom of the speaker has two rubber feet for an excellent non-slip grip with a surface as well as some dampening of the weight pressure. That is something you will feel right away with a weight of over 3lbs and dimensions of 9" x 4" x 3.5". Unlike other audio products, when it comes to speakers - having "extra" weight is actually a good thing knowing you're dealing with quality drivers and amp inside of it.
Moving on to the top, you have a plethora of illuminated capacitive touch buttons with a proximity sensor that triggers all buttons to lit up as you hover your hand over it - excellent idea when you are in the dark. You can also lock these keys by pressing Mute and "-" buttons together. Of course, all the functionality is duplicated on the remote app for your phone, but more about it later. Here we have a Power, Bluetooth pair-up, Volume up/down/mute (3 separate buttons), and S (to activate Trillium Surround) and T (to activate TURBO) buttons. One thing I wish would have been included or somehow implemented is a transport control in order to play/pause and skip songs from within a speaker, though this functionality is already mirrored in a remote app. Plus, it's understandable that every button (or combination of buttons) has multiple functionality, so it's a challenge to add more controls.
Also, at the top you have a dual noise and echo canceling mics for Speakerphone functionality. This speakerphone functionality is a great bonus, but to be honest I never really used it with any of my wireless speakers, and consider it to be just a nice "bonus", no more or less. For a speakerphone functionality, you can Accept or Reject the call right from the speaker by using T and S buttons. Last, but not least, the top of the speaker is plastic with a glossy piano finish which somewhat a fingerprint magnet.
At the bottom on the back of the speaker you have a selection of different ports, which as I mentioned before can also be protected with removable I/O cover. In there you will find 3.5mm auxiliary input, a micro-usb data input for a future firmware upgrades (a very important feature), a physical power button (another brilliant idea to make sure touch buttons on the top are disabled and battery is not wasted when not in use), USB charge out port (though labeled as iPad/iPhone it designed to charge any device), 19V DC Power adapter input (to connect AC/DC power supply), and a battery capacity indicator (depending on the color you can determine 0-30, 30-60, and 60-100 remaining capacity). Battery indicator is very important, and you can access the actual battery reading from Ground Control app, down to 1% accuracy.
Design.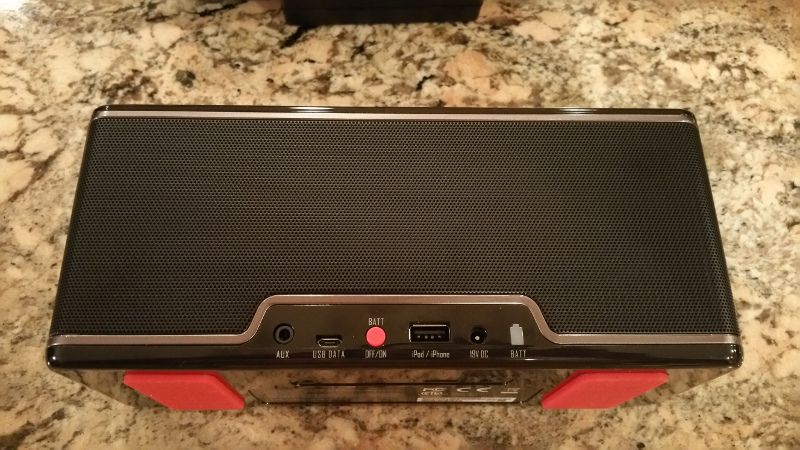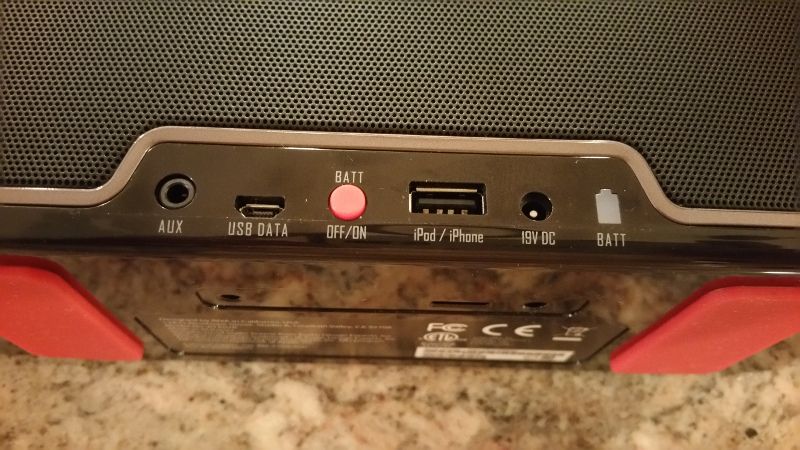 Pair up with audio source was effortless, and I had no issues with either my Note 4 phone or AK120ii DAP. At first I thought that NFC would have been a good option, but later after discussion with RIVA I realized that due to a small footprint and proximity sensor on the top - NFC implementation wouldn't have been feasible. Once paired up, I had no issues with wireless connection across an open space of 40+ feet. Sound quality was very impressive and deserves a separate section in my review since we are talking about a true audiophile quality performance. And it's not just because it supports some of the popular SBC, AAC, and aptX audio wireless codecs, but actually because of its top notch audio hardware design. Since I'm Android based, aptX codec support is very important to me, but a transparency of the transmitted digital audio is meaningless without a quality amplifier and drivers to deliver their audio interpretation to your ears.
Pair up.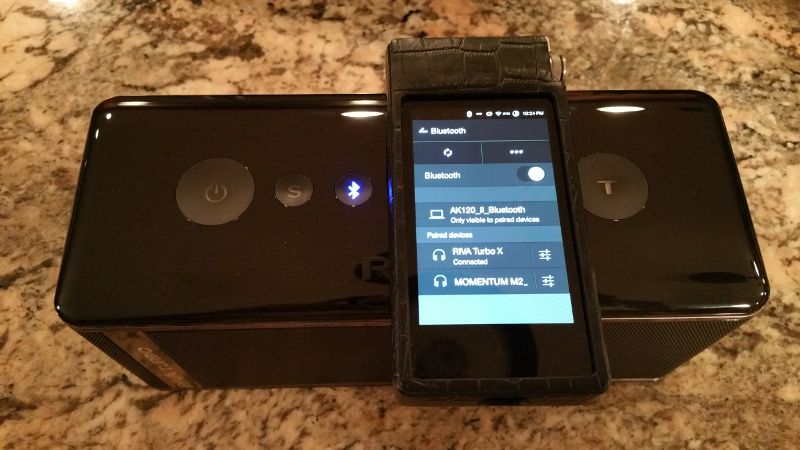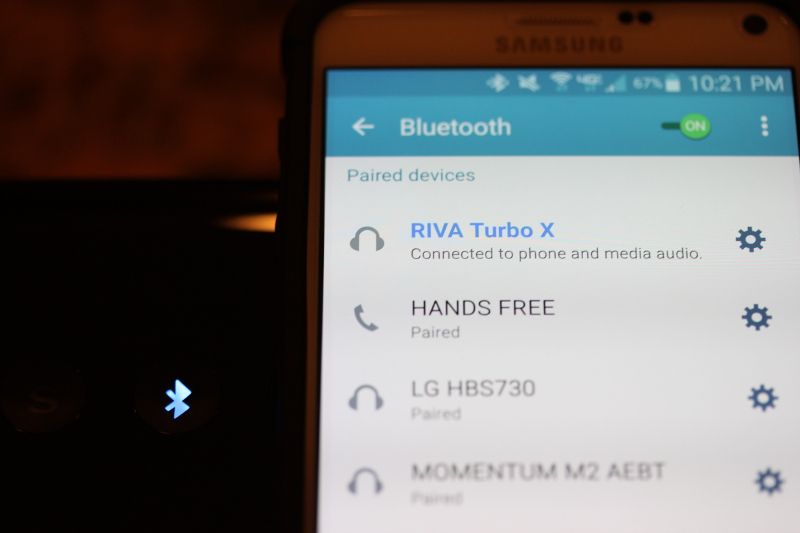 Before I go into a deeper audio analysis, let me talk a little bit about RIVA's remote control app which they call "Ground Control" app.
There are a few other premium speakers that come with their companion setup apps, but those are usually limited to mostly "setup" functionality. Here, you are dealing with a control app that covers everything! Usually I prefer to leave my phone/source alone and control music directly from a speaker's transport controls (if it's available). Part of it has to do with me using more rugged speakers outside while keeping my phone out of sight. Since I found RIVA Turbo X to be more appropriate for indoor use, the roles reversed and now I was looking for any opportunity to fire up that Ground Control app. You get everything from a precise battery reading to every touch button "access", including a large volume wheel and even a playback control with play/pause and track skip (though only when using native audio playback app, no 3rd party support yet). And if you want more customization, you can go into settings to change speaker "name", app background control, and my favorite - switch audio prompts between voice and tones. The only thing that can make it better is to add a "no sound" audio prompt option.
Ground Control app.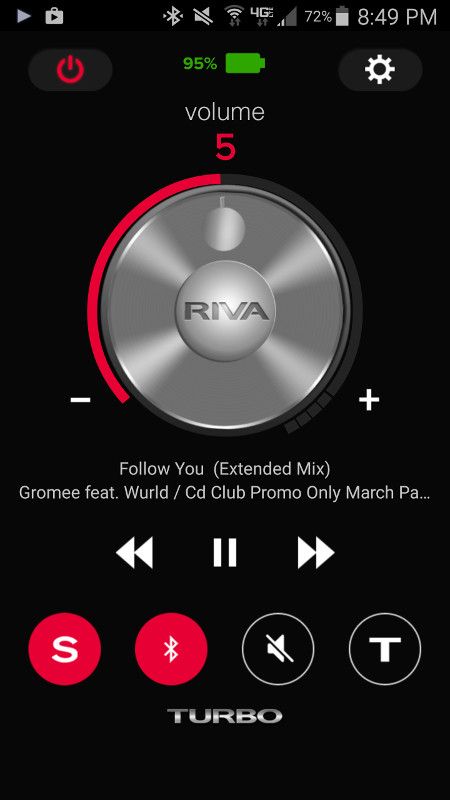 Finally, I'm getting to the actual sound! I have reviewed a lot of different wireless speakers, including a number of those which I consider to be smartphone accessories. With an exception of a few, a more detailed audio analysis was simply not necessary for those other speakers since there was nothing special about their sound. With RIVA Turbo X, even before getting to sound analysis, you have to look closer into the actual internal design to appreciate how much this speaker has to offer.
Unlike other speakers that use off-the-shelf generic or headphone drivers, RIVA packs 7 ADX speakers! Starting with three ADX 60mm full range proprietary drivers, it looks like they cleverly placed one in the front middle and two on the sides. Complimenting that, you also have four ADX custom dual piston bass radiators, with two facing front and two facing back. Pretty much, you have speakers and bass radiators all the way around RIVA's compact footprint. But speakers itself is only a part of this equation. Driving power to these speakers is proprietary ADX 3-channel amplifier with 45 watts of RMS power under control of advanced DSP. This amount of power is higher than I have ever seen from any other Bluetooth wireless speaker in the same category. Keep in mind, more power doesn't necessary mean a louder sound, but actually corresponds to having enough juice to drive speakers to their full "undistorted" potential.
And if that wasn't enough, RIVA includes two "override" modes with Trillium Surround which enhances separation of the sound with 3D imaging and TURBO with EQ mode boost of up to 100dB in loudness level. Surround enhancement is very noticeable and sounds rather natural, not a gimmicky DSP effect. This mode is perfect for watching movies or playing video games, though I also enjoyed it while playing music where a lot of the sound details got a new 3D placement in space. TURBO takes a sound into overdrive. It definitely is useful when you are at the max of the volume and need to squeeze out a few more dBs. RIVA does that with an extra 9dB kick without any distortion (thanks to its smart compressor). This Turbo effect might not be necessary at lower volume, especially since it drains battery quite significantly, but when you want to fill a bigger room with a more powerful sound – activate this TURBO overdrive for uninterrupted 6+ hours of sound bliss!!! Unfortunately, you will take a hefty battery penalty, so if possible – keep it plugged in.
Sound analysis.
I found RIVA Turbo X to have an impressive audiophile quality performance with a full body smooth balanced sound. Just like with any pro speaker, sound quality benefits greatly from a speaker placement to take advantage of the natural acoustics of the room. As a matter of fact, RIVA even includes suggestions with a speaker placement to maximize its performance.
After a closer listening, I found Turbo X to have an articulate low end with a fast mid-bass punch and a deep sub-bass texture. Bass is clear and detailed, well controlled with just a minimum spillage into lower mids. Mids are overall warm and clear. They are thicker in sound, especially lower mids, and it helps in building a foundation for a full body sound. Upper mids are clear and detailed, but not too bright or analytical. Vocals have a very powerful and organic delivery. Treble is smooth, warm, doesn't extend too far, but still captures enough details.
Soundstage is good, and with Surround Trillium mode you expand staging to a new 3D width/depth dimension. Layering and separation is typical for a speaker, which is not necessary the best and even a bit congested when you are standing too close. But once you take a few steps back - sound opens up and fills the room with a more detailed presentation. I think it's a very important factor in order to appreciate this speaker – the quality of its sound perception goes up as you take a few steps back, just like with a regular full size wired speaker.
Another interesting thing about RIVA Audio, they actually encourage you to compare Turbo X speaker against their competition. You know, such encouragement can only come when you have confidence in your product. And to tell the truth – they have every right to brag about it. I have tested a number of other HD speakers, and I feel that when it comes to sound quality and features – RIVA Turbo X stands ahead of its competition.
For example, Braven 855s HD sound is more colored, with a muddy bass, also loud and powerful but not the same level of clarity; heavier in weight, less battery endurance, but with an advantage of a more rugged design. UE Boom is still among my favorites, but it's not in the same "power" class and when it comes to a sound it has a nice mid-bass punch but no sub-bass support, and sound is thinner where it can't fill the whole room; battery with only 15hr (though a crazy standby when powered off, lasting months), limited app, though a better splash proof design. B&W T7 impressed me with a build quality, but sound was more colored with a greater level of distortion, and you have to be facing the speaker, otherwise sound gets muffled – not even a matter of which corner in the room you place it, but rather at what height level. Bose SoundLink III is another good candidate for comparison, though I find its bass to be deeper and more on a muddy side, not to mention more spillage into lower mids; in comparison it sounds warmer and lacks the same level of detail retrieval. Didn't have a chance to test BeoPlay A2 yet, so that one will be an interesting comparison as well.
Summary.
Overall, I was very impressed with a performance of RIVA Turbo X and an audiophile quality design behind it. 7 speakers (3 active and 4 passive) inside of one compact enclosure, 45W 3-channel amp with DSP processing, Surround sound mode, TURBO boost mode, 26+ hours of battery life, aptX support, firmware upgradeable, charge out port to charge other devices, touch control buttons with proximity sensing LED indicators, and a very polished Ground Control remote app – that is a mouthful for a Bluetooth wireless speaker under $350. Is this an absolute perfection? Maybe if the exterior design would have been a little more rugged and there was a way to implement transport controls from a speaker itself. Aside from that, this speaker could be considered a perfection as long as you keep it indoors and careful in handling it. Actually, lack of transport controls no longer bothers me because Ground Control app is truly a fun to use! But the most important thing, once you pair it up with your source and hit Play – you're no longer hearing the music, but actually feeling it! I don't think I can say the same about any other Bluetooth wireless speaker I have tested so far.