Made this by request based on the ones I make for the Galaxy SIII, Epic 4G Touch and the Galaxy Note II. This is the stock MDL system which is the latest OTA from sprint. The only change added is an option to toggle the camera shutter like the other carriers have. It also has camera during call enabled. To do this is as easy as changing two words in a single text file. Problem is its not accessable without root and (for whatever reason) some people haven't rooted their phones. Here is the fix for those people.
As said this will flash the stock MDL system which is the latest OTA from sprint. This will not add and does not require root. It does however require you to be on the latest OTA. So check your build number in the settings and be sure it ends with MDL before using. This is applied by booting into download mode (volume-down+home+power) and running the exe file on a windows pc. Thanks to
mmark27
for testing. Pictured below is the program and the end result. (Camera Example taken from Galaxy Note II,yours will differ slightly)
Again this is only for non-rooted users. Using this on a rooted phone is pointless and will break root access if already present. If you're rooted and want to do this yourself,
see this youtube vid.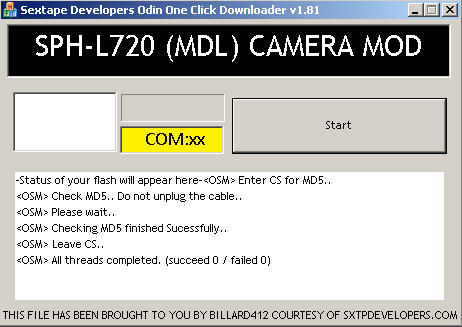 DOWNLOAD HERE
​