First and foremost all credit goes to Manup456 for creating this theme for the EVO. Permission was received from him to port this here. I recommend checking out his new website for a ton of cool stuff:
http://digitalstylewars.com/
This theme is available in both ROM and Theme Only format. This version can only be installed over Bugless Beast v.4. I've also posted alot of goodies to add in if you desire.
Original Thread for this theme:
[THEME] 8/30/2010 Manup456 The EVO Collection 2.2 UPDATED =) - xda-developers
UPDATE v8
(Read Instructions!)
- Optimized to work with Bugless Beast V0.5
- Due to Pete moving all the apps to the data partition, I removed the themed apps from the main theme file and made them available separately in one big .zip. This way, you can install whatever apps you want and not install the ones you don't use. The new file is called "Bugless_Evolution_Apps.zip". Each .apk inside this .zip can be installed with a file manager. Before installing the themed app, be sure to uninstall the current app on your phone. For example: If you plan on installing the Google Search Widget, uninstall Google Search, and then install the provided GoogleQuickSearchBox.apk. Do this for each app you want to install. Themed apps included in the Bugless_Evolution_Apps.zip are:
AudioManager v2.1.4
ESPN ScoreCenter 1.0.5
Facebook v1.3.2
Genie Widget (Google News/Weather app)
Gmail v2.3
Google Search v1.1.2
Google Voice v0.4.1.19
Last Call Widget (100% transparent background, credit Manup456)
SMS Popup
Twitter v1.0.4
UPDATE v7
- Based on Manup's newest REVOlution theme version 1.2r1
- Updated framework images (noticeable in notification pulldown)
- Replaced stock music app with modified MusicMod 1.8 (uninstall MusicMod if you already have installed)
- Updated Facebook and Twitter widgets
- New lockscreen graphics
- Browser bookmark button is fixed
UPDATE v6
- Fixed Bluetooth icon while on call
- Added themed Twitter 1.0.3
- Updated Google Search Widget
- Added themed SMS Popup app
- Removed LauncherPro.apk (install with method listed below)
UPDATE v5
- Themed LauncherPro (see below for details)
- Updated BlackMMS to latest version (more options)
- Updated Superuser to 2.3.3
- Updated Gmail to leaked version 2.2.1
- Removed "Verizon Wireless" badging from lockscreen and notification bar
- Added Droid 2 boot animation
UPDATE v4
This isn't a very big visual update, but there should be some performance and stability fixes.
- Fully De-odexed ROM
- All .apk's have been zip-aligned and optimized for performance
(You should see an overall performance boost and save about 10 MB of system RAM over v3)
- Includes newest version of Google Search widget (Themed)
- Removed VoiceSearch.apk from ROM. After installing v4, download Google Voice Search from market to get newest version.
- Themed Facebook 1.3.2
UPDATE v3
- Themed lock screen sliders
- Updated notification pulldown bar (removed Evo tagging). Also fixed resolution issues when in landscape.
- Cleaned up Google Search Widget
- Modified phone keypad to go more with theme
- Added newest versions of Facebook (1.3.1) and Twitter (1.0.2) both themed.
- Added Manup's Evolution wallpaper pack to Launcher2.apk. Accessible through your default wallpaper menu.
- Added Superuser 2.3
UPDATE v2
- Updated status bar to be solid black instead of transparent
- Entire notification bar is now transparent including item boxes
- Updated signal bar icons
- Updated misc framework images
- Added BlackMMS
- New icons for Twitter and Facebook apps
- New themed Analog Clock widget
- Evolution fonts are now built in
- Now available in Full ROM and Theme Only downloads
Theme Download (Do not wipe):
Bugless_Evolution_v8.zip
Themed Apps:
Bugless_Evolution_Apps.zip
(Extract .zip and place .apk's on your SD card. Install apps with a file manager) [UPDATED 10/14/10]
Brightness Fix:
Evolution_Brightness_Fix.zip
(Round battery users only)
Transparent Dialer:
Evolution_Transparent_Dialer.zip
Alternate Battery Icon:
Evolution_Alt_Battery_v8.zip
No Clock Modification:
Evolution_No_Clock.zip
--> Flash this LAST (works with both battery styles)
Installation: All .zip's can be installed with either Clockwork or SPRecovery. Change name to update.zip for SPRecovery.
Optional Font packages
(Install with Clockwork Recovery ONLY)
Stock font package flash this .zip -->
Default_Fonts.zip
Evolution font package flash this .zip -->
Evolution_Font.zip
Kangerade (NexTheme) font package flash this .zip -->
Kanged_Fonts.zip
Dark Edge font package flash this .zip -->
DarkEdge_Fonts.zip
Themed LauncherPro
Below is the download for a themed version of LauncherPro 0.8.1.1. I changed a lot more images this time around. All highlights that were yellow/orange before are now green. Widgets are still themed as well as the trash can. If your on v5, delete your LauncherPro.apk from system/app (use Root Explorer). This new .apk can be installed through a file manager as it is signed.
Download:
Evolution-LauncherPro-0.8.1.1.apk
Photos
Alot of people are asking about the LauncherPro dock that I have pictured. I'm posting a file that has both the dock background and the text icons that Manup designed for this theme. Use whatever shortcut you want and just match the word icon up with what best describes what your doing.
Evolution_Dock.zip
--> This is NOT flashable through recovery. This .zip contains icons and a background dock image that needs to be applied through the LauncherPro preferences.
Themed htc_ime keyboard:
Download
Install with a file manager as you would any other .apk.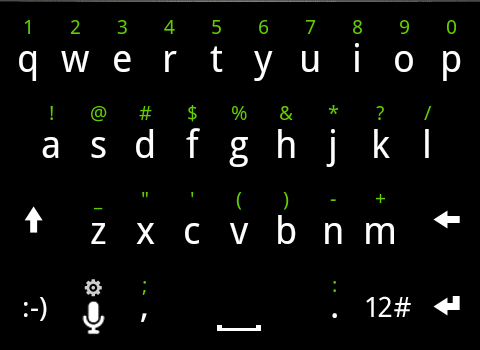 Special Thanks...
Manup456 for the theme and all the great work he creates
Pete for his work on Bugless Beast
All other themers for inspiring me and helping me get this done

Donate if you like my ports! Money will goto a new phone.